Community Voice
Partap Singh of Peru Needs Your Help
Please contact us via email at
helppartapsingh@unitedsikhs.org
with subject Project Partap Singh, if you can help.
To donate go to

www.unitedsikhs.org/donate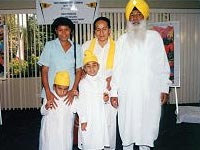 Partap Singh with family and a friend.
Lima, Peru — Partap Singh moved to Peru nine years ago from Spain, where he had gone from India to study Spanish and work as a travel consultant. It did not matter that he and his wife Gurpeet Kaur were the only Sikh family in Lima, they were dedicated to keeping the culture and traditions of their beloved Sikhi. Partap Singh worked as a tourist guide and as an occasional translator. He also supplemented the family's income by conducting meditation classes. Their family was blessed first with a daughter, Manpreet Kaur and then a son, Vikram Singh.
Then September 11th changed their world. Turbans, beards and uncut hair were viewed with suspicion and fear. Partap Singh's employer said he looked too much like Bin Laden and encouraged him to cut his hair and do away with his Turban. While the family always intended for their children to attend school together, their son Vikram was refused entry into the first grade because of his patka and uncut hair. The school was adamant that their dress code required Vikram to have shorn and uncovered hair. The family had to enroll Vikram in another school a distance away, where he had to deal with problems stemming from his unique appearance. Putting both children into an expensive private school was out of the question after Partap Singh lost his job 'for looking like Bin Laden' and due to his dedication to look and live as a Sikh.
Partap Singh's finances became dire; he bit his tongue and decided to appeal for help from his community. He wrote to several Sikh internet discussion groups. For many weeks he did not receive any response.
One day his email message said there was no food for his family. It was too painful to ignore. UNITED SIKHS convened a conference call with him to determine his circumstances. UNITED SIKHS volunteers said they would donate for his emergency needs for three months whilst they look into how he could be helped in the long term.
On the weekend that the UNITED SIKHS GHANAIA team was preparing to mobilize its Katrina relief team to New Orleans, Doris Reynoso, a colleague of a UNITED SIKHS director, was preparing to leave for Peru with money for Partap Singh's emergency needs. Doris was fortuitously making a visit to her family in Peru that week.
Doris Reynoso found Partap Singh's family living in a small one-room accommodation that served as both kitchen and bedroom for the family of four. The family was destitute with no money coming in and several months of rent unpaid. Hospital bills from his wife's surgery were unpaid. Partap Singh had found himself in this position despite repeated pleas to his community. There was no Sikh community (sangat) in Peru to turn to for support. "The conditions became so bad that sometimes people threw stones at me and my family," Partap Singh told UNITED SIKHS.
Much like France, where Sikh's have been challenged about wearing turbans to school, this Sikh family has been the victim of intolerance because people equate a turban with terrorism. Children have been expelled from schools in France, Gurdwaras have been defiled in Britain and the United States, and now, a family in Peru faces exile.
Partap Singh would love to remain in Peru to be the bearer of his Guru's message. Jagpal Singh Tiwana from Canada arranged for Partap Singh's problems to be brought up with the Peruvian ambassador in Canada. But, Partap Singh says he believes he has no future left in Peru. The attitude towards his form will not change.
UNITED SIKHS has agreed to help Partap Singh and his family to resettle in Cochin, South India, where he hopes to work in the travel industry as a guide and translator for European travelers who go to South India for Ayurvedic treatments and tourism. Partap Singh's wife is a trained nurse and she hopes to re-train as an Ayurvedic practitioner.
UNITED SIKHS is now seeking help from anyone who can help fund the travel tickets for Partap Singh and his family from Lima to Cochin and to fund his initial resettlement cost.
UNITED SIKHS is seeking urgent help in the following areas to be able to relocate Partap Singh and family:
If you are a business organization related to the Travel Industry and are located in South India and can use a Spanish, French, Punjabi, Hindi and English speaking travel industry resource to expand your business
You can donate your airline miles or help procure tickets from Lima to Cochin
You can donate funds towards his family's re-settlement and initial educational expenses for his children.
Please contact us via email at
helppartapsingh@unitedsikhs.org
with subject Project Partap Singh, if you can help.
To donate go to
www.unitedsikhs.org/donate
Please visit our website at
www.unitedsikhs.org
for details on our projects.
Please join the
PR_UNITEDSIKHS-subscribe@yahoogroups.com
if you wish to receive regular updates on this and other issues raised by UNITED SIKHS.
Issued by:
Gurmeet Kaur
Project Coordinator
UNITED SIKHS
+1 (678) 232 6780 (Toll-free: 1-888-243-1690)