Other Gurdwaras in Ludhiana District related to Guru Nanak visit
​

Dr Dalvinder Singh Grewal, Professor Emeritus
In addition to Gurdwaras in Ludhiana city and its surrounding areas, Gurdwaras relating to Guru Nanak's visit also exist in Nanakpur-Jagera, Jagraon, Sodhiwal and Tihara commemorating Guru Nanak's visit. These are described in following paragraphs: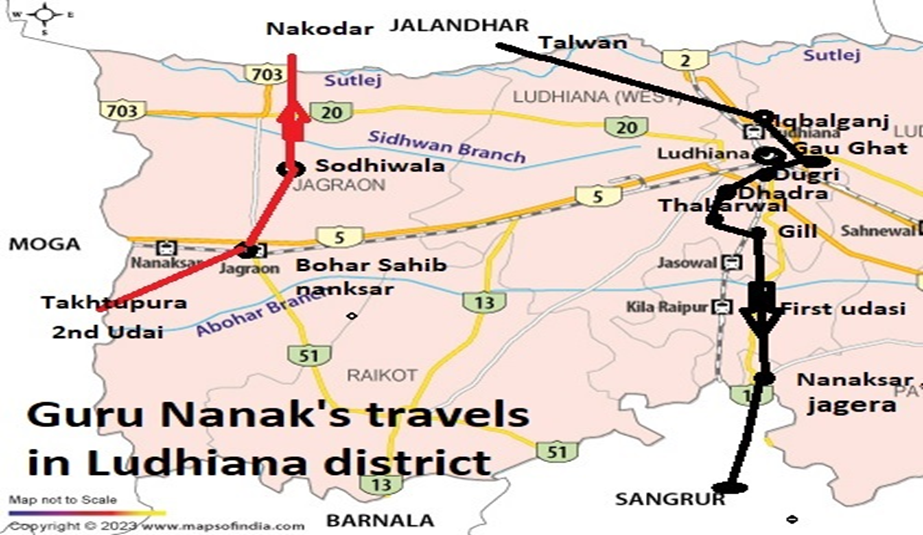 Map showing Guru Nanak's Travels through Ludhiana district
​


Relics of Gurus at Nanakpur Jagera
This Gurdwara is situated at a distance of 4 Km South of town Ahmadgarh on Ludhiana-Malerkotla Road in Village Jagera-Nanakpur and is on the main highway. This Gurdwara is in the memory of the visits of Guru Nanak Dev Ji during his preaching tours. GuruNanak rested and stayed here in 1500 AD during his First Udasi. Shri Guru Hargobind Sahib Ji also visited the place later. Gurdwara Shri Patshahi Pehli ate Chhevin Sahib is at the periphery of village Jagera; also known as Nanakpur Jagera in the District of Ludhiana on Ludhiana- Malerkotla-Sangrur Road 4 kms from Mandi Ahmedgarh. After the visit of Guru Sahibs the village came to be known as Nanakpur Jagera.
Reference
Gyani Gyan Singh, Twareekh guru Kalsa, ® Language Deptt PunjabPatiala, 1970.
Kahn ingh Nabha Bhai, Gurshabad ratnakar mahankosh, Language Department Punjab, Patiala, 1981
Punitinder Kaur Sidhu, 'Gurdwara Pehli te Chhevin Patshahi, Jagera, Ludhiana, Guru Nanak's Blessed Trail (Punjab), Lonely Planet Global Limited, Punjab October 2019, p. 132-133
Gurdwara Bohar Sahib Jagraon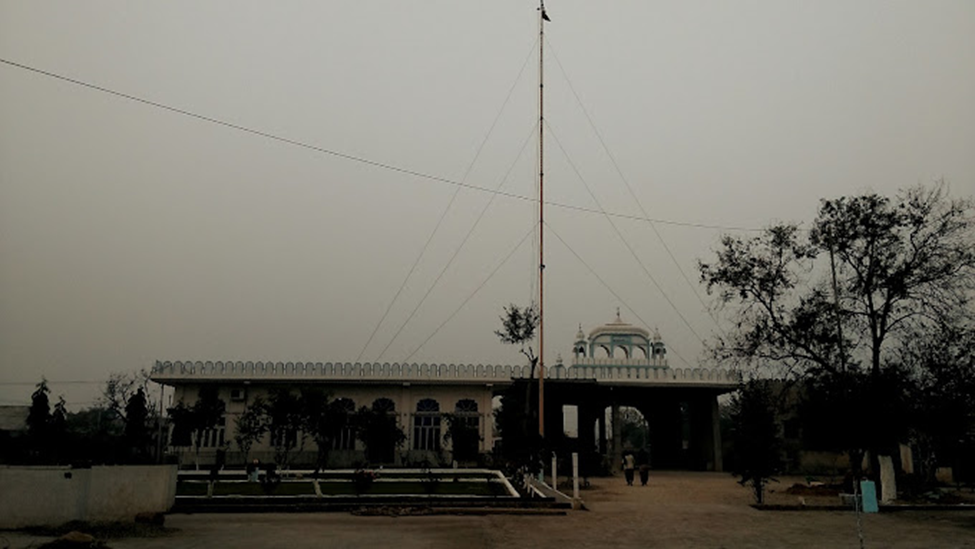 Gurdwara Bohr Sahib, Jagraon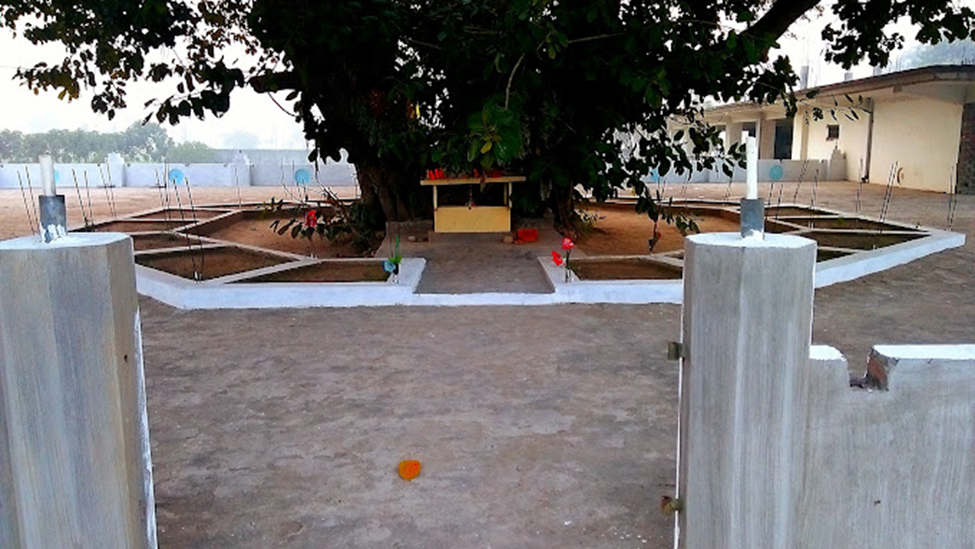 Bohad Sahib
​
Gurdwara Bohr Sahib is situated on Kaonke kalan Road, Partap Nagar. Agwad Khwaja Baju Jgraon in Ludhiaa district. While retutniong from Second Udasi Guru Nanak stayed for three days at this place. At p.11 of Malwa Itihas Sant Wisakha Singh mentions about Bohar Sahib as under : 'On the south of Jagraon town on the road to Kaonke theere is an old plae ear the pond where there is a Bunian tree (Bohar) Local people has been worshipping this Bunian tree, doggomg pit earth and praying for their needs. The place is known as '
Guru ka Thaon
" (Place of Guru). A strange story of this banian tree at the bank of the pond is told by the locals. A banian tree had fallen having gone dry and dead but thirty years before, there was a bright light around this fallen tree. Many persons saw the fallen tree stand up. Many persons from villes around to watch the realty. They came to worship the tree as it became green and started enlarging. This bunian tree is now fully green and well developed. Guru nanak used to come here and stay in the evenings. The Gurdwara was consructed near the place by Arjan Singh Eena, a freedom fighter. (1) (2)
References
1.Sant Wasakha Singh, Malwa Ithas (part 1), Published by Gurmat parcharak Singh sabha Ilaka Tuhada, 14-9-1954, p.11
2. Punitinder Kaur Sidhu, 'Gurdwara bohar sahib, Pehli Patshahi, jagraon, Guru Nanak's Blessed Trail (Punjab), Lonely Planet Global Limited, Punjab October 2019, p. 145
Gurdwara Nanaksar Jagraon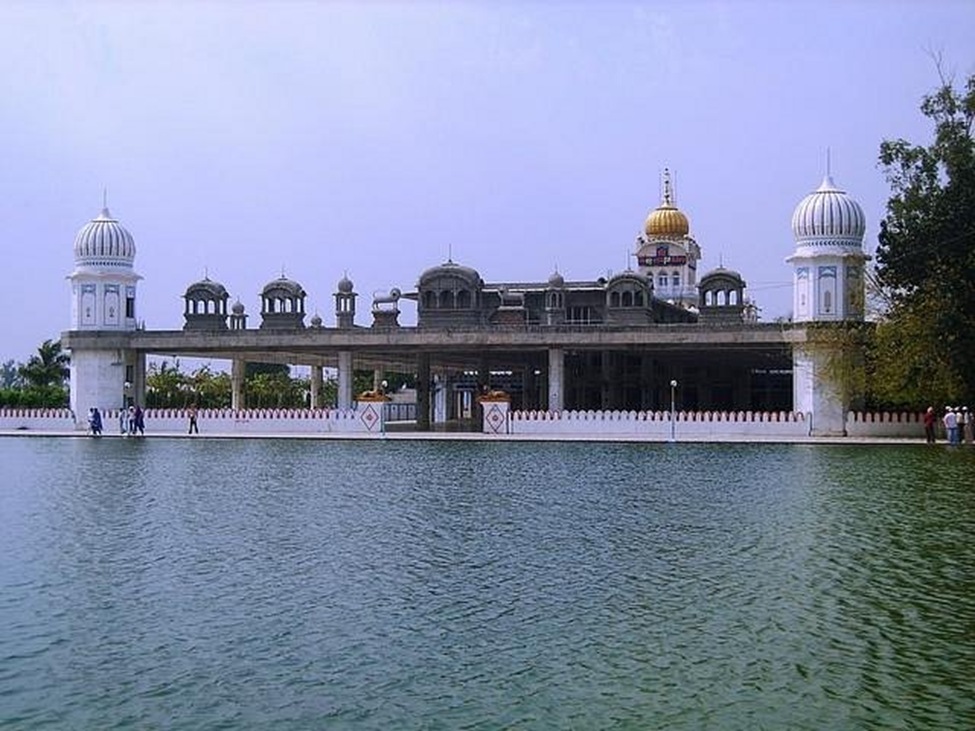 The Gurudwara Nanaksar Jagraon is a holy shrine as the memoir of Guru Gobind Singh and is situated in at the banks of the Nanaksar Sarovar. Guru Nanak Dev and Guru Har Gobind and Guru Gobind Singh have graced the place with their presence at the place, The Gurdwara celebrates the Prakash divas for all the three gurus whose shrines stand in the nearby gurdwaras. The gurudwara also organizes two fairs every year. The prominent feature of this shrine is its five-day festival; when a large number of visitors and devotees pay obeisance at the place. The gurdwara complex is vast spread and is beautifully maintained by the organization. One of the unique aspects of this gurdwara is that cash/offerings or donations of any kind are not accepted.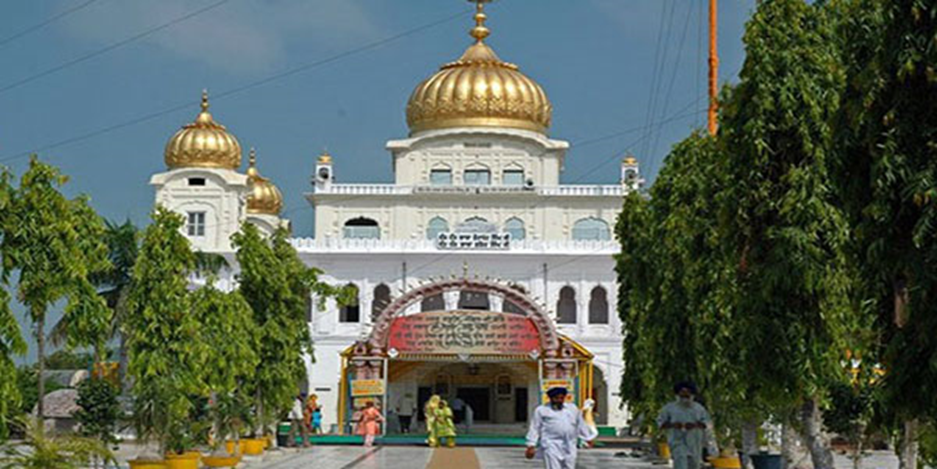 Gurdwara Nanaksar Jagraon
On special occasions, the gurdwaras always organize kirtans, melas, langars. The Guru Ka Langar is like a communal meal conducted by the people near the gurdwara and people all across Ludhiana. They believe that no one in the land of the god should sleep with an empty stomach and so they provide free food, milk, tea and sweets for the people visiting the gurdwaras.
Gurdwara Baoli Sahib, PehIi Patsahi, Sodhiwala, Jagraon
According to Census 2011 information the location code or village code of Sodhiwala village is 033872. Sodhiwala village is located in Jagraon tehsil of Ludhiana district in Punjab, India. It is situated 13km away from sub-district headquarter Jagraon (tehsil office) and 51 km away from district headquarter Ludhiana. As per 2009 statistics Sodhiwala village is a gram panchayat and the total geographical area of the village is 407 hectares and a population of 825 peoples in 161 houses., Pincode of sodhiwala village locality is 142033.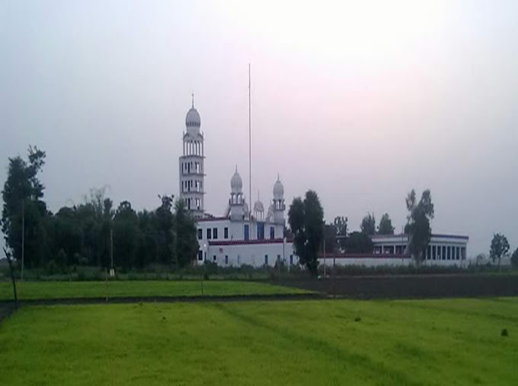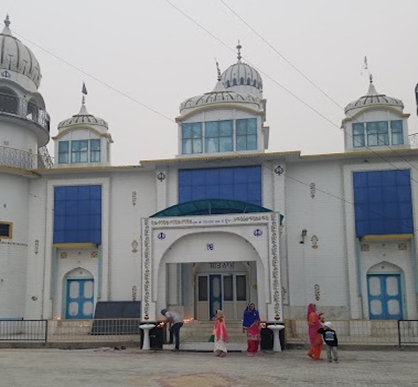 Gurdwara Baoli Sahib Sodhiwala, Tehsil Jagraon, District Ludhiana
Sodhiwala village is on a road to the east connecting Jagraon-SidhwanBet-Nakodar highway. The vullage is also known as Guru da Dhab. Gurdwara Baoli Sahib is situated in a green belt on the periphery of the village near a Aulakh stud farm. The baoli in the complex is in the saroval complex. Guru nanak is stated to have visited the place while returning from second Udasi and went towards Nakodar. It was alsio visited by Guru Hargobind who stayed here for three months and blessed the villagers for the respect and devotion shown towards the Guru nd his Sikhs. Spread over sprawling greenthe huge complex consisting of sanctum sanctorum, prauer hall, Langar Hall and residential complex. The langar hall is at the back of the complex. (1) 92)
References
Gurdwara Baoli Sahib, Sodhiwal, Jagraon, Ludhiana,, p. 144
Sant Wasakha Singh, Malwa Ithas (part 1), Published by Gurmat parcharak Singh sabha Ilaka Tuhada, 14-9-1954, p.11