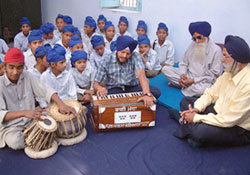 Gurkhas from Nepal, who were rendered orphans and converted to
Amritsar, October 27
Singing hymns from Guru Granth Sahib, playing tabla and reciting Gurbani and conversation in chaste Punjabi by ' Kanchas' (Gurkha children) from hilly Kingdom of Nepal may seem unusual.
Nobody can imagine that earlier name of Parkash Singh could be Om Parkash and Amritpal Singh was once Munish, both hailing from Nepal. The Central Khalsa Orphanage (CKO) run by the Chief Khalsa Diwan is home to 175 children, including Nepalese, who were rendered orphans. It goes to the credit of the Chief Khalsa Diwan that the orphans are admitted to the orphanage without any consideration of caste or creed. The orphanage has the credit of producing Shaheed Udham Singh, who remained there from 1907 to 1919. The orphanage, which started with one child brought from Sindh (Pakistan) by Mr Harbans Singh Attari, celebrates its anniversary tomorrow — October 28, here.
Mr Charnjit Singh Chadha, President Chief Khalsa Diwan said many 'Kanchas', brought up in its orphanage had been propagating Sikhism in various parts of the world. Many of them were also absorbed in the SGPC. They are so devoted to Sikhism that most of the Sikh organisations including the Shiromani Committee exempted them from required tests. He said that as per the constitution of the orphanage, only children above six years were admitted.
Mr Chadha said it was mandatory for every inmate to attain education up to matriculation. For this, the orphanage runs a school till class while they join Khalsa school for higher education. Mr Chadha said that besides education, training in musical instruments and shabad kirtans, musical instruments like tabla, harmonium, dilruba, sitar is imparted to the students in this seminary. This institution gave the Sikh community eminent ragis like Bhai Santa Singh, Bhai Gopal Singh, Bhai Gurmej Singh, Singh Sahib Bhai Fateh. Other alumni of repute, include musician Dalip Chander Bedi and Principal S. S. Amol. Most of the students of the centre, however, end up becoming raagis, kirtaniyas and preachers.
The latest comer is Pardeep Singh (previous name Pardeep Kumar) whose name was recommended by the Gurdwara Singh Sabha, Nepal. Mann Bahadur has been rechristened Bahadur Singh. Another student of orphanage is Vinod Singh (previous name Vinod Kumar). While most of the old converted Sikh students have forgotten their mother tongue - Nepali with the passage of time. They say they hardly visit Nepal due to the 'communication gap' that virtually has separated them from their roots.