http://getahead.rediff.com/slide-sh...idst-dance-and-music-sikhs-crown-mr-singh.htm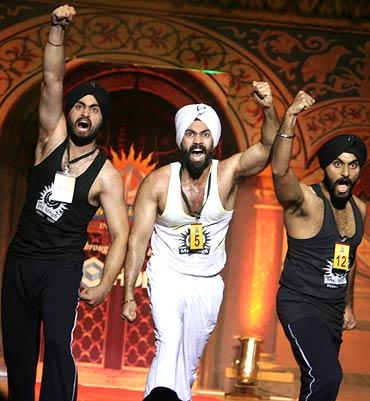 Uday Kuckian and Abhishek Mande watch hunks from across the country put their best foot forward in this unique community fashion show.
On October 29, the Sikh community in Mumbai came together and cheered for brawny hunks from across the country at Shanmukhananda Hall in Sion, where they participated in Mr Singh India, a fashion show for Sikh men.
As the 20 strapping young men flexed their muscles, you could hear catcalls from the audience -- some even from a few elderly ladies!
Rajangad Singh from Chandigarh adjusts his turban before the first round. The boy, who turned 19 a day before the contest, runs a centre where they train you to tie a turban.
Image: Rajangad Singh adjusts his turban just before setting foot on the stage
Photographs: Abhishek Mande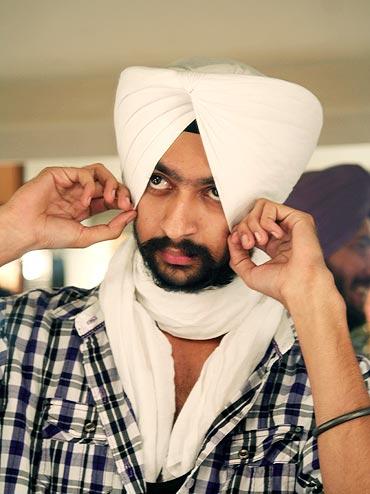 The dance troupe that performed in two separate segments of the show is made up of both men and women who keep regular day jobs and pursue this as a hobby.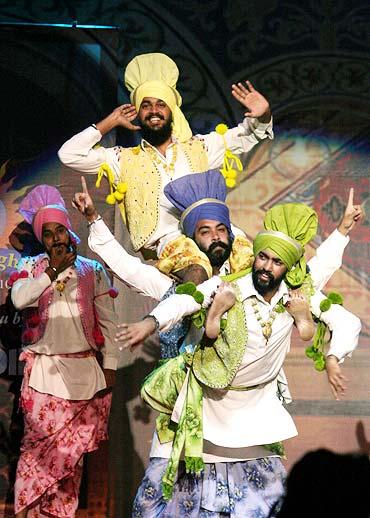 Gurneet Singh from New Delhi who won the title gets ready before the first round. One of the pre-requisites of the contest is to have sabat surat or unshorn hair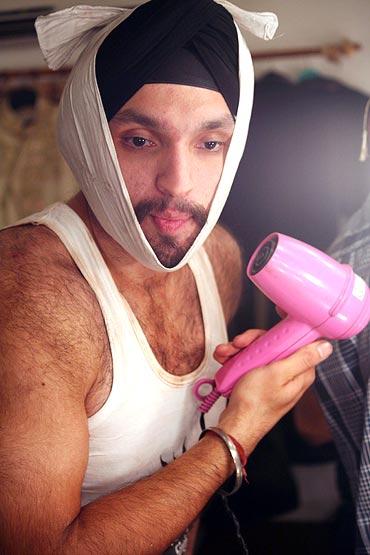 Harpreet Singh from Jalandhar poses in wedding finery during the final round of Mr Singh India.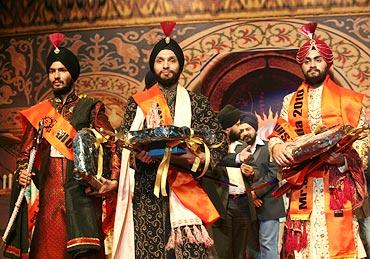 First runner-up Jasjit Singh from Mumbai (left) and second runner-up Dilmeet Singh from Delhi flank winner Gurneet Singh from Delhi.