Oct 5, 2006
1,755
2,735
70
and some – like Jinda Sukha, chant freedom slogans at the top of their voices
By Parmjit Singh
Published: October 9, 2011
Related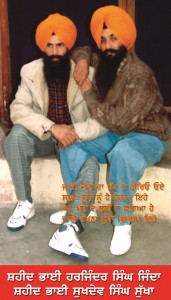 "Some collapse on the way, some walk up solemnly, and some – like Khalistan militants Jinda and Sukha in 1992 – chant freedom slogans at the top of their voices"
–
Ahmadullah
(Hangman).​
Today is martyrdom day of Bhai Sukhdev Singh Sukha and Bhai Harjinder Singh Jinda. Hereby some excerpt from "
The Hangman's Tail
" are shared that was published in
Ahmedabad Mirror
on September 14, 2011. It tells about the procedure to execute death sentences in Yerwada jail, Pune, where on 9th of October, 1992 Bhai Sukha-Jinda were martyred.
It is as follows:
"In Yerwada, there is a separate enclosure, with seven rooms, which forms an integral part of the death-by-hanging procedure. A week before his date of execution, a convict is taken with all his belongings to Room No 7 of this solitary wing. The next morning, he is moved to Room No 6, and then to Room No 5, and so on. It's the final countdown.
After spending his last night in Room No 1, on the fateful morning, he is led through the eighth, numberless door into a large cemented courtyard that contains the gallows.
Architecturally speaking, the gallows are just two rooms, one on top of the other, and a stone ramp leading to the upper storey. The convict, his hands tied, his shoulders bound by rope as if he's in a straight-jacket, is asked to walk up this ramp to meet his death. Some collapse on the way, some walk up solemnly, and some – like Khalistan militants Jinda and Sukha in 1992 – chant freedom slogans at the top of their voices."
– The Hangman's Tale (Ahmedabad Mirror, 14 September 2011​