ੴ / Ik▫oa'nkār
Writer
SPNer
Manmeet Bhullar, Calgary MLA, mourned by friends and colleagues
Former cabinet minister killed in crash on Monday, travelling back to Edmonton
CBC News Posted: Nov 23, 2015 8:42 PM MT Last Updated: Nov 24, 2015 8:41 AM MT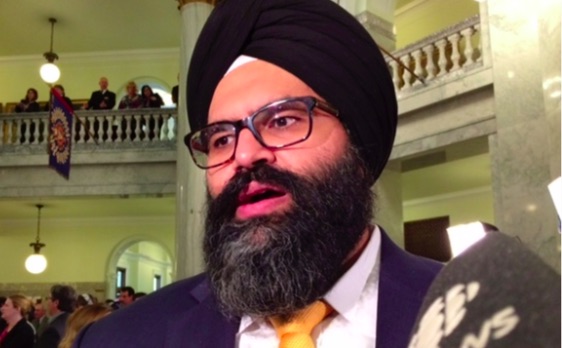 PC MLA and former infrastructure minister Manmeet Bhullar was killed on Monday in a car crash. (Trisha Estabrooks/CBC News )
Related Stories
Alberta Conservative MLA Manmeet Bhullar killed in highway crash
Social media reacts to the death of MLA Manmeet Bhullar
Friends, colleagues and citizens are mourning the loss of popular Calgary MLA Manmeet Bhullar, who was killed in a car accident on Monday.
Calgary Mayor Naheed Nenshi released a statement saying "I am utterly gutted to hear of the sudden passing of Manmeet Singh Bhullar. A public servant, a true warrior for fairness and justice, a big man with a giant heart, a friend.
Manmeet's accomplishments are well-known. He was a powerful community advocate from a young age and first elected to the Alberta legislature at 28. He was brave and unrelenting in his role, particularly when it came to forcefully advocating for children in care – the least powerful people in our society."
Harnarayan Singh, a Hockey Night in Canada Punjabi host, has known Bhullar and Bhullar's family his entire life.
"It's literally devastation. I think the community is in shock. He had done the community so proud and he was somebody who was so passionate about helping everyone, no matter who they were and where they were from," he said.
Bhullar was a rarity in today's day in age in the amount of respect he commanded from all sides of the aisle, with critics and colleagues praising his good nature and hard work.
Our thoughts are with the family of MLA Manmeet Bhullar and the @PC_Alberta caucus in this time of sudden grief. #ableg #RIP
— @AlbertaParty
We are incredibly saddened by the death of the Hon. Manmeet Bhullar. Our heartfelt condolences go out to his loved ones. #ableg #abpoli
— @UCalgaryNDP
Ward 10 councillor Andre Chabot called Bhullar a "brother from another mother" and says he's having a hard time wrapping his head around today's news.
"He was such a good friend and we worked so well together, he was like my brother — my little brother, mind you — we kidded around about each other, we fed off each other, he was just a tremendous inspiration for such a young man to me."
Chabot spoke of Bhullar's kindness.
"He was larger than life and he was so friendly, so giving, so willing to do whatever it took to please everyone. But he didn't pull punches."
For Nenshi, who grew up in the northeast like Bhullar, he'll miss their get togethers.
"I always looked forward to our long lunches over vegetarian Hakka Indian food and chai in our neighbourhood, talking politics and community and religion and pluralism and life. He was one of the finest men I have ever met in politics, or anywhere."
Bhullar, 35, served as infrastructure minister under former premier Jim Prentice and was human services minister and Service Alberta minister in the Alison Redford government.
The member for Calgary-Greenway was first elected to the Alberta Legislature in March 2008.
"A lot of people who are interested in the machinery of government and politics you know, aren't always there simply because they want and desire a better community — and he always did. And that's what made him so good at what he did," Nenshi told the
Calgary Eyeopener
on Tuesday morning.