​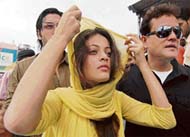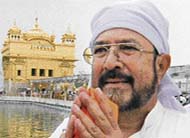 Actress Sneha Ullal arrives to pay obeisance at the Golden Temple in Amritsar on Saturday. — AFP
Bollywood actor Rajesh Khanna comes out of the Golden Temple after seeking blessings. — Photo byRajiv Sharma




Kaka all set for second innings
Tribune News Service​
Amritsar, September 8
Bollywood superstar of yesteryear Rajesh Khanna, also known as Kaka, here today paid obeisance at the Golden Temple to seek blessings for his "second innings" in the film industry with the release of his forthcoming film "Kash…Mere Hote."
"I have signed a total of eight films, of which three are on the floor. Even if I am able to get half of the love that my fans had showered on me in the past, I would think that I'm still in the reckoning," he said.
The first superstar of Bollywood belongs to Amritsar and spent his childhood in his ancestral house in Gali Tiwarian. "I am a son of the holy city. Whenever people of my birthplace have called me, I have rushed to be with them. I have fond memories of the city and since I have come here after a long time, I'm reminded of the days before I moved out," he said.
Khanna avoided a direct comment on the possibility of his contesting the next MP's election from Amritsar on Congress ticket. He, however, said he was a Congressman and took pride in this fact.
There was a stampede-like situation as a large number of fans and passers-by mobbed Khanna when he arrived at the Golden Temple around 2 pm. Some of them had been camping there since 11 am, the scheduled time of arrival of the cast of "Kash…Mere Hote."
Khanna was accompanied by actor Sneha Ullal and newcomer Kumar Sahil. Sneha said she had some good films coming up. Khanna's wife Dimple Kapadia also features in the film, along with Johnny Lever. The two could not make it to Amritsar today.
The film is being directed by B.H. Tharun Kumar.