From Afar, a New Kind of Rough-and-Tumble</NYT_HEADLINE><NYT_BYLINE>
By MICK MEENAN
</NYT_BYLINE>
Published: September 19, 2010
<NYT_TEXT><NYT_CORRECTION_TOP></NYT_CORRECTION_TOP>The shirtless men circled and lunged at each other under the bright sun as the crowds watched, rapt, from the sidelines. One combatant, his head lowered like a bull ready to gore, chose an opponent to tag, only to suddenly find himself trapped in an upside-down bear hug and being shaken like a stubborn ketchup bottle as a referee's whistle blasted.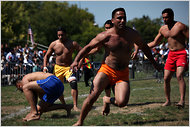 An international tournament for kabbadi, a sport that combines elements of wrestling and rugby, was held in Cunningham Park, Queens.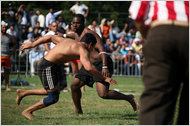 A Game Called Kabbadi
England had just been awarded a point over Canada West.
Successive waves of immigrants have woven ethnic sports like hurling, bocce and cricket into the New York fabric. On Sunday, Cunningham Park in Queens became an arena for kabbadi, a traditional Punjabi competition, which perhaps could be thought of as a combination of rugby and wrestling — without the ball and the protective gear — with a helping of the old New York street game ringalevio thrown in.
The rules are simple enough, but winning a kabbadi match is tricky — and often painful. The eight-member teams on Sunday fielded four raiders and four stoppers inside a big circle 140 feet in diameter bisected midway by a white line.
The raiders invade their enemies' half of the field and try to make it back home safely. Stoppers relish the opportunity to corner and pummel the interlopers.
As the defending teams linked forearms and formed a protective semicircle, single raiders crossed the line between two orange sandbags spaced about 10 feet apart. The raider must be able to touch a stopper and escape between the sandbags to earn his team a point within 30 seconds.
Incursions by raiders rarely went unpunished on Sunday.
In the first match, between England and Canada West, a raider typically crossed into enemy territory only to be lured deeper into danger.
As traditional double-headed snare drums, known as dhols, sounded a martial beat, it was easy to imagine the game's originating in war, but an organizer of Sunday's event traced the roots of kabbadi to more benign beginnings in the Punjab, a region that straddles Pakistan and northwest India.
"In the rainy season, in the villages, 4 or 10 people or whatever get together to have fun after the crops are in when they have time on their hands," said Lehmber Singh Kang, an official with the England team. "It is a game you start playing as a little child."
One spectator, Pawan Singh, 18, of Long Island City, Queens, explained that "you can do anything to stop them — grab them, jump him, slam him."
"The skinny guys use their legs to whip them out and knock him down," Mr. Singh said.
There was nothing skinny, however, about the men who took the field for Sunday's opening matches. (Women played in a later match.) The men were barefoot and in shorts, their well-muscled torsos shaved and glistening with oil that flashed brute power as well as the ability to slip from an opponent's grasp.
Grapplers separated amicably enough following most stops, with hearty slaps on the back. Other times, the referees needed to intervene and end vicious swirls of face slapping, shoving and snarling on the center line.
The fearsome stopper for the England team, a native Indian who now lives in Gravesend, England, wore his hair in a sharp Mohawk and his dark black beard cleaved with deep lines.
In the victors' tent, after his team's triumph in the first match, he sheepishly waved off questions with a shy smile. The team's assistant manager, Steve Basi, 33, identified him only as Tao.
"He doesn't speak English too well," Mr. Basi said. "He doesn't need a last name. And he's done his job so far."
Hundreds of spectators crowded the bleachers or stood to watch the nine-match tournament pitting teams from as far away as Australia against athletes from Canada and the United States.
"Where Punjabi people go, kabbadi follows," Mr. Singh Kang said.
The crowd seemed subdued — at least compared with fans of American sports — and there was little shouting or cheering. Typically, many devotees are Sikhs, and the crowd on Sunday included many men with beards and traditional turbans. Women sat in separate bleachers, many under umbrellas as shields against the sunny heat.
Yet in keeping with the sport's international appeal, Sunday's competitors also included a London team of white blond women and an Australian crew with two African-American men from California, one of whom described himself as a mercenary of sorts.
That man, Larry Johnson, 32, a muscular 205-pound former college wrestler who stood just shy of 6 feet, said with a chuckle: "Why I'm here? It's not just recreational. I got kids, and Los Angeles is a long way from here."
Mr. Johnson, a real estate agent, said that he had been introduced to kabbadi by Indian-American classmates at Dickinson State University in North Dakota and that he stood to win $2,500 by turning in a good performance.
England and Canada West met again in the final, which England won.
<NYT_CORRECTION_BOTTOM>