Jassa Singh Ramgarhia- A Great Warrior

Colonel Dr. Dalvinder Singh Grewal

Professor Emeritus, Desh Bhagat University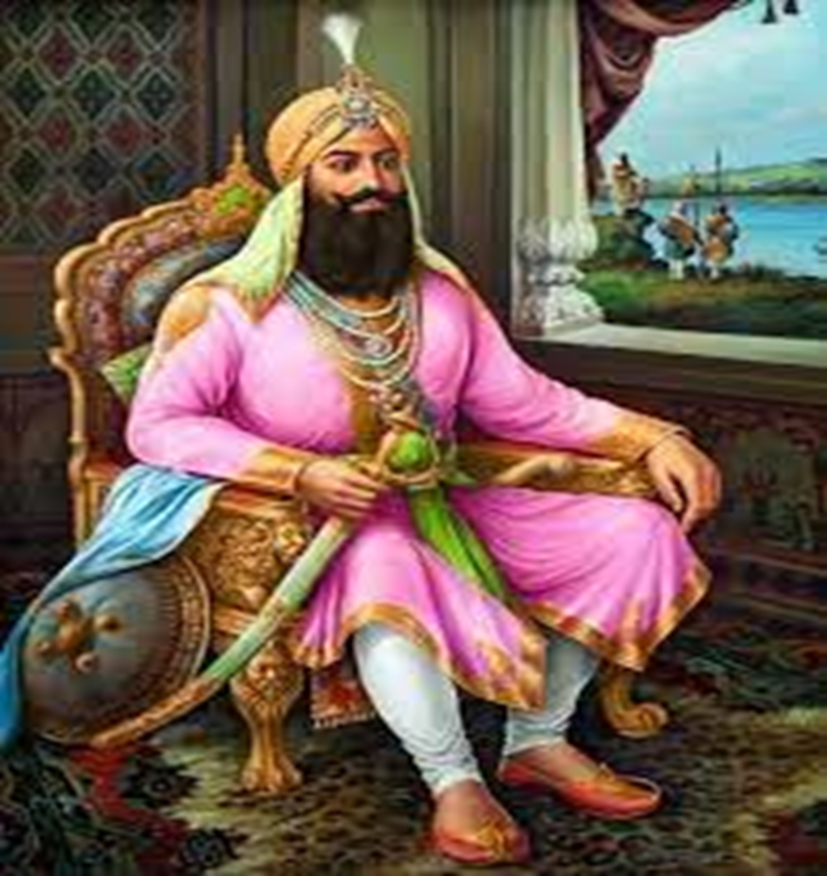 Background of Jassa Singh Ramgarhia (1723-1803)
Jassa Singh's grandfather was Sardar Hardas Singh who was in the service of Sri Guru Gobind Singh and took Amrit from Dashmesh ji. He got martyred in 1716 AD while fighting under Banda Singh's command. His father was Giani Bhagwan Singh who was martyred in 1739 AD while fighting with Afghans. Giani Bhagwan Singh had five sons: Jai Singh, Jassa Singh, Khushal Singh, Mali Singh, Tara Singh. Jassa Singh was born on 15 May 1723 AD in Ichhogil. Due to the bravery of Giani Bhagwan Singh, the Lahore Durbar gave five villages of Valla, Verka, Sultanwind, Tung, and Chabha to the five sons of Giani Bhagwan Singh in Jagir. Out of these Jassa Singh got Valla.
Jassa Singh was appointed Risaldar by Zakaria Khan Governor of Lahore where he remained in service till 1746. After the death of Zakaria Khan, he joined the Sikhs in the Misl ( a recorded group of Sikhs in the registrar of Akal Takhat) of Khushal Singh/Nand Singh and then became the leader of this Misl.
When the allegation of the killing of his daughter was made, the Panth threw him out of the Sikh fold. He went to Adina Beg for service. Adina Beg knew his background and capabilities and gave him a lucrative post of Tehsildar. When the fort of Ram Rauni of Sikhs was surrounded by Adina Beg forces Jassa Singh was given the command to fight the Sikhs in Ram Rauni fort. When about 300 of the 500 Sikhs were killed, the Sikhs from within made a strong appeal to Jassa Singh Ramgarhia to stand with his Sikh brethren and save the situation. Jassa Singh made a condition that he be taken back in the fold of Panth and he will surely help them. The Sikhs agreed to this demand and Jassa Singh managed their escape through the backdoor. This way, the Sikhs were saved from annihilation and Jassa Singh joined back into the Sikh fold. He left Adina Beg and took control of Ramrauni Fort and repaired it. It was renamed as Ramgarh Fort. The Ramgarhia name became popular for Jassa Singh and his Misl due to his command of Ramgarh Fort.
Misls and their areas of control
There were 12 misls. The largest Misl was Bhangi Misl which had an income of one crore rupees and had 12,000 horsemen. At the second place was Ramgarhia Misl with an income of 4-8 lakhs. It had 360 forts and many kings and nawabs were under his command and control. Among others, Kanhia Misl had 8000 warriors; Ahluwalia Misl ruled Kapurthala state, Phulkian Misls ruled Phulkian princely states which were later protected by the British after their agreement with Maharaja Ranjit Singh. Shukarchakia Misl ruled the Punjab from Sutlej to Peshawar under Maharaja Ranjit Singh. Many misls also came under him, including 12,000 warriors of the Kroria Misl, 7,500 warriors of the Dalewalia Misl, 12,000 warriors of the Nishanawalia Misl, Shaheedan Misl and Nakai Misl having 2000 horsemen each and then the Faizalpurian Misl which too had an equal number of soldiers.
The first major task of the misls was to seize the booty from the raiding Abdel and to free 17000 Hindu girls from him and to send them back to their homes. In 1756 Abdali along with his son Timur at the invitation of Mir Mannu's wife Mughalani Begum plundered Lahore, Sirhind, Delhi, Mathura, Vrindavan, and Agra where he took the daughters of the late Muhammad Shah and Alamgir II from the towns of Delhi, Mathura Vrindavan, and Agra and also 17,000 girls and women were enslaved and taken to be sold as slaves. Jassa Singh Ramgarhia along with other Sikh Misls defeated first Adina Beg's 20,000 cavalry forces at Hoshiarpur. The Sikhs then pursued the retreating Durrani forces, defeated them, and managed to rescue 17,000 captured girls and women captured and sent each of them to their homes in Mathura, Vrindavan, Agra, and Delhi. This release took place 15 km away from Wazirabad in the Gujarat district in Pakistan now. Many Sikhs gave their lives in the ensuing battle, saving the girl and the booty. Later Shahidi Gurdwara Fatehsar was constructed to commemorate the martyrdom of these Sikhs and a function was held every year to commemorate the martyrdom of the Sikhs and the release of women. However, after the partition of 1947, this event is no longer being held.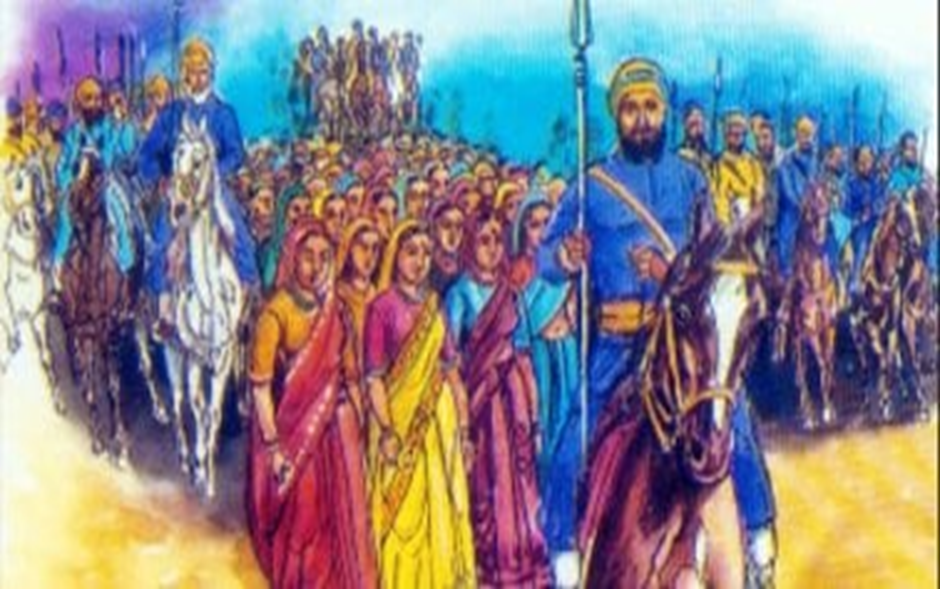 Freeing 17000 Hindu girls from the possession of Abdali and bringing them from house to house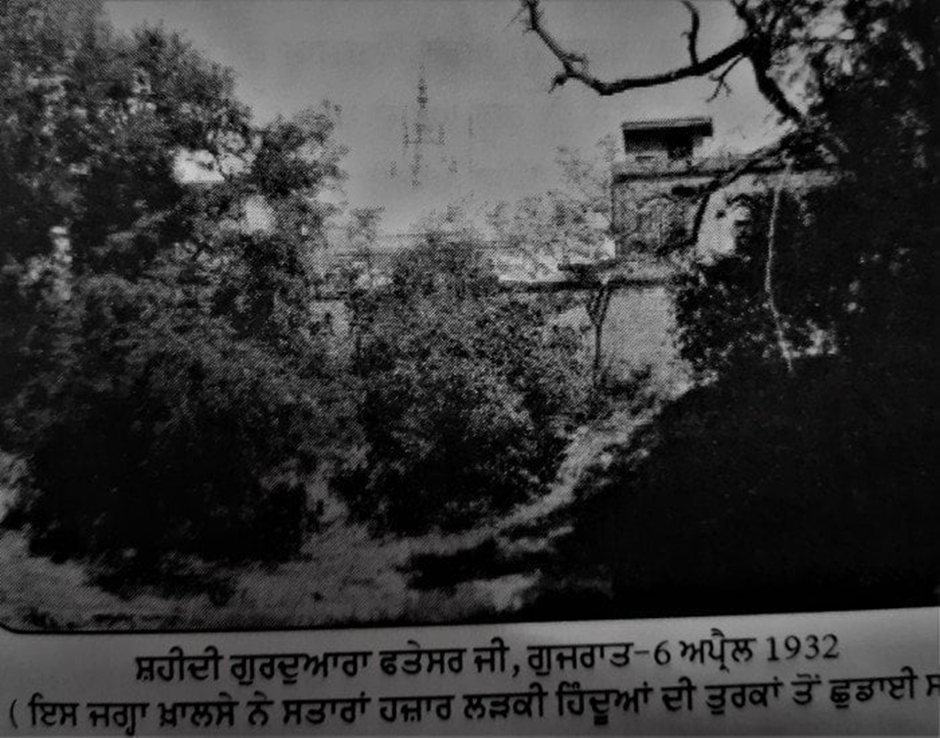 Gurdwara Fatehsar commemorates martyrdom of Sikhs who laid their lives saving the Hindu girls from Abdali

Ghalughara and Defeating Abdali in Kasur
Abdali was very angry with the Sikhs for rescuing the girls and looting his plundered wealth. He wanted to finish the Sikhs. In 1763, Abdali martyred 20,000-30,000 Sikhs in Kup Rahida Ghalughara (holocaust) and demolished Sri Darbar Sahib Amritsar. Soon after, Jassa Singh Ramgarhia, Jassa Singh Ahluwalia, Hari Singh Bhangi, and other chieftains besieged and defeated Abdali in Kasur; after a month-long siege. Following this, the Sikhs besieged and looted Sirhind and killed Nawab Zain Khan. Ramgarhia Misl actively participated in all these campaigns. To teach the Sikhs a lesson, the Mughal emperor sent Qutab Khan with an army of 20,000. The Sikhs defeated and killed Qutab Khan and looted the Mughal camp, out of which 150 horses and an elephant were also captured by the Ramgarh Misl.


Increasing the area of Ramgarhia Misl
After defeating Abdali and the royal forces, the influence of the misls increased. Thereafter, Jassa Singh Ramgarhia also started winning and extended his area to include the territories of the parganas of Dinanagar, Batala, Kalnaur, Mastiwal, Dasuha, Meghowal, Sri Hargobindpur (capital), Qadian, Ghuman, Shahpur Kandhi, Talwara, Lakhpur, Sanguwal, Sharif Chak, Mattewal (Jalandhar district), Urmur Tanda, Sarinh, Miani, Begowal, Garhdiwala, Zahura and Phagwara. The revenue from this territory ranged to the amount of 5 to 10 lakhs.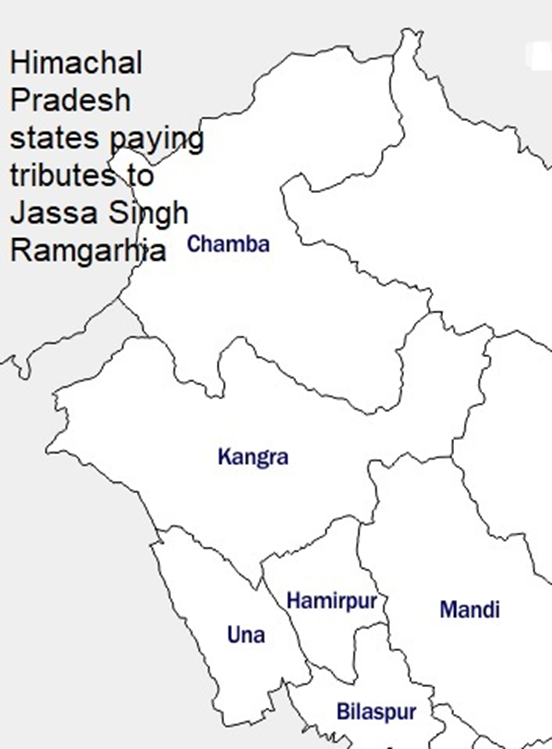 Apart from this Jassa Singh Ramgarhia used to collect revenue from Kangra, Noorpur, Mandi, Chamba, Datarpur, Jaswal, Anarpur, Dipalpur, Haripur states which gave revenue of about 3 lakhs.
Jassa Singh deployed his brother Mali Singh with 4000 horsemen at Harnala on the bank of Ravi River and made him in charge of area of Batala. The other three brothers too, were given separate
jagirs
in different areas.
The rivalry between the Ahluwalia and Ramgarhia Misls
Since the boundaries of Ahluwalia and Ramgarhia Misls were connected, sometimes there was a conflict between them. Due to this, there was tension between the two Misls.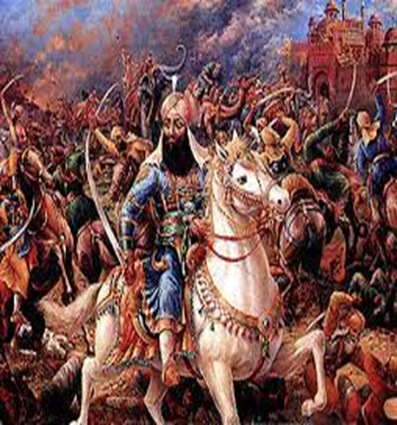 The argument between Ahluwalia and Ramgarhia and the battle for the throne of Delhi
When 60,000-70,000 Sikhs of all missals stormed Delhi, the emperor vacated the throne on which Jassa Singh Ahluwalia sat, which Ramgarhia did not relish. He tied this 6 feet 3 inches long, 4 feet 6 inches wide, and 9 inches thick stone throne to the back of an elephant and took to Sri Amritsar and placed it in front Ramgarhia Bunga where Sri Guru Granth Sahib was installed on it.
The capture of Ahluwalia by the Ramgarhia brothers
When Jassa Singh Ahluwalia was passing through Gurdaspur, Ramgarhia brothers Khushal Singh, Mali Singh and Tara Singh captured him. Although Jassa Singh Ramgarhia left Jassa Singh Ahluwalia with honour and gifts, Ahluwalia did not forget the insult and took an oath that he would not remove the turban from his head until he captured the entire Ramgarhia area. He surrounded Jassa Singh's territory along with other missals. He was joined by Bhangi Ganda Singh and Jhanda Singh, Kanhia Jai Singh and Haqiqat Singh, Charhat Singh Shukarchakia, Nahar Singh Chamiariwala, and other chieftains and besieged Ramgarhia area from all sides. After four months of siege, Tara Singh was killed and Khushal Singh was wounded. Only four thousand of the 10,000 armies remained, so Jassa Singh Ramgarhia left his area and crossed the Sutlej, and went to Mathura, Agra area with his Sikhs.
Five years in Delhi and Rajputana areas
In Delhi, he looted and burnt the Mughal Mohalla and took 4 cannons from the Red Fort. After this, he defeated the Nawabs of Panipat, Karnal, and Meerut and started collecting 10,000 rupees each every year from them. He also received favours and large gifts from the kings of Bharatpur, Dholpur, and Jaipur. Out of these the Gupti (sword in a stick) is preserved by the family, on which the name of Maharaja Jassa Singh Ahluwalia is engraved in golden letters.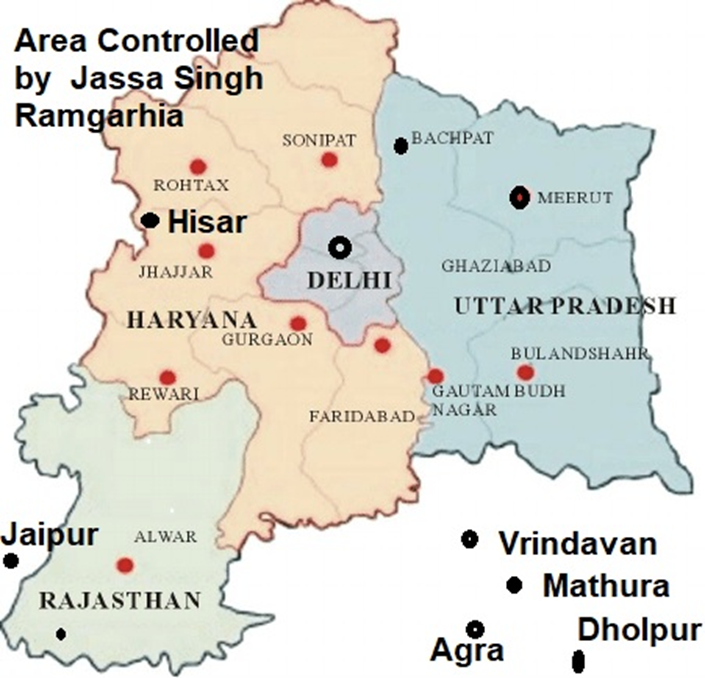 ​
Areas around Delhi that Jassa Singh Ramgarhia controlled include Hisar, Hansi, Sambhal, Chandausi, Kashganj, Khurja, Sikandra, Meerut, Delhi, Panipat and Karnal. Tributes were also paid to him by Bharatpur, Dholpur, and Jaipur states.
Freeing of two daughters of a Brahmin
One day a Brahmin complained to him that the Nawab of Hisar had taken away his two daughters. Jassa Singh was always against terror and oppression and helped the victims. He attacked and strangled the Nawab to death and released the two girls and handed over both the daughters to the Brahmin. Some Brahmins objected to accepting the girls expected to have been defiled by a Muslim however Jassa Singh gathered all the Brahmins and fed them all from the hands of those girls. Thus the girls were accepted in the community.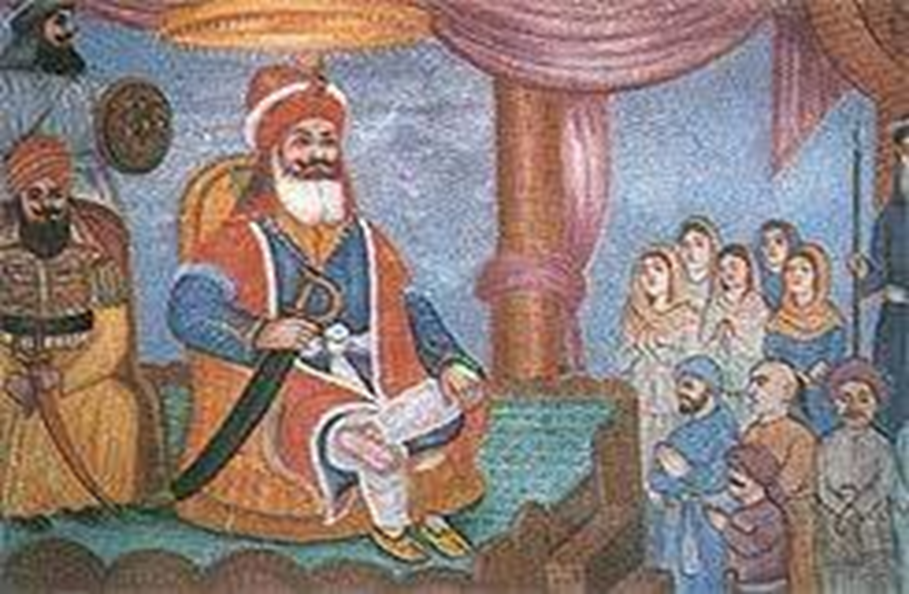 Sadat Ali Khan, the son of the Nawab of Hisar, paid Rs. 50,000 for maintaining of Nawabship. Rs. 50,000 rupees were also got as tribute from the Hisar residents.
Flag of Khalsa furled around Delhi
Jassa Singh continued to brighten the glory of the Khalsa waving the flag of the Khalsa for five years in the areas of present-day Haryana, western UP, Delhi, and Rajputana.
Prayers when in trouble and God's grace
There were also difficulties. In Sirsa, when he did not have money to pay the salaries of his army, he sincerely prayed to God Almighty. On that day, the water carrier's bucket fell into the well, for which the man had to be lowered into the well to get it out. The man lowered into the well saw four boxes of gold mohrs boxes in the well and informed Jassa Singh. He got these gold mohars, who distributed all these to the army as salary.o
Return to Punjab
In 1783 A.D., Shukrachakia and Kanhia misl were at loggerheads. Since Kanhia Misl was strong, Maha Singh looked for a strong partner. He did not find a brave and capable general like Jassa Singh Ramgarhia, hence he invited him to Punjab for help. The visionary Jassa Singh understood the motive replied to Maha Singh, "If Jai Singh Kanhia bows down, he will offer his daughter for marriage with Ranjit Singh. He will give back the Kangra Fort to Raja Sansar Chand. Thus you will all become good friends again. By joining again, you all will become my opponents again. Therefore, it is futile for me to get involved in your fight". In this reply, Maha Singh, Raja Sansar Chand, and other hill kings together sent a message again, "If you will help us against Jai Singh Kanhia, we will never break our friendship with you".
Retaking Batala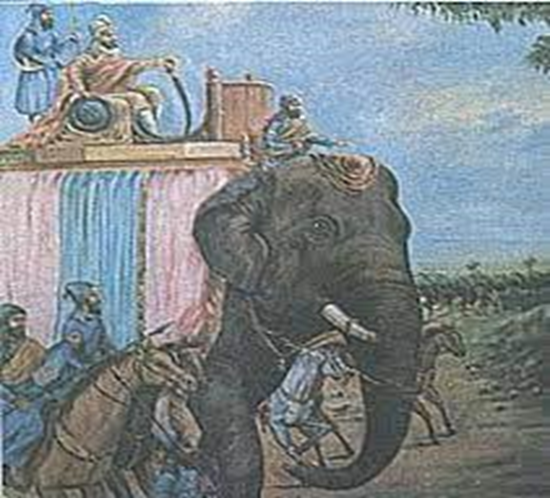 Jassa Singh found the reply of Maha Singh and his companions to be constructive and left for Punjab with his army. Jassa Singh Ramgarhia, Maha Singh and Pahari Rajas suddenly surrounded Kanhia's garrison and sent a message to Jai Singh to surrender and to vacate the area of Ramgarhia Misl. When Jai Singh said no, the forces of Maha Singh, Jassa Singh, and their companions wreaked havoc in the area of Kanhia Misl.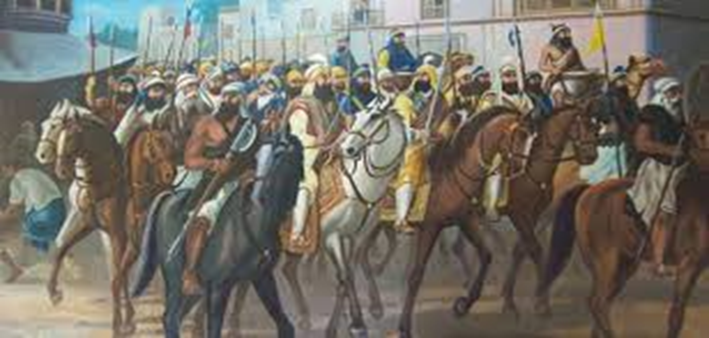 Jai Singh sent 8000 troops under his son Gurbakhsh Singh to stop Jassa Singh, Maha Singh, and his companions but Gurbakhsh Singh was killed by Jassa Singh's arrow. Jai Singh bowed to Jassa Singh. Jassa Singh shared grief at the death of Gurbakhsh Singh. He then left to attack Riarki.​
Jai Singh Opposes it again
Soon the cat was out of the bag. As Jassa Singh Ramgarhia had presumed earlier thought and had written to Maha Singh, the same thing happened. Jai Singh betrothed his granddaughter to Ranjit Singh. He along with Maha Singh, Sansar Chand, and other hill kings, besieged Batala. However, after 20 days the siege had to be lifted.
When Jai Singh died, his Rani Sada Kaur took over the command of the Kanhia Misl. She along with her son-in-law Ranjit Singh, Fateh Singh of the Ahluwalia Misl, and others besieged Jassa Singh Ramgarhia at Miani on the banks of the Beas. As there was a natural flood in Beas in which Kanhia Dera was washed away, Sada Kaur and Maharaja Ranjit Singh vacated the siege and returned to Gujranwala. This, however, left a heart burning in Jassa Singh Ramgarhia against Ranjit Singh as well.
Opposition to Ranjit Singh
Seeing the rise of Ranjit Singh in the year 1800, the Sardars together besieged Ranjit Singh in Lahore. Bhangi, Ramgarhia, and other misl sardars met to control Ranjit Singh's depredations. Jassa Singh Ramgarhia having become old, the mantle fell of his son Jodh Singh Ramgarhia who too joined other Sardars in this campaign. However, after the death of one of the misl leaders Sardar Gulab Singh, the siege was lifted. Soon after, in 1803, Jassa Singh also breathed his last due to a high fever. Thus ended the life of a great warrior. and the command of the Misl fell into the hands of his son Jodh Singh.
Some special events
After murdering the King of Delhi, Alam Khan, Bhambu Khan's brother of Ghulam Khan sought refuge from Jassa Singh Ramgarhia. He was not only given refuse and security but also a Jagir in Majha.
When Laik Singh escaped from the prison of Maharaja Ranjit Singh and came to the shelter of Jassa Singh Ramgarhia, he fought with Maharaja Ranjit Singh for four months for his protection.
Brief Comparative of Jassa Singh Ahluwalia and Jassa Singh Ramgarhia
Two great leaders of the Misl period were Jassa Singh Ahluwalia and Jassa Singh Ramgarhia. Ahluwalia being a close confidant of Kapur Singh, and given his seat by Kaur Singh had a special status among Sikhs due to his legacy, while Ramgarhia had earned his reputation due to his strength and bravery. When all the misls had to take decisions together, the guidance of both of these was accepted. The bravery of both of them is unparalleled. Ahluwalia remained limited to Punjab, while Ramgarhia had spread outside Punjab as well to the states of Himachal, Haryana, UP, Rajasthan, and Delhi spreading the Khalsa supremacy in North India. He was generous as well. Once the Emperor of Delhi sent him valuables with the Khilat. He kept only the weapon but distributed the rest of the costly gifts among his Sikhs.
The Merits of Jassa Singh Ramgarhia
Jassa Singh was a brave, generous at heart, far-sighted, wise, intelligent, master in swordsmanship, resolute leader, sympathetic to the poor, helping the poor victims of oppression and punishing the oppressors. During the Misl period, the Sikhs remained dominant in the hill states of North East Punjab, Haryana, Delhi, Western UP, and Eastern Rajputana because of him. It is apparent that if Ranjit Singh became Maharaja and Phulkia states ruled for a long time, the invisible hand of Jassa Singh Ramgarhia was behind these.
References
Bhagat Singh, A History of Sikh Misls, The Ramgarhia Misl, Punjabi University, Patiala, 1993, pp. 116-129
Bute Shah, Tarikh-i-Pinjab, IV Punjabi University Library, Patiala, p.55
Ganesh Das Badhera, Char Bagh-i-Punjab (1855), Amritsar, 1965, p.142
Gian Singh, Twarikh Guru Khalsa, Part II, reprint, Patiala, 1970, pp.231-34
Ali-ud-Din-Mufti, Ibratnama (1854), Vol I, Lahore, 1961, p.304
Kanaihya Lal, Tarikh-i-Punjab, Lahore, 1877, p. 91
Khushwaqat Rai, Tarikh-i-Sikhan (1811) MS, Punjabi University Library, Patiala, p.72
Lapel Griffin, Punjab Chief, Lahore, 1865,p.170
McGregor, History of the Sikhs, I, 1846, Allahabad reprint, 1979, p.130.
Mohammad latif, History of the Panjab, New Delhi, reprint 1964, p.343
Mohammad Latif, History of the Punjab, 1891, Delhi 1964, p.306
Rattan Singh Bhangu, Prachin Panth Parkash (1841) Amritsar, 1939, pp 311-315
Sardar Sunder Sngh Ramgarhia, Annals of Ramgarhia Sardars, The Punjab Past and Present , Vol. VIII-II Oct 1974, pp. 415-427
Sohal Lal, Suri, Umdat-ut-Twarikh, Lahore, 1885, p.18
Suraj Singh and Darbara Singh, itihas Ramgarhian, Vol I, Lahore, 1915, p. 411
Teja Singh Ganda Singh, A Short History of the Sikhs, Bombay, 1950, p.139