Paradise Canyon Elementary students in Mickey Block's third-grade class expanded their horizons Wednesday, when family members of classmate Gurdaas Singh Malik paid a visit and led a turban-tying demonstration.
Mom Bhupinder Kaur Malik acquainted kids with the family's Sikhism, a religion based on equality, honesty and sharing. The culture involves the carrying of symbolic objects, meditation and daily readings of scriptures.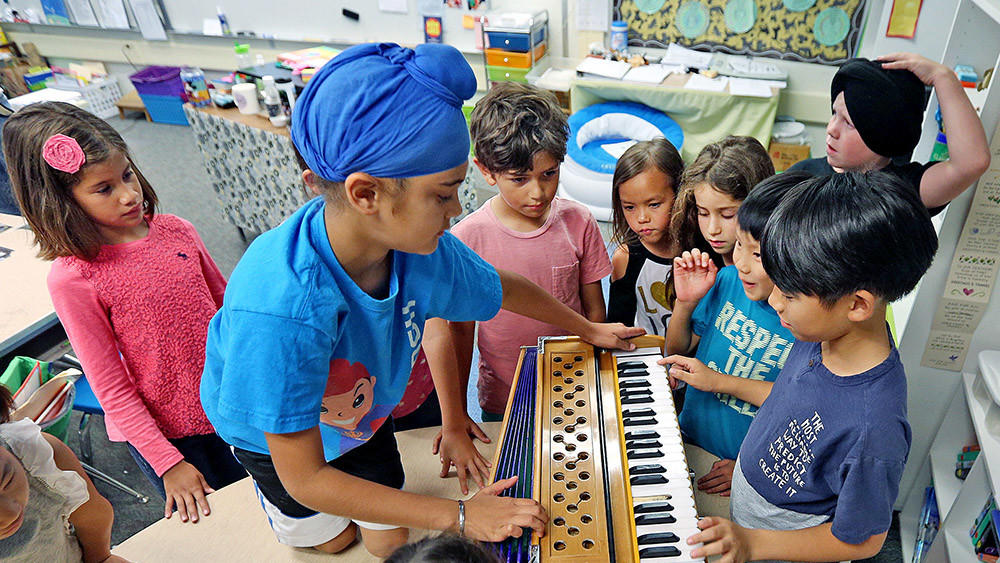 One of the most easily recognizable traditions, she said, is the wearing of turbans or head scarves. Sikhs never cut their hair or beards, so turbans help keep long hair clean and neat.
"To us, it's just a part of our everyday clothing," Dad Amarpreet Singh Malik explained. "Just like you put on a shirt or pants, we put a turban on."
Gurdaas' uncle, Bhajneet Singh, helped his brother Amarpreet fold a long cotton cloth into a roll for tying. There are different sizes and styles, he explained. Gurdaas wears an aerodynamic and sporty top knot typical among kids.
Students asked a slew of questions. Classmates Caitlin Aguilar and Jake Olivarez got to try wearing their own turbans.
"Do you feel different?" Bhupinder Malik asked them after the tying was complete.
"Yes," they said in unison.
"That's kind of how we walk around," she replied.
It's a wrap ... a Paradise Canyon 3rd-grade class learns of Sikhism and how a turban is tied