[Ishna's note: This thread started within this one:
Interracial And Interfaith Marriage, Help Needed To Confront/convince My Parents
]
InnerDarbar ji,

Guru Fateh,

My nephew got married to a Japanese classmate of his in March. They had the Anand Karaj in India and then Shinto/Christian wedding ceremony in Japan. Both of them are barristers and work at the World Bank in London. He was born in India and she in Japan.

His parents, my sister and her hubby never objected to that. They were rather very happy for their son as am I. I told my nephew just one thing that both India and Japan (including other far eastern countries) are racist countries, so they should not even think of settling down at any of these places.

You may be wondering why I am telling you all this. The reason being that this has nothing to do with Sikhi as a religion but Sikhi as a culture. Here in this thread, the discussion is being mixed from both aspects. People who are born in Sikh families and keep Sikhi saroop (look) are accepted as Sikhs. Even people who do not wear turbans also call themselves Sikhs because of the same reason. My nephew got married from a cultural point of view as did his wife, hence the two marriage ceremonies. It had nothing to do with religion/s.

I have no idea if you and your Korean girlfriend are financially independent. It seems your father is objecting the cultural aspect of this affair but labeling it as religious. It is a shame that he can not see the difference.

Happiness in not found in any religion but in the self which is knotted with the culture and the religion.

It is not about how much you are in love with each other but the more important question is, are you both ready to have kids in this mixed marriage and prepare them to face racism?

Would the love between you two dissipate if you two faced racism after marriage?

If I were you, I would make a list of these questions with her and then decide.

In closing I would say, thanks for joining the forum and sharing your story with us. We are one big SPN family here who are always with you no matter what decision you make.

Good luck in your journey.
Tejwant Singh Ji, I am just wondering how they got around the hukamnama issued by Akal Takht on interfaith marriages as far as anand karaj is concerned? It's a big issue in the UK right now, with people actually protesting weddings! In 2007 a hukamnama was issued by Akal Takht stating that only twi Sikhs can be married via anand karaj (because the lavans are actually deeply spiritual) and that if a convert is being married, they must already have Kaur or Singh in their documents (passport etc.) to show that they are not just claiming to follow Sikhi, in order to have a Gurdwara wedding.
I'll attach it.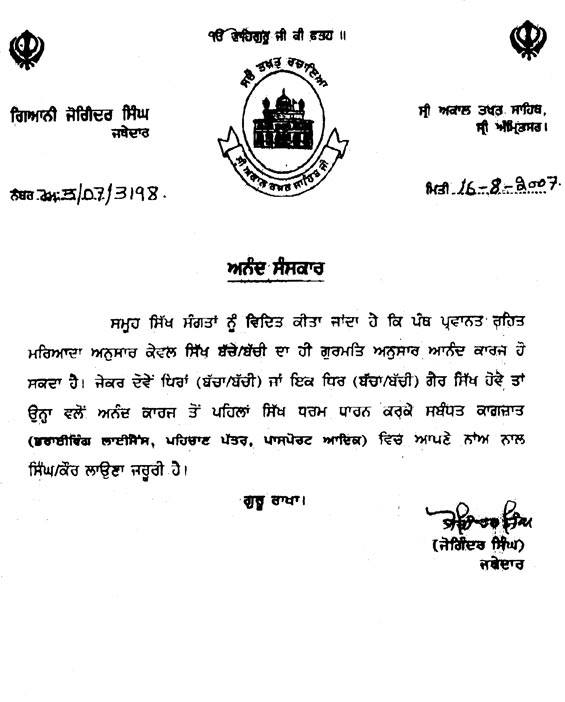 Last edited by a moderator: