India 'sinks Somali pirate ship'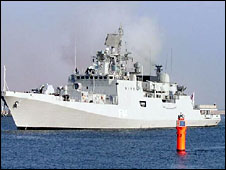 The Indian navy is now patrolling off the Somali coast
An Indian navy warship has destroyed a suspected Somali pirate vessel after it came under attack in the Gulf of Aden.
Source:
http://news.bbc.co.uk/2/hi/south_asia/7736885.stm
What do forum members think about this news event? Piracy has become a scourge to worldwide trade, transportation and economic collaboration in the past year. The number of news stories about piracy on the high seas in the past month is alarming.
India has not taken a hands-off approach to this threat it would appear.