Saturday, July 9, 2011



THIS ABOVE ALL




I applaud action against Ramdev


Khushwant Singh





BABA Ramdev, who has hogged front-page news in all our papers as well as top headlines of our TV channels, is a man of very modest learning. He was also a man of limited means till he moved from Haryana to Hardwar. Within a few years, he became a crorepati and a political leader. Since nationwide corruption was uppermost in the minds of Indians, he chose to spearhead the movement to eradicate it.

Fortunately for him, the BJP leadership, which has run out of new ideas, decided to exploit his popularity and backed him. His following was entirely Hindu. No Muslim, Christian or Sikh bothered to join him. He was planning to make a grand opening move at Ramlila Grounds. People joined him in thousands. The government sensed that if it allowed him to get his way, it could cause a serious law and order problem. So the Delhi Police made a pre-emptive strike by picking him up, flying him back and dumping him in Hardwar. I applaud the action taken against him. BJP leader L.K. Advani's plan to utilise him to his party's benefit misfired. His comparing the midnight hijacking of this "mischief-maker" to the tragedy of Jallianwala Bagh shows how little he knows about history.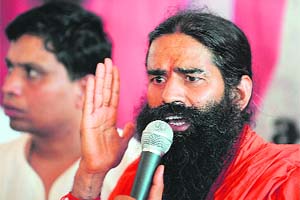 The BJP's plan to utilise the rising popularity of
Baba Ramdev to the party's benefit misfired

In Jallianwala Bagh, General Dyer had his platoon of Gurkhas open fire on the assemblage in which more than 300 people lost their lives. Even the enquiry commission set up by the British Government censured Dyer. He died a very guilt-ridden man.

In the operation carried out by the Delhi Police, there was not a single casualty. It only concludes that Advani made his irresponsible statement out of a sense of deep frustration.

source: http://www.tribuneindia.com/2011/20110709/saturday/above.htm