Hate crimes against Sikh, Hindu, and Arab Americans will now be able to be tracked by the
Department of Justice (DOJ)
and the
Federal Bureau of Investigation (FBI)
. After years of lobbying by community advocates and the support of 140 members of
Congress
, the DOJ and FBI have updated their hate crimes database and the FBI Hate Crime Data Collection Guidelines and Training Manual. Previously, no federal statistics were kept on hate crimes against these groups.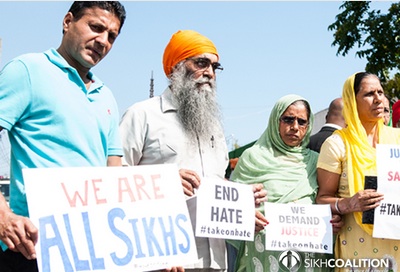 The
FBI Hate Crime Data Collection Guidelines and Training Manual
is considered a critical hate crime training resource for law enforcement, and with the help of community
advocates
, now includes a special section to help local police identify, respond to, and report hate crimes against Sikh, Hindu, and Arab Americans.
"Whether it be in New York or Sacramento, or the horrific massacre we saw unfold at the Sikh Gurdwara in
Oak Creek, Wisconsin
, the sad fact remains that many in these communities have - and will continue to be - targets of hate," Representative Joe Crowley said at a Capitol Hill press conference
with
elected
and
community leaders
announcing the launch of the new system, "That has to change. But we can't fully grasp or solve a problem until we know exactly what it is we are dealing with. That's why collecting data on hate crimes is so critical."
The system is now fully operational and will collect data for the FBI Uniform Crime Reporting (UCR) Hate Crime Statistics Program.
"Tracking hate crimes is more than the questions of who, or when, or how," said Crowley, "It's about why? What could have prevented this? What could be done to better protect this community?"
"Today we all stand together to show that hate has no place in America," Jasit Singh, Executive Director of The Sikh American Legal Defense and Education Fund (SALDEF) said at the press conference, "An attack on one of us is an attack on all of us, and only together will we address the root of this hate."