At present the biggest issue that is going in india is Australian cricket tour controversy
And Harbhajan singh's ban after Andrew symonds blaming him for racial abuse.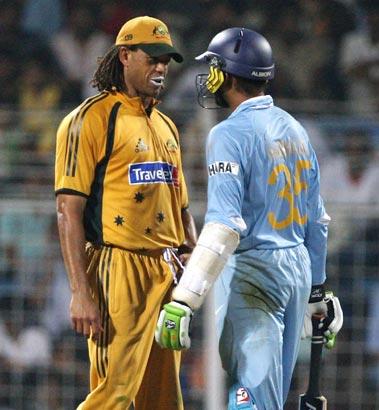 Harbhajan's trysts with controversy
January 7, 2008
Text: Haresh Pandya
Although a spinner, Harbhajan Singh has got a fast bowler's temperament.
India's tour of Australia: Complete Coverage
This probably explains why he has been finding it increasingly difficult to steer himself clear of controversies.
But even his detractors will also agree that the three-Test ban that the ICC has slapped on him for his alleged racial slur on Andrew Symonds in the second Test in Sydney is simply too harsh by any yardstick.
One wonders what convinced the match referee Mike Procter, without any recorded proof, that Harbhajan was a culprit and Symonds an angel.
No one knows exactly what transpired when Symonds was batting and Harbhajan was bowling to him. But it's likely that the Indian may have said a few words in the choicest Punjabi or Hindi to the Aussie, which the latter, as is his wont, might have mistaken for a racial abuse.
Symonds is poor a victim of his own inferiority complex and tends to suspect anybody who says something to him, directly or indirectly and in a language he doesn't understand, even without any intention of hurting him or his sentiments. It's high time he became a true sport and showed some broadmindedness.
Photographs: Getty Images
Next
rediff.com: Harbhajan's trysts with controversy