Guru Nanak's visit to Ludhiana City and its S
urrounding

Dr. Dalvinder Singh Grewal​
Prof Emeritus Desh Bhagat University
Cosmopolitan city of Ludhiana lying on the banks of the Sutlej river and the historic Grand Trunk Road is Punjab's most populated city and industrially advanced known as the Manchester of India and the district of Ludhiana is known as one of the largest agricultural producers in India. Iy was not so 500 years when in 1500 A. D., when Guru Nanak crossed over Sutlej River near Puadhra at Talwan Patan (crossing) and entered Malwa Region. It was only a small village named 'Meer Hota.'[1] During the reign of Sikandar Lodhi (1486-1517 AD) Lodhis had settled in this village later naming the place as Lodhi-ana. This was gradually developed as modern Ludhiana. Initially the place was just a small encampment of the Sultans.
An event relating to the visit of Guru Nanak's visit to the place is described by Gyani Gyan Singh: "A group of Bairagi saints were sitting hungry at the place. When they requested for rations from village elders, they remained mute. Guru Nanak said, "The panchayat here is hard of hearing. It will not remain so anymore."[1] Since then Ludhiana (30°54'N, 75°52'E) has developed into the largest industrial town, a key communication centre and a municipal corporation with an estimated population of 15 lacs (1.5 million) in the state of Punjab, in northern India. Standing on the Sutlej River's old bank some 13 km south of the river's present course, the city covers an area of about 310 km². Ludhiana is centrally located on the National Highway 1 between Delhi and Amritsar. It is connected to the Indian capital city of New Delhi by road and has frequent train service. It is the richest district in the state of Punjab, and also includes the most productive industrial hub producing hosiery items, cycles, machine parts etc.
Guru Nanak's visit to Ludhiana and the villages around before going to Jaera Nanakpur is found recorded in Gurdham Sangreh. [1] and Malwa Itihas. (2) Guru Nanak visited Iqbal Ganj and Gau Ghat within the inner periphery of the present city and Dugri, Dhandra, Thhakkarwal, Gill and Bulara on the outer periphery of the city. Out of these, Gurdwaras at Iqbalganj, Gau Ghat, Dugri, Dhandra, and Thakarwal exist now which are discussed further.

1 Gurdwara Charan Chhoh Iqbalganj 2. Gurdwara GauGhat 3. Gurdwara Manji Sahib Dugri 4. Gurdwara Khuhisar Dhandra 5. Gurdwara Pehli Patshahi Thakarwal 6. Gurdwara nanaksar Jagraon 7. Gurdwara Bohd Sahib Jagraon

Gurudwara Charan chhoh Patshahi Pehli Iqbal Ganj, Ludhiana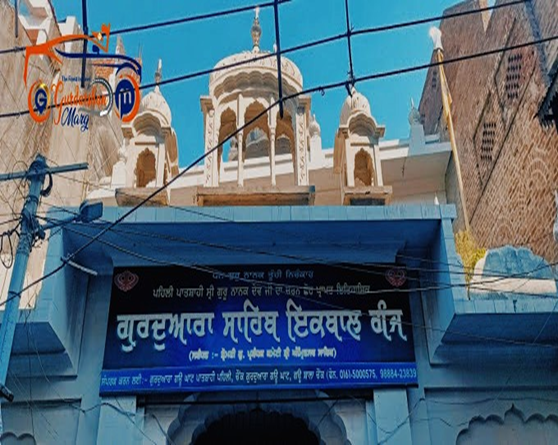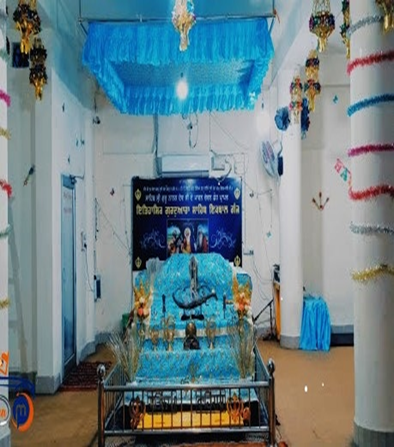 Gurdwara Charan Chhoh Patshahi Pehli is situated in WV75+M7F, Iqbal Ganj Chowk, Naulakha Garden Colony, Ludhiana, Punjab 141008, India and is about a km from Railway station Ludhiana. Gudwara is located between two shops in Trtankanwala Bazar, Ludhiana. A strong local belief of the local sangat draws them to the Gudwara. There usd to be a well connect3d with Guru Nanak at the site which however has been filled now and a room constructed over the well is the residence of a sewadar.
Reference
Punitinder Kaur Sidhu, 'Gurdwara Pehli Patshahi, Iqbalganj', Ludhiana, Guru Nanak's Blessed Trail (Punjab), Lonely Planet Global Limited, Punjab, October 2019, p. 141
Gurdwara Thara Sahib Gau Ghat, Ludhiana
After resting for some time at Iqbaganj, he proceeded to Gau Ghat, Ludhiana. As per a local tradition Guru Nanak came here along with Bhai Bala and Mardana during his first journey. The ruler of the locality Jalal-u-deen along with his courtiers came to meet the Guru and to request him to save the city from occasional floods and erosion being caused by river Sutlej. Guru Ji guided him to serve his people well and impart justice judiciously. 'Leave rest to the Will of God. God may be kind enough to move Sutlej miles away from the city. By His Will the place will become prosperous", the Guru blessed.
A platform was constructed at the place to commemorate Guru's visit and the place was initially known as
Thara Sahib
. Dr. Gurmukh Singh states in Historical Sikh shrines: 'Gurdwara Gau Ghat on the bank of Buddha Nala in No. 3 Division is said to be an old shrine established to commemorate Guru's Nanak Dev' stay at this spot. Originally it was only in the form of Thara Sahib (a platform).
After sometime, the river changed its course and moved 13 kms away from Ludhiana leaving its stream Buddha Nala to serve the people of the city.[7][8] This has now been expanded into architectural monument through Kar Sewa by late Baba Harbans Singhjii Dilli wale from 1976 to 2005 AD. It is now affiliatedas as an unscheduled shrine to S.G.P.C.[2]
A sarovar has since been added by diverting the Buddha Nala and reclaiming part of its bed. All the Gurpurabs are celebrated here with enthusiasm. In future construction of Sarai, School and library are envisaged.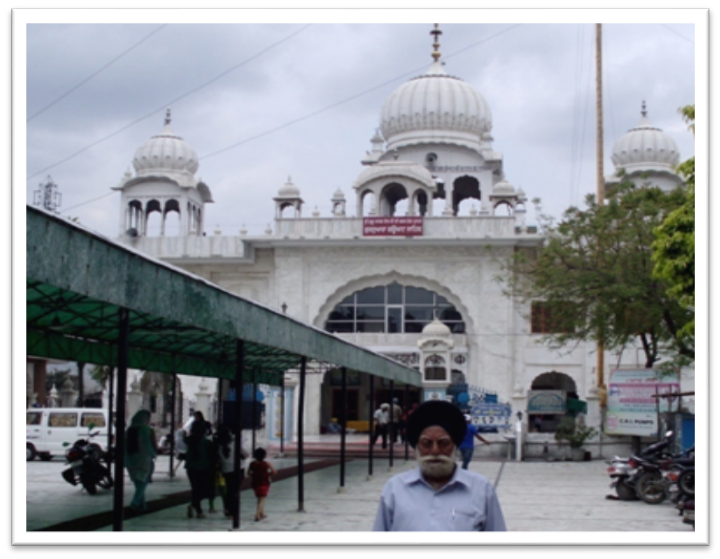 Gurdwara Gau Ghat Ludhiana- A great Architectural monument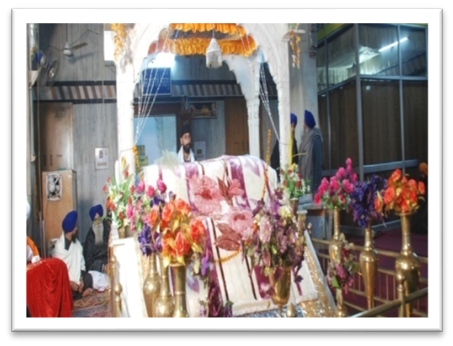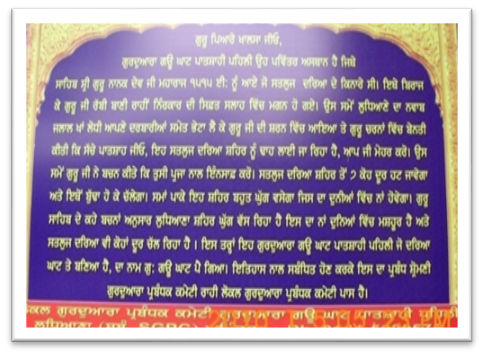 1. Gurdwara Gau Ghat Ludhiana-Sri Guru Granth Sahib inside, 2. History of Thara sahib on Board
​
References
[1] Giani Gian Singh, 1997, Gurdhm Sangreh, Daram Parchar Committee Shiromani Gurdwara Parbandhak Committee, Sri Amritsar, p. 35-36.
[2] Gurmukh Singh, 1995, Dr. Historical Skih Sikh Shrines, Amritsar, Singh Bros, p.189
[3] Jasbir Singh Sarna Dr and Diljit Singh Bedi, Gurdwara Kosh, Amritsar, Dharam Parchar Committee.
[4] Harjinder Singh Dilgeer, 1996, The Encyclopedia of Sikhim 2nd edition, Punjabi university, Patiala, 1996,
[5] The Sikh Reference Book, Canada, 1997. (p. 381-82)
[6] Kahn Singh Nabha 'Mahankosh', entry 'Thakarwal': A village in Ludhiana district. It has Nanaksar, the Gurdwara on the name of the fist Guru (p.553) Gurdham Didar, edited by Giani Gurdit Singh, March 2005, Dharam Parchar Committee, SGPC Sri Amritsar, p.167
Thakkarwal, Ludhiana:
Thakkarwal is village on the outskirts of Ludhiana on road Ludhiana-Pakhowal road, 8 kms from Feroze Gandhi market-Bhai Bala chowk and 20 kilometers from Pakhowal. It is now getting merged up with Ludhiana with lot of construction work of colonies in progress in the area. Gurdwara Nanaksar is just on the periphery of the village. As per the entry 'Thakkarwal' in 'Mahankosh' Bhai Kahn Singh Nabha 'records: A village in Ludhiana district. It has Nanaksar, the Gurdwara on the name of the fist Guru (p.553) [9] Gurdham Didar confirms the above. [10]
Guru Nanak Dev Ji visited the place during his journey to the east. He came here from Gau Ghat in Ludhiana city along with his disciples Bhai Bala and Bhai Mardana. He is stated to have stayed here for 3-4 Days. According to senior citizens of Thakkarwal, Thakkarwal was yet not fully settled; the population was gradually migrating to their fields in this area from Village Lalton. There used to be a Johad (big pond) surrounded by Butt trees (Bohad). It was a fit place for the animals to have water and rest during noon. All the old and young also used to get together for the rest, play and gossip as is still the practice in remote villages of Punjab. Guru Nanak found this as a fit place for rest and has discussions with the local people. The head priest of temple named Thakur Das had migrated from Rajasthan and a dera in Allahabad. He served his Guru in Mathura Das well.In a rage he left the dera with some of his supporters.By this time Guru Nanak was sitting in the shade of the tree.Thakur Das met Guruji and held some discussions about the existence of god.He was enlightened to get the real answer from Guru Ji.After the death of his Guru the locals preferred another sewak Paramdas At his Guru's death, he expected to be honoured with the vacated seat. However, the locals preferred another
sewak
Paramdas.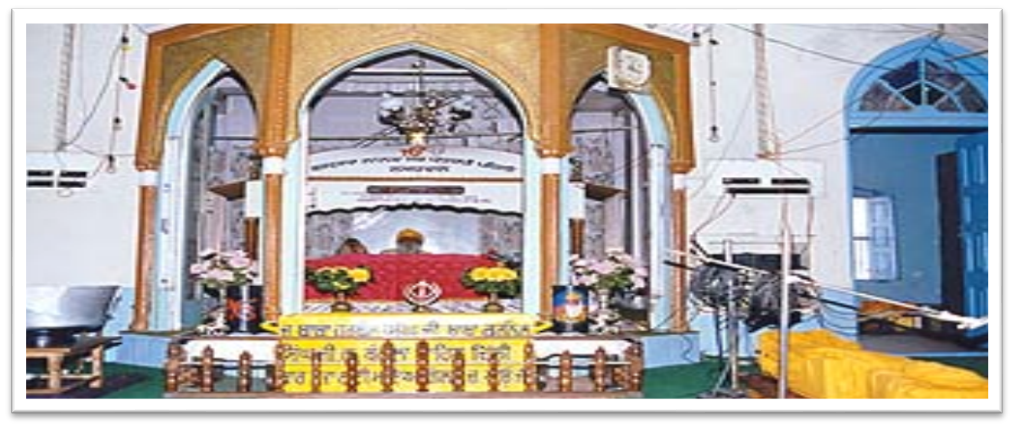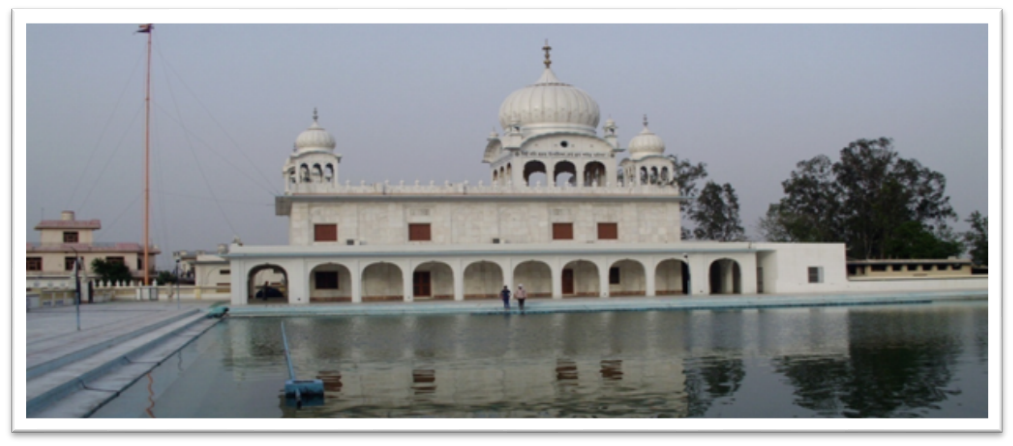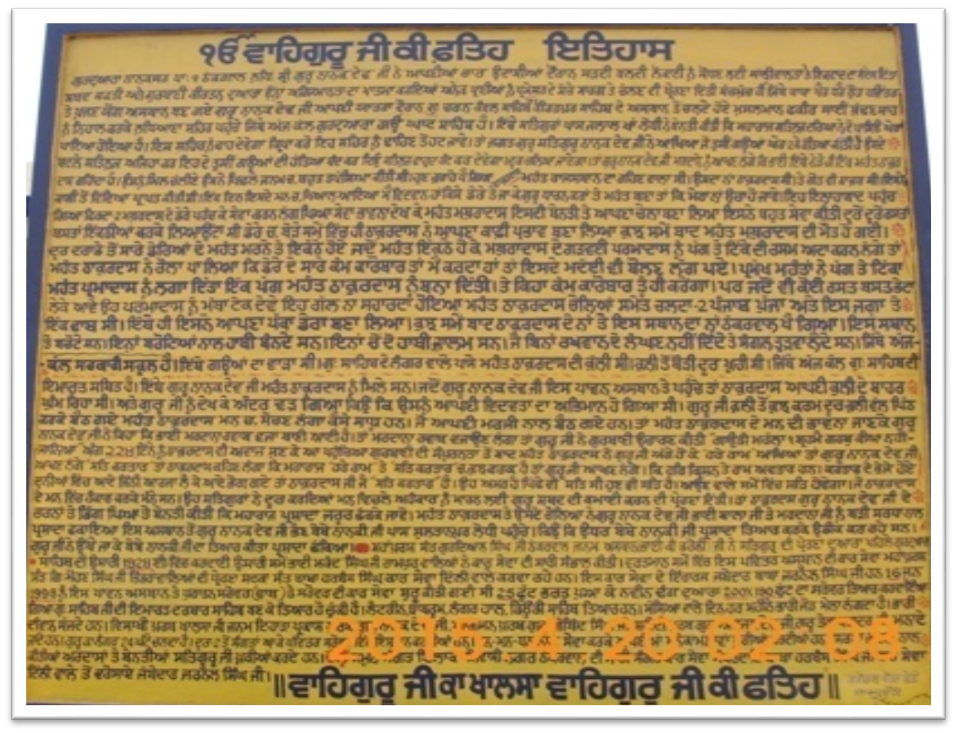 This place remained undeveloped till Sant Hardial Singh Droli took over the task of building a Gurdwara at the place. Mukand Singh Rampur performed construction service (kar seva) with total dedication. Later on this service was taken over by Bhai Harbans Singh Delhi Kar sewa wale. Under the direction of Jarnail Singh and an excellent building structure is in place and a 200x190 feet water tank has been added after raising the plinth by25 feet. Sikh religious maryada is performed daily and all Gurpurabs are celebrated with regularity. The village is gradually becoming the part of Ludhiana with most of the important colonies like Basant enclave. To reach the location one can take an auto or taxi from Ludhiana or Pakhowal Road.
References
[
1] Kahn Singh Nabha 'Mahankosh', entry 'Thakarwal': A village in Ludhiana district. It has Nanaksar, the Gurdwara on the name of the fist Guru (p.553)
[2] Gurdham Didar, edited by Giani Gurdit Singh, March 2005, Dharam Parchar Committee, SGPC Sri Amritsar, p.167 [3]
http://www.sikhiwiki.org/index.php/Gurdwara_Nanaksar_Sahib_(Thakarwal)
Dugri (Ludhiana)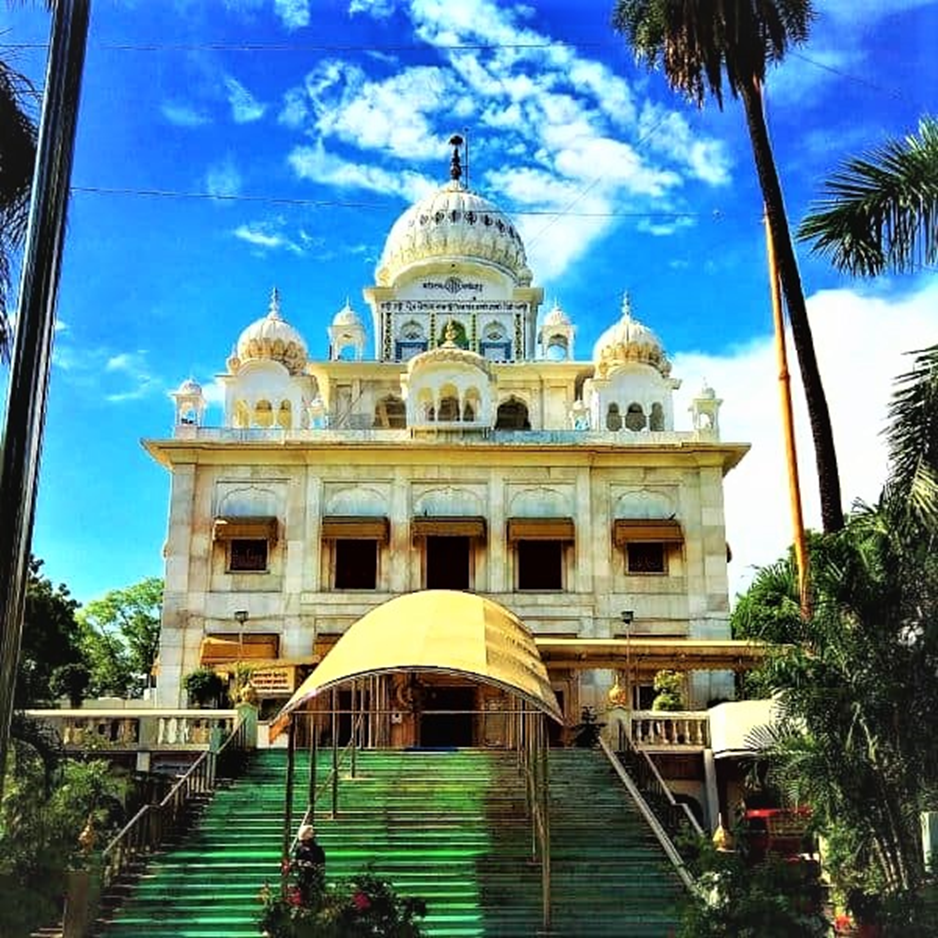 Gurdwara Damdma Sahib Sahib Patshahi Pehli ate Chhevin Dugri, Ludhiana
Dugri is on the outer boundary of Ludhiana by the side of Sidhwan canal. It was visited by Guru Nanak dev ji and Guru Hargobind Sahib ji while passing through Ludhiana. He came here from and went to
Gurudwara Damdama Sahib was constructed recently to commemorate the visits of Guru Nanak Dev Ji as well as by Guru Hargobind Singh Ji. Guru Nanak Dev Ji imparted the Sikhism teachings amongst the people there and later Guru Hargobind Singh Ji visited this place to rest for sometime before heading forward to face the Mughals. The Gurudwara is situated outside the city and is often very quiet and peaceful with only the sound of kirtan filling the air around. Purely divine and serene.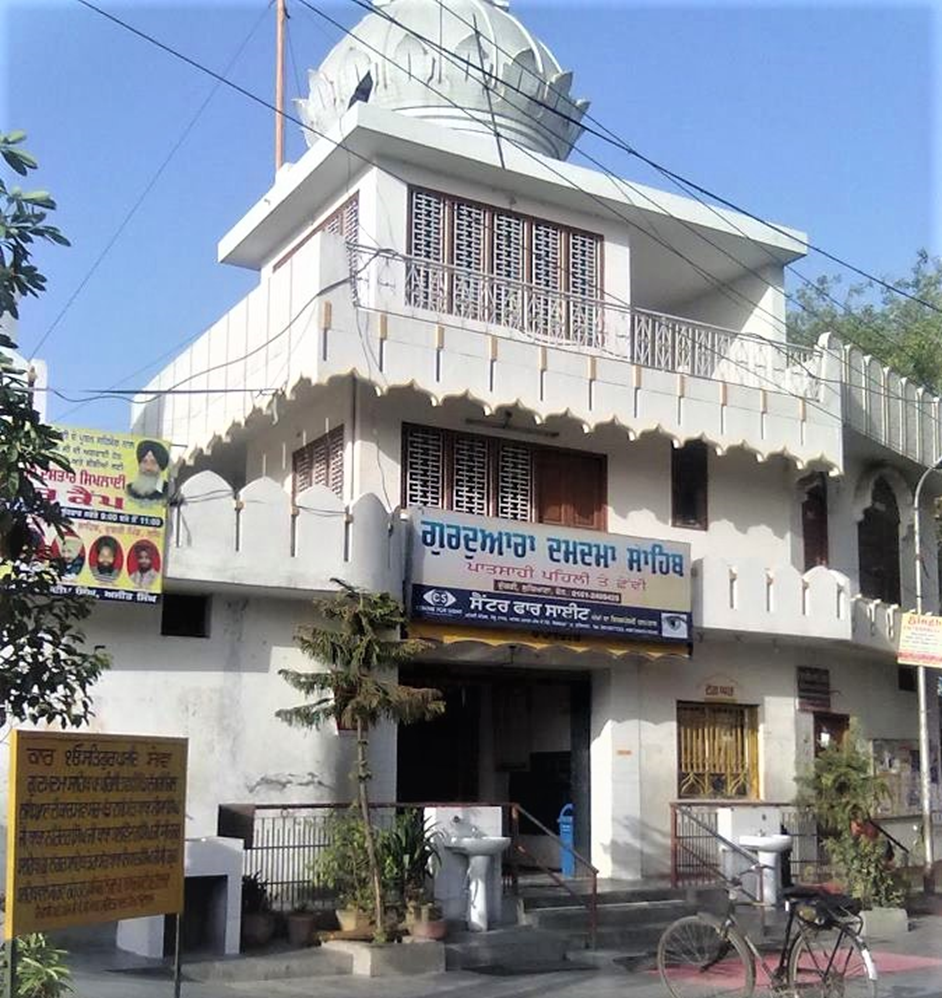 Gurdwara Pehli te Chevin Patshahi Dugri Ludhiana​
Gurdwara Khuhisar, Dhandra, Ludhiana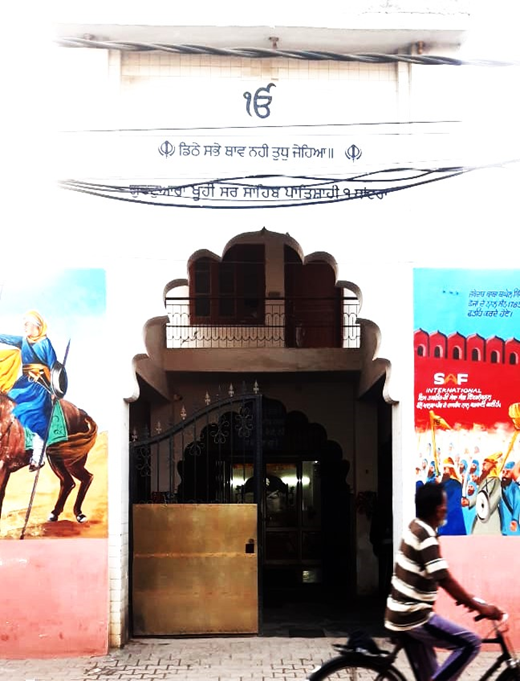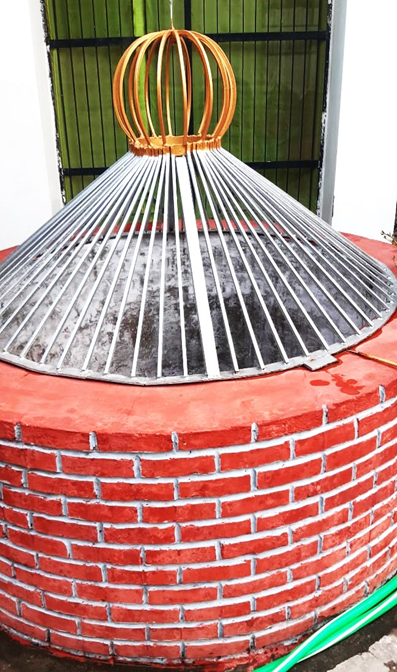 Gurdwara Khuhisar, Pehli Patshahi, Dhandra
According to the board at Gurdwara Board at Khuhisar, Dhandra and at per local legends told by the elders of Dhandra, Dugri and Gill villages Guru Nanak came from Ludhiana Gau Ghat to Dugri and from Dugri came to this place and went through village Gill to Jaghera. Indication of Guru Nanak on this route are also available in Malwa Itihas p.10. A Gurdwara was constructed on Dugri-Dhandra road market in 1995 which encloses the well stated to be dug at the instance of Guru Nanak.The board says that the villagers of Dhandra and Gill looked after Guru ji well but Guru ji said' "Ujad jao." Mardana asked the reason as to why those who served the Guru well were askd to desert the place? Guru Nanak replied that: "these persons are good natured. Where ever they would go they will spread goodness." These words if the Guru turn4d true. The people of village of Dhandra and Gill spread widely. People from Gill village established nine villages (Chak 91 to 99) in Lyallpur district (now Faislabad, Pakistan) and after 1947 migrated to numerous other villages in North India including Dhanansu, Lakhowal, Gaddowal, Saloo Bhaini, Garoo Bhaini, Gadapur, Gaunsgarh, Aliwal, Dher etc. Similarly villagers of Dhandra too established number of villages in Pakistan and after 1947 spread to villages Gagra, Andloo, Khwajke, Halwara, Paut, Nauladi, Lalaudi, Rahaun, Mahaun, etc. and in many colonies around Ludhaina. This is how Guru Nanank's prediction became true. Guru Nanak helped digging up a well which exists till date as can be seen in the photograph. He else held dialogue with a Muslim Faqir at the site whose place can be seen adjoining Gurdwara Khuhisar. The Gurdwara is about 2 kms from Dugri and of similar distance from Dhandra on Dugri-Dhandra Road and can be rached from Ludhiana easily since Autos go from Bus stop to Maniwal Gate just opposite Khuhisar, Gurdwara. Sri Guru Granth Sahib is established and the regular Kirtan is performed in morning and evening where quite a number of local sangat gathers.
Reference
Punitinder Kaur Sidhu, 'Gurdwara Pehli Patshahi, Khuhisar, Dhandra, Ludhiana', Guru Nanak's Blessed Trail (Punjab), Lonely Planet Global Limited, Punjab October 2019, p. 140-141