GURU NANAK IN ADEN (YEMEN)
Dr Dalvinder Singh Grewal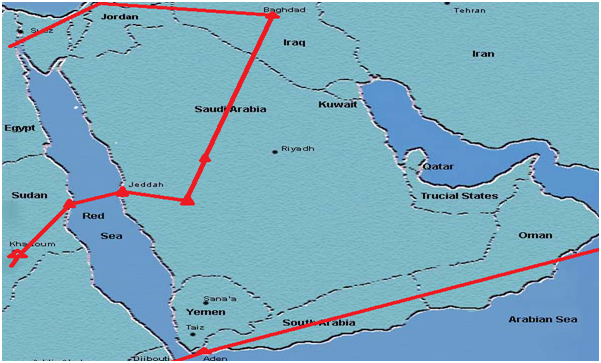 'From Karachi the Baba went to the Adan fort. Starting from Sonmiani touching various ports and visiting cities like Bushahar Guru Nanak reached Aden in Yemen. Aden
,
a port city in Yemen, is called the 'Gibraltar of the East'. It is located by the eastern approach to the Red Sea (the Gulf of Aden). Spread in area of 120 kilometers, It has a population of approximately 0.8 million. Aden's ancient, natural harbourlies in the crater of a dormant volcano which now forms a peninsula. Aden encloses the eastern side of a vast, natural harbour that comprises the modern port. The volcanic peninsula of Little Aden forms a near-mirror image, enclosing the harbour and port on the western side. It is a key trading centre and a port enjoyed local trade with the coast of East Africa and Persian Gulf. Rebuilding in a more solid form began after 1175 AD [1][2] , and ever since Aden became a popular city attracting sailors and merchants from Egypt, Sind, Gujarat, East Africa and China.[3] According to Muqddasi, Persians formed the majority of Aden's population in the 10th century. [4][5][6] When Guru Nanak visited Aden in 1517, the Muslims were the rulers. Starting from Karachi/Surat/Sonmiani Guru Nanak stayed near the Aden fort on a hill. Guru Nanak's temple (gurdwara) with a golden dome can be seen half a mile from the city towards the east while travelling in a ship. [7][8] Now it is a dilapidated place. [9] Nothing much is known as to what all discussions took place and with whom at this place. Syyed Prithipal Singh who reached Adan fort on his way to Hajj with Syyed group mentioned that: 'There is a beautiful place at Aden built called Nanak Shah
Kalander
(Kalandar is a sect of Muslim monks)'
.
References
[1]Fahim, Karim; Bin Lazrq, Fathi (10 April 2015),
"Yemen's Despair on Full Display in 'Ruined' City"
,
New York Times Company
.
New York Times
, Retrieved 11 April 2015.
[2]
"Proxies and paranoia"
,
The Economist
(
Economist Group
), The Economist. 25 July 2015. Retrieved 30 July 2015.
[3] Modern Middle East Nations and Their Strategic Place in the World: Yemen, 2004, by Hal Markovitz.
ISBN 1-59084-521-8
[4] Lawrence G. Potter (2009).
The Persian Gulf in History
, p. 180.
[5] Dr Pirouz Mojtahed-Zadeh (2013).
Security and Territoriality in the Persian Gulf: A Maritime Political Geography
. p. 64.
[6]
Aden - Wikipedia
[7] Giani Gian Singh, 1891, Twareekh Guru Nanak Khalsa, Guru 1, Part 1, Language Department Punjab, p. 238
[8] Dr Surinder Singh Kohli in Travels of Guru Nanak, 1969, mentions that he boarded the ship for Aden from Surat.
[9] Sohan Lal Chauhan, 2012, Sach(u) Purana Hovai Naahi, Chandigarh, p. 16 mentions that Guru Nanak started his travel to Arab countries from Sonmiani