Joined

Jun 1, 2004
Messages

6,526
Likes

5,174
Location
JALANDHAR: With Jat agitation in Haryana leaving thousands of commuters stranded at different places in Haryana, gurudwaras of Panipat and at other places have been thrown open to them. Gurudwaras, local Sikhs and volunteers have also started 24x7 Langar (free community kitchen) and all available places have been opened to accommodate maximum people. Local Sikhs and other volunteers are helping the stranded people in reaching the gurudwaras and then cooking and serving food there.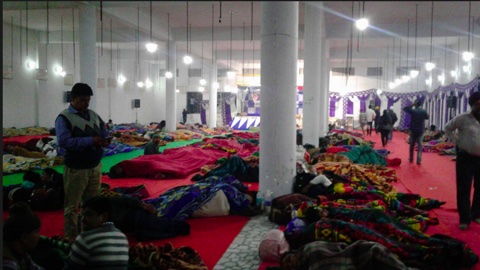 "We have 700-800 persons at the Gurudwara. After all the rooms were filled we opened the halls also and are providing space to the people wherever they can adjust. Langar was started on Saturday evening and we have made arrangements that it remains available for 24 hours as if the stranded people reach in the night they can get the food without any hiccups," said Rattan Singh, secretary of Gurudwara Pehlo Patshahi on GT Road Panipat.
He said that other gurudwaras in the city were also opened and they were trying to accommodate maximum people. People from the neighbourhood are also bringing cooked food or other things for them. "Milk for children remains a major concern and we are providing that too," he said. Local Sikh organizations and other residents were also pooling in to help people," he added.
"We used mini bus of a school being run by our Gurudwara/Dera to bring the people to the Gurudwara who were stranded at bus stand, railway station or at other places and had no idea where to go. Some people also pressed their cars into service for the purpose to carry people to the gurudwara," said Japsal Singh, vice-secretary of Dera Baba Jodh Sachiaar, G T Road Panipat.
"This gurudwara has given shelter to around 1,000-1,500 persons and we also sent Langar to the commuters stranded near Toll Plaza last night with the help of local organizations," he added.
Meanwhile a group of four students have circulated their phone numbers on social media to help people to reach to these gurudwaras. "As gurudwaras are open for one and all we thought that we should create awareness about it and circulated our number to create awareness so that people can get some reprieve in the distress. We are chipping to help stranded commuters to reach these places and also coordinating with gurudwaras," said Vishal Nandwani, whose and his other three friends' mobile numbers have gone viral on social media with the message that stranded people can reach gurudwara and can call them up.6/5