Growing Concerns over IDP Plight in Pakistan- Urgent Humanitarian Help Needed.
Pakistan IDP map Courtesy: BBC.com
Islamabad, Pakistan: The future of Pakistan's Internally Displaced People (IDPs) becomes more uncertain with each passing day in the camps. UNITED SIKHS appeals for immediate help to rehabilitate people living in make shift camps, where they face extreme heat and poor hygiene.
"It's very hot and we are living in miserable conditions without a cooler or a fan. Our children and women inside a tent feel they are in a clay oven," said Kareem Khan, an IDP at the Jalozai camp. The Jalozai camp has 21,000 families with more than 140,000 IDPs. The camp has been divided into 4 sectors and was an Afghan refugee camp during the Soviet- Afghan war. The Camp Director, Mr. Muhammad Tahir Orakzhai requested UNITED SIKHS to supply 800 pedestal fans and 800 water coolers.
The UNITED SIKHS relief team found that there is a shortage of food, drinking water and hygiene facilities at the campsites. The camp toilets are in a squalid condition and due to the summer heat contagious bacterial infections have increased among women and children. A significant number of women and children are suffering from diarrhea, scabies and high fever.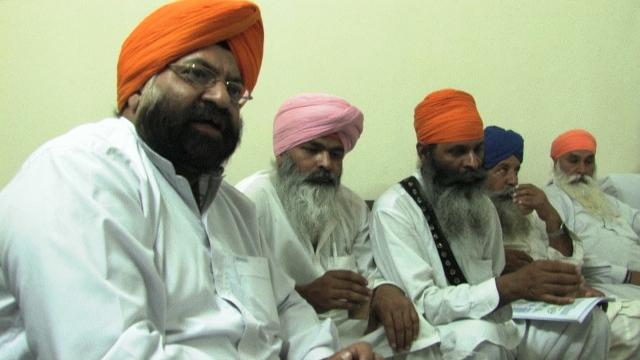 Dr Suarab Singh,Panja Sahib IDP coordinator, and Sikhs at Gurdwara Panja Sahib
A forlorn IDP woman at Panja Sahib
"The conditions at the camps are deteriorating because of the weather and the onset of the monsoons. There is an increase in cases of snake and scorpion bites. During our visit to the camp sites with the team of local doctors from the National Trust for Population Welfare (NATPOW), we learnt of the increase in the number of people requesting medicines for treating scabies, malaria, insect bites and diarrhea. The situation is aggravated by the fact that there is a shortage of female doctors to treat children and women who refuse to be attended to by male doctors. Some people have not taken a bath for more than a month," said Sundeep Singh, UNITED SIKHS Projects Media Coordinator, who returned from Pakistan this past week.
Mr. Iftikhar Durrani, CEO of Pakistan's National Trust For Population Welfare (NATPOW) commented, "The humanitarian aid to be provided needs to be more humane, we need assistance, today!"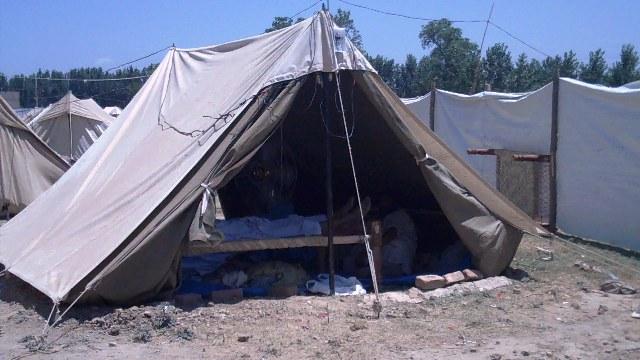 IDP children met by UNITED SIKHS volunteers
A make shift Camp for IDPs in Mardan

"We need to provide IDPs with a cleaning kit that has clean towels, antibacterial soaps, bed sheets and clothing to stop the spread of contagious bacteria. There is also a dire need for a clinical facility at every camp site, especially for mothers and their children, to prevent the spread of infection in the camps," said Kuldip Singh, President, UNITED SIKHS-USA, who is coordinating fundraising efforts. He continued, "Each Mother and Child Health (MCH) clinic would cost $9,200 USD to build, maintain, and run, and we have been told that 20 clinics are needed, covering the 19 IDP camps and the IDPs staying at the Panja Sahib Gurdwara."
Herdyal Singh, a resident of Peshawar who has family in the Orakzai Agency, said, "There are 12 Sikh families who are from Orakzai and are now living in Peshawar; we left our homes from the fear of the Taliban. Right now, we have to rebuild our lives from scratch and don't know what's in store for the future. We don't know when will we be going back to our homes. Our home articles have been auctioned off by the Taliban and we have no means of recovering them. We look forward to any assistance that can be provided to help us start again. "
"We will also be working with the office of the UNHRC and the local government officials to assist the IDPs that would need legal assistance." said Mejindarpal Kaur, UNITED SIKHS Legal Director.
ATTENTION
UNITED SIKHS has provided relief supplies for 2 weeks at Panja Sahib. We seek donations to meet the needs for another 20 days at 19 IDP camps and for IDPs at the Panja Sahib Gurdwara Total funds needed immediately: $215,000 USD. Donate here or by posting a cheque to a UNITED SIKHS office nearest to you.
"UNITED SIKHS needs to raise about $215,000 USD to support our relief efforts for the needy IDPs living in the camps. We have had to revise our funding estimates to accommodate new requests for relief supplies, rehabilitation and medical emergencies. We request the public to donate generously to provide the IDPs with immediate humanitarian relief and advocacy support," said Kuldip Singh. For a full list of IDP needs that we would like to meet click here.
For a previous press release on UNITED SIKHS Pakistan IDP efforts, please visit: UNITED SIKHS Press Release 2606200900
Issued by:
Gurvinder Singh
Sikh Aid Director
UNITED SIKHS
email: sikhaid@unitedsikhs.org
Ph: 1-888-243-1690
WE ARE DOING EVERYTHING WE CAN, BUT WE NEED YOUR CONTINUED SUPPORT!
PLEASE DONATE GENEROUSLY; HOWEVER, NO AMOUNT IS TOO LITTLE.
You can help those affected by countless crises around the world each year by making a financial gift to the UNITED SIKHS, which will provide immediate relief and support to those in need. Call 1-888-243-1690 for more information. Contribute to UNITED SIKHS through local chapter in your country UNITED SIKHS::Recognize the Human Race as One . Internet users can make a secure online contribution by visiting UNITED SIKHS::Recognize the Human Race as One . If you wish to designate your donation to a specific disaster please do so at the time of your donation.
Our Mission
To transform underprivileged and minority communities and individuals into informed and vibrant members of society through civic, educational and personal development programs, by fostering active participation in social and economic activity.
UNITED SIKHS is also an avenue for networking between like-minded organisations to establish and nurture meaningful projects and dialogues - whether social, cultural or political- to promote harmony, understanding and reciprocity in our villages, towns and cities.
UNITED SIKHS is a coalition of organisations and individuals, who share a common vision based on the belief that there is no greater endeavour than to serve, empower and uplift fellow beings. The core of our philosophy is an unwavering commitment to civic service and social progress on behalf of the common good.
Accordingly, UNITED SIKHS has sought to fulfil its mission not only by informing, educating and uplifting fellow beings but also by participating in cross-cultural and political exchanges to ensure that the promises and benefits of democracy are realized by all.
We at UNITED SIKHS believe that the development of enlightened and progressive societies can be made possible by socially conscious groups of people who make a commitment to develop and direct human potential. Our work, efforts and achievements stand as a testament to our faith in this vision.