LAS VEGAS (KSNV News3LV) — A gathering of leaders and clerics from multiple religions denounced violence in the name of religion. The event, sponsored by the Muslim community of Southern Nevada, Ibn Asheer Institute, Islamaphobia Studies Center, and Unity Production Foundation* on Saturday evening featured culinary delights, a Moroccan musical performance by Ouzzani, and an open conversation in the name of peace.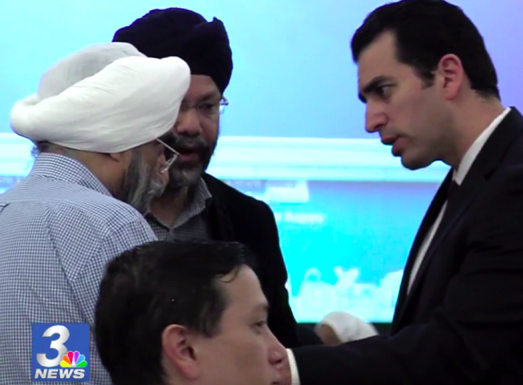 It was a night opened with a dialogue promoting peace and joining people together of all walks of life and faith.
More than 200 Las Vegans joined in the conversation to tackle issues about terrorism, faith, and Islamophobia.
Leaders from the local Islamic, Christian, and Jewish communities, along with other faiths, also united to sign a document to end religiously motivated violence.
"We have seen so much violence worldwide that we have to stand up and speak out against violence - especially violence in the name of religion," said local Muslim Aziz Eddebbarh.
It's a topic that is a top issue on the national and political stages following the high-profile terrorist attacks in Paris and San Bernardino in 2015.
"I think the extremists will almost take all the oxygen out of society and we'll end up having a shouting match at a time when we need an understanding, we need inclusiveness," said Dr. Hatem Bazian, who studies Islamophobia at U.C. Berkley. "We need to address some of the difficult issues confronting our society."
Bazian says inter-faith gatherings like this one hope to encourage similar events and eliminate intolerance in communities all across the country.
"These gatherings are very important and critical in really building a civil society that is inclusive, that is welcoming that embraces difference as a strength rather than it to be a place of fear," said Bazian.
http://news3lv.com/news/local/interfaith-gathering-promotes-peace-in-the-community