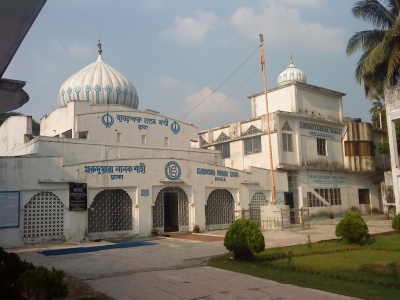 The first-ever large Sikh representative group or jatha to Bangladesh was flagged off on Monday. The jatha comprising 58 members, including women, will visit various gurdwaras in Bangladesh and return home on December 9.
The jatha was flagged off by Akal Takht Jathedar Giani Gurbachan Singh and Shiromani Gurdwara Parbandhak Committee (SGPC) head Jathedar Avtar Singh Makkar. Makkar said jathas will now be sent regularly to Bangladesh. "Earlier, permissions were granted to only granthis (Sikh religious workers) but now the Bangladesh government has agreed to give permission for this large jatha. We will soon meet the Bangladesh High Commissioner in Delhi for granting visas to more Sikh devotees", he said.
Makkar also offered to build a serai (hospice) at Gurdwara Chittagong near Dhaka. "Various gurdwaras in Bangladesh, built in the memory of visits by Guru Nanak and related to various Sikh historic dates, need repair and we are ready to take on the kar sewa (volunteer service). We will take up this issue with Bangladesh's High Commission and seek the Government of India's help, too," said Makkar.
The jatha members will be taking part in the religious ceremonies at Dhaka on December 3 to mark the celebrations of Guru Nanak's 541st birth anniversary.
Mata Amar Kaur Memorial Society, Dhanoa-Mukerian has primarily organised the jatha with help from the SGPC. The jatha was be headed by Lakhwinder Singh Lakhi while Satnam Singh Dhanoa will be the joint head. They will visit Gurdwara Nanakpuri and Sangat Tola at Dhaka, and Gurdwara Maiman Singh, Sikh Temple and Pahari Tila at Chittagong.
http://www.indianexpress.com/news/first-large-sikh-jatha-leaves-for-bangladesh/717757/