SPN celebrates the 104th birthday of S. Fauja Singh ji today... dedicating this sikh smiley to Fauja Singh ji...

Fauja Singh Ji has turned 104 today! Fauja Singh, nicknamed the Turbaned Tornado, debuted as a marathon runner at the age of 89 years in the year 2000. Since then, Singh has run nine full marathons.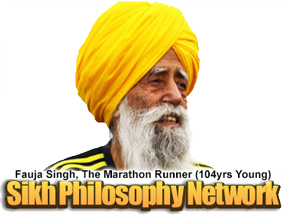 His best time was in Toronto, where he clocked five hours, 40 minutes and four seconds.
Fauja Singh, who holds the world record for the marathon in his age group - along with five British records, completed his last competitive 26-mile race in Hong Kong in February 2013. He received the British Empire Medal in recognition of his athletic achievements on January 1.
Singh, who was born in India in 1911, took up running to distract himself from the trauma of losing his son, daughter and wife in quick succession.
Last edited: