Satsriakaal all.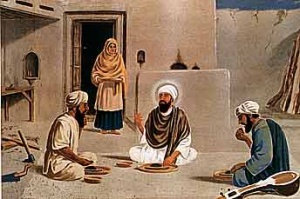 Guru Nanak and Mardana enjoying the food at the humble house of Bhai Lalo​
Im planning on (God willing) putting a fair trade post up in my local Gurdwara, and putting leaflets there...
However i really need someone to translate this leaflet into Gurmukhi....
Could any of the sangat do this...
please do this amazing seva if you can...
Just for the penjis and paaji's who dont know what

FAIR TRADE

is...
basically normal companies such as Cadbury's buy raw materials such as cocoa or bananas or whatever from poor countries... such as Ghana... and these companies pay these people too less so they can get even more profit for themselves... however they basically rob them... becoz they know they basically can, coz there is no laws to protect them and these people have no choice... but to accept, they pay them to the extent that these people will still be STARVING... and still have to go without food in some of the days... they still can't send their children in school... and they still in big debt... and they cant ask for more money... WHY? because then these companies will just basically go to other farmers and rip them off

instead

! And basically if no one buys there produce then they wont be able to even feed their family the little that they do.
Basically the farmers get robbed for how much there product is really worth...
By the way these big companies will still make MILLIONS or BILLIONS pounds of profit even if they pay these farmers just a little bit more... and top of that the cost of their lifestyle is lower to pay these people how much they really earned!
Which is you can make a

difference

... please...
BUY

fairtrade products... that gurantees that the farmers get the money for how much they really earned... if it is defnetly a fair trade product it will have this sign...

HOW DO WE EXPECT THESE PEOPLE IN AFRICA ETC TO COME OUT OF POVERTY IF WE KEEP ON BUYING FROM COMPANIES WHICH KEEP ON ROBBING THEM FROM THE MONEY THEY
EARNED?
I personally think its all our duty as a human and as believers in God to buy fair trade when we can... but i'll let you all decide for yourself... by not doing anything about this problem about these farmers being robbed of what they earned... isnt that saying that its

OK

whats happening?
Is there any thing relating to

FAIR TRADE

and

Sikhi

?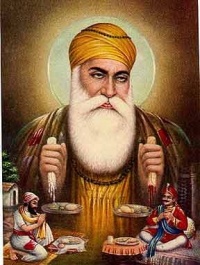 After all... look at the Saakhi about Guru Nanak and Bhai Lalo and Malik Bhago's when pure milk came out of Bhai Lalo's honestly earned food... and blood out of Malik Bhago's food which which was earned out of the cost of the poor's blood (i.e. pain and sweat... and starvation)....
...this is exactly what i think of when we drink coffee or other food (even rice) etc which we buy from big companies who are robbing these poor people...
...i know the difference is..... we arnt robbing them DIRECTLY... these companies are... but we are supporting them by keep on buying these type of products which keeps the

demand

... and the companies dont bother changing this problem... so we are helping them to rob INDIRECTLY...
PLEASE support the fair trade industry... and try to

BUY

or tell your parents to buy fair trade products instead...
(I know that aint easy... but please try to explain to them!!)
I know its not possible to buy all the things in fair trade.... but even if you buy

one

item which is fair trade such as coffee, hot chocolate, tea or even chocolate bars instead that will help them farmers get out of poverty and get thier rights (God willing)... (The fair trade one's will have the symbol shown above)...
Please CLICK HERE for leaflet that needs translating...
If and when any of the penji's and paaji's have translated it then please post the tranlation on here... thanks.
*by the way i have only bought fair trade coffee, hot chocolate, and a chocolate bar myself but im trying to look for different fair trade products as well that my family will like..so they will keep on buying them... i know its not much but every little thing makes a difference.
So please
BUY
Fair trade products
SO DOES EVERYONE AGREE WITH ME THAT THIS IS A RELIGIOUS AND HUMAN DUTY???
Satsriakaal.
----------------------------------------
----------------------------------------