Mehta Kalu the Land-recorder of village Talwandi Rai Bhoi was eagerly waiting for some special news. As the day dawned the village midwife Daultan came out from the room of his expecting wife Tripta (
Puratan JS
, p.38) He eagerly enquired:
"Daultan! What is the news?'
"It is a son! A son with a million lights spreading from his face! Millions of congratulations to you! This being the first son in the family, celebrate is in a grand manner." Daultan was brimming with an exquisite ecstasy. Mehta Kalu could not hold his joy: "Wonderful! Take this all that I have in my pocket. This is all yours for such wonderful news! I will certainly celebrate it as an event to remember".
"He is no ordinary child! Strange things happened when he was born. The room was flooded with celestial lights and divine music pouring from nowhere. A great soul has entered your house; so take extra care." Daultan praised the child.
"Do not worry! Pandit Hardyal will tell me more of this," he told Daultan and enquired, "What was the time of the birth?"
"Amritvela (Ambrosial hours)!" Daultan told while departing.
As the day rose Mehta Kalu went to Pandit Hardyal the family priest and requested for astrological predictions. Pandit Hardyal murmured: "Today is 20th Vaisakh 1526 Bikrami (15th April 1469 AD). It was
poornmasi
(full moon night) and time was
amritvela
(3/4th part of the night). As he opened the relevant pages of the astrology book he exclaimed: "Wow! What a time to come on earth! A great man he is indeed." I will prepare his horoscope and give you soon. Please handle him with care. He is a special gift to you by God."
The news of a special child spread in the village soon. Members of an extended family of Mehta Kalu including brother Lalu's family came and celebrated the event. The news of the newborn spread and the family members of Mehta family gathered to have a look at the newborn. Mehta Kalu distributed sweets among all and clothes to the poor who came to congratulate his son
. (Puratan
JS:38)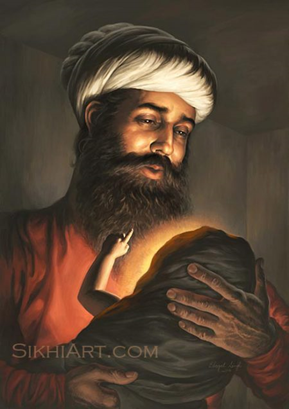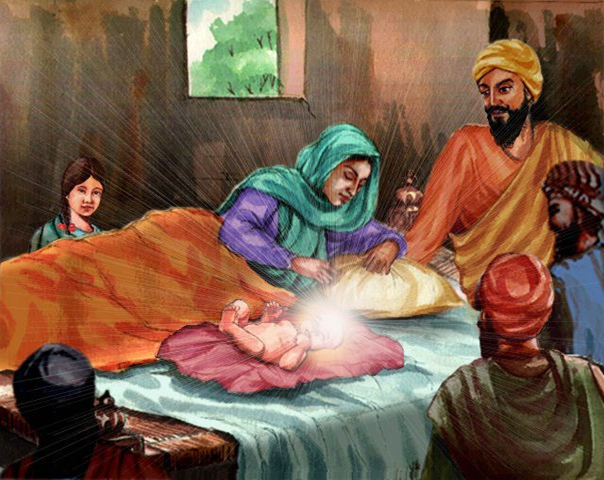 1.Mehta Kalu holding baby Nanak (by Bhagat Singh of Sikhi Art). 2. Relatives gathered to have a first look of Nanak
Also came the village landlord Rai Bular Bhatti son of Rai Bhoi Bhatti who had established the Talwandi village (now known as Nankana Sahib in the district by the same name in Pakistan) and had brought Mehta Kālu's father Shiv Ram Bedi from village Dodey to keep the record of village lands. Talwandi was allotted to Rai Bhoi by his son Daulat Khan Lodhi who was then the Governor (Nawab) of Punjab. With the passage of time the yoke of the village passed on to Rai Bular and the responsibility of keeping records of the lands with Mehta Kalu. Mehta Kalu also looked after the business of Rail Bular. (Giani Gian Singh, 1892:39) Both thus had very close professional and master-servant relationship and considerable rapport and understanding. Rai Bullar was gentle and god fearing while Mehta Kalu was worldly, obliging and submissive as well as very tactful in handling his official affairs.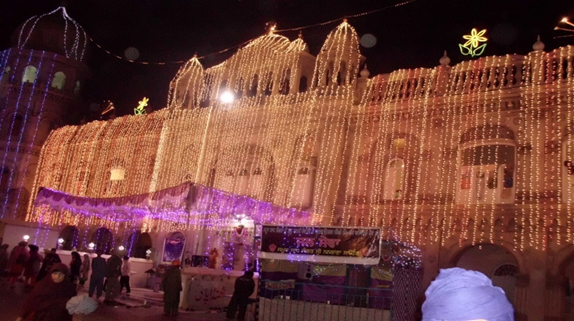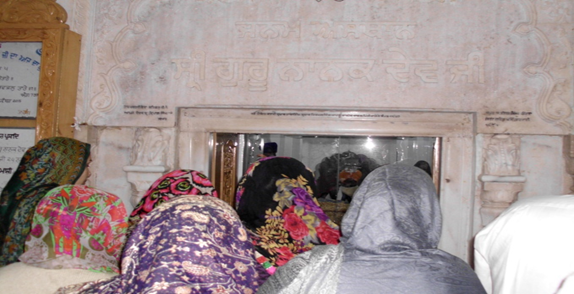 Nankana Sahib Decorated to Celebrate Guru Nanak's Birth: Photos by Author
Welcoming Rai Bular, Mehta Kalu said: "You have honoured me by being present at my humble residence."
"It is a great occasion Mehta Kalu. The birth of a son is always welcome news. Those who are deprived of know the real one. Know this from me. Please accept my congratulations and convey the same to all your family members. May Allah bless the child with long life and illustrious future!"
"Very gracious of you, Sir. Please wait I will get some soft drinks for you."
"May it be some other time! When the child is grown up and I am able to play with him, I will certainly come." Rai Bullar left in a pleasant mood.
As was customary in India in the 1400s, an astrologer was called to cast the horoscope for a newborn infant. Pandit Hardyal the village astrologer was called. He amazed everyone by saying, "This is no ordinary child. This infant is a divine incarnation." He predicted that this soul would have a profound influence on the world. The astrologer was definitely right, for the child grew up to be Guru Nanak, the first in the line of Sikh Gurus.
The naming ceremony of the child was performed on the 13th day with a great ceremony. Pandit Hardyal announced the name of the child as 'Nanak'. His sister was named 'Nanaki' because she was born at her maternal grandfather's home at Chahal. Nanak got the name being the brother of Nanaki who was lucky to get a brother following him. Pandit Hardyal predicted Nanak to be a great hermit with an illustrious name.
As the child grew, he played with the children but appeared definitely above them since he got into meditative mood occasionally. As he became five, he started speaking of inner and outer world. Whatever he spoke he spoke after a due thought satisfying the listener. Hindus said: 'He appeared to be a Devta (god); Muslims said: 'He is an Allah's messenger'. (Puritan JS: 17)
Schooling
At the age of seven, he was sent to school. (Purtan JS: 17)In those days schools were either
pathshalla
(teaching Hindu scriptures, culture, languages, arithmetic, geography and business methodologies) run by
pandhas
or madrassas (teaching Muslim scriptures, culture, languages and administrative and justice systems) run by
maulvis.
He was sent to the
pathshalla
(learning school) of Pandha Gopal.
Panda Gopal had heard of Nanak's extraordinary qualities from Pandit Hardyal and others; hence was very keen to have him as student. He studied for over 2 years with Gopal who was touched with the deep concentration and progress of learning of Nanak. Uncommon maturity appeared in the child. His pick-up was so fast that he left all others behind. One day, Gopal told about the creation and the Creator. He then asked Nanak to write on his wooden slate. (Fatti/Patti) (Puratan JS: 18)Nanak wrote a long treatise. Pandha enquired as to what he was writing, "I am writing alphabets (Patti) extending it to the praise of the God whom I revere most".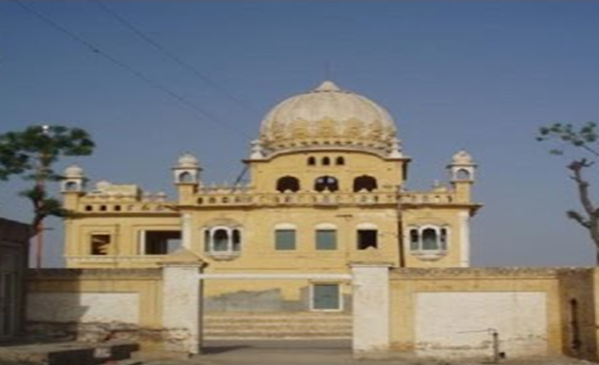 Gurdwara Bal Lila Sahib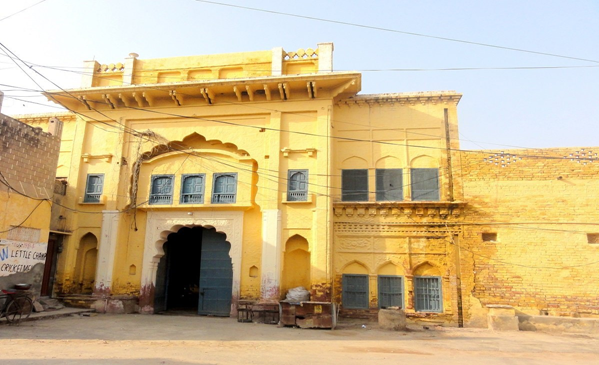 Gurdwara Patti Sahib
He who created the world, is the One Lord and Master of all. Whose consciousness remains committed to His Service, their birth and coming into the world is blessed…. The Primal Lord is the Giver; True; Limitless: sing his praises. Performing service to him and practicing truth is fruitful and rewarding. Pandit (a religious scholar) is the one who understands spiritual wisdom…Ego dies the moment one recognises the God.. Chain of Maya binds as one grows and leads one to death. . The Creator; the King of the world; feeds all; binding all to food where no other command other than God prevails. …One who recognizes bad and good as one and the same; he is absorbed into the Lord and Master... When the Lord bestows His Glance of Grace, one is redeemed. The One Lord is totally pervading everywhere and abides within every mind. Peace pervades within those who link their consciousness to the Lord… Those humble beings, whose consciousness is so linked, are saved; by His Grace, they obtain peace. Mortals make ostentatious shows, not realising that whatever exists shall all pass away. To obtain peace one must serve Him; the One pervading among everyone. … He Himself establishes and disestablishes; as it pleases Him, so does He act. After creating the universe creation, He watches over it; issues Commands, and emancipates those, upon whom He casts His Glance of Grace. …. His gifts are received by everyone; all act according to His Command. He sees, understands and knows everything; inwardly and outwardly, since he is pervading everywhere. … All are bound by the chains of death. By Guru's Grace, they alone are saved, who hurry to enter the Lord's Sanctuary. (SGGS: 433-434)
"Marvellous! How did you get it?" surprised Pandha enquired. "It just came to me from Him and I wrote it," Nanak said smilingly. He further said, 'Studying all other is fruitless. Without the Name of the Lord, everything is fruitless.' [10]
He further said, 'Where ever you take your mind, best is to be meditating on the Name of God. It will give you great happiness, inner pleasure and the gift of being ever pleasant.' (Puratn JS: 27)
Pandha Gopal was astonished, He said, 'Pandit Hardyal prophesied right. You are great already. The one who has realised self and God has nothing more to learn. It is my good luck that you became my pupil. I have learnt more from you tan I taught. You do not need not to come to me for further learning."
Next day Nanak did not go to school. He kept quiet and did nothing. Mehta Kalu was disturbed. Even an enquiry from Pandha Gopal did not satisfy him. Mehta Kalu sent him to Pandit Baij Nath to learn Sanskrit and Vedas and Shashtras. On the advice of Rai Bular, he was also sent to study Turkish (Puratn JS: 25) (Persian and Arabian) languages, literature and justice to Mullah Qazi Qutub-u-Din. They too were impressed by Nanak's learning progress and loved due to his increasing knowledge. Maulvi also explained the spiritual experiences of Sufi saints which impressed Nanak. Nanak sensed his meanings and often thought of correlating these ideas with his own inner feelings. With the learning of religious experiences from Pandit Baij Nath and Maulvi Qutub-ud-Din, his own yearning to write increased and he started composing his own hymns. He started working hard on his writing, humming softly and then correcting where needed.
His sister Nanaki was very much attached to him and took extra care in providing what he liked. However, she was married to Jai Ram and she had to leave for Sultanpur Lodhi where her husband served the Nawab. This left great loneliness in Nanak and he preferred solitude and occasionally got into meditation.
Having completed his learning, his parents married him at the age of twelve as was the custom of early marriages those days. They thought that once married Nanak will start caring for his family and his solitude will go off. However, this did not happen. He was then married to Sukakhni, the daughter of Moola Khatri of Batala.(Puratan JS: 25)
Nanak then got into worldly activities but he was not getting attached to any worldly affair and did not care for the house and went frequently out with hermits. (Puratan JS:26) Mehta Kalu was very keen that Nanak gets into some work rather than sitting at home and contemplating or moving with hermits which Nanak occasionally did. "Nanak! Our Buffaloes need grazing. Why not take them out?" Mehta Kalu asked Nanak. In those, the young members used to take their home animals for grazing occasionally. Guru Nanak took the Buffaloes for grazing in village common land for the purpose. Mehta Kalu asked him to take the house buffaloes for grazing. It was alright the first day but the second day he left the animals for grazing and slept by the side of the wheat field. The Buffaloes entered the field and damaged some crops belonging to a Bhatti zamindar. He was rudely spoken by the shouts of the farmer. He opened his eyes and saw a tall, hefty man, with rough irregular features and a staff in his hand standing near him. He sat up and looked enquiringly at the man fuming with anger.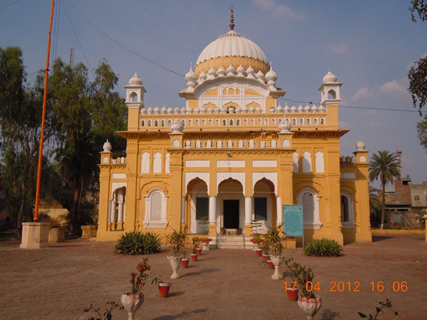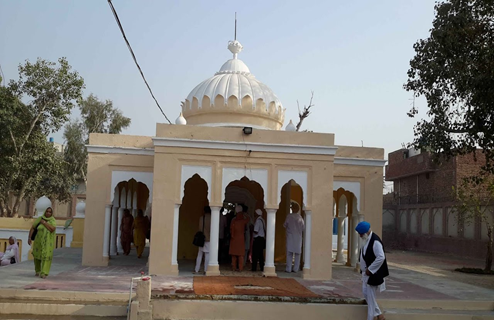 ​
Gurdwara Malji Sahib Gurdwara Sri Kiara Ji sahib
"Hey! Get up and see what your animals have done to my crop, while you were cosily speaking under the tree. Who is going to pay for the loss? Come with me to Rai Bullar." Saying this the farmer took him to Rai Bullar and told him how Nanak's buffaloes ate up his crop. When Nanak was asked to answer, he simply said: "I have not seen any crop eaten. You are requested to verify." Rai Bullar sent for Mehta Kalu and asked his messenger to verify the crops of the farmer while returning. As Kalu Mehta came, Rai Bullar told him about the complaint of the farmer and asked him to pay for the loss. Meanwhile, the messenger returned and said, "Rai Sahib! I have checked all his field very carefully but found it eaten from nowhere." Everyone except Nanak and the messenger was surprised. "I am sure my crops have been eaten up. I request you to see it for yourself," the farmer was perplexed. "Let us go and see it for ourselves," Rai Bullar saying this took all of them along. They went around but found no crop eaten. The farmer took his head in his hands and sat down: " How could it to be other than a miracle? I have seen the crop being eaten by these buffaloes." Rai Bullar realized that there is something else in
Nanak which has changed the situation. Could it be what Pandit Hardyal was telling about Nanak? (Puratan JS: 27)
Something special happened again. Another day Rai Bullar when Rai Bullar was returning after hunting, he passed through the village common land where Nanak used to bring his buffaloes for grazing. He saw Nanak sleeping under a tree. To his amazement, he noticed that while the shadow of other trees had moved away; the shadow of the tree under which Nanak slept remained stable on Nanak. How could be that the shadow has stopped on Nanak? Rai Bular kept on thinking while going away. [16]
On another day on a similar occasion after return from his hunting, he again found Nanak sleeping and a black Cobra spreading its hood to provide shade. Rai Bullar was shocked and worried about the safety of Nanak and shouted at him. Listen to the loud sound the cobra slipped away into bush and Nanak got up smiling. He saw Rai Bullar in front of him. Politely he wished him. Rai Bullar enquired, "Are you safe?" Of course, I am safe Rai Sahib. Why did you ask me this?" "Don't you know that a black cobra spread over you?" Rai Bullar enquired. " I don't", said Nanak. " How did it happen that the shadow of a tree did not move from you earlier and now how was black cobra provided you shadow?" Rai Bullar enquired, "Only God knows what he does," said Nanak, Rai Bullar had the firm belief that these are all miracles; Nanak, however, did it believe in miracles.
Rai Bular called Mehta Kallu and said, "Listen Mehta Kalu. Never admonish or speak harsh words to Nanak. He is the chosen one of the Lord. God's ways are great and we do not understand these. You are honoured because Nanak is your son. I am doubly honoured because Nanak is born in my village and also he has given me the chance of seeing his three miracles happening." Mehta Kalu was bewildered and spellbound.
Local Doctor's Visit
Realising God's great way, Nanak went into meditation and started meeting the hermits increasingly. At home, he preferred to keep quiet generally. Family members and relatives started pointing out to Mehta Kalu that Nanak was not well hence he must be referred to the village
viad
(doctor). Hakeem Hardas was called. He felt Nanak's pulse asked him if he suffered from pain. "Yes I have pain in my heart", Nanak replied."Pain in the heart? That is serious. It is constant or intermittent?" Vaid enquired. " Mostly constant, occasionally intermittent," replied Nanak. Hardas looked worried as he asked, "What kind of pain? Sharp, shooting or twitching?" Nanak replied calmly: "No it is none of that kind. It is murmuring, constantly reminding me of the pain of the world and the invisible God who has to care for us all. It subsides sometimes but comes back again, reviving the memory." "But why do not you eat regularly?" asked Vaid. "When I find so many hungry people around my hunger subsides. My hunger now is to meet the One and the Only One who is Omnipresent but inaccessible." This reply of Nanak clarified to the Vaid that Nanak had no disease. He is lost in the Lord and his requirements are beyond the human requirement. He told Mehta Kalu, "Treatment of your son is beyond me. He is yearning to meet God and it is God alone who can treat his soul. Allow him some free air and do meditations to seek God." Vaid having gone Nanak went out to a forlorn place and sang in melancholy: "The physician was called in; he touched my arm and felt my pulse. The foolish physician did not know that the pain was in the mind". [19] (SGGS, 1279). Meanwhile, he heard some music coming nearby. As he went he found a young man playing with a local instrument. He has quite a penchant for music. Nanak was attracted to the music. Going to him he said, "You play the instrument well." "Yes! I am a Mirasi; the village bard who earns by music and singing songs of the rich and powerful. My name is Dana." Dana said, "You know who is the most powerful in the universe?" Nanak asked. "Maybe Rai Bullar or his brother in law Dault Khan or his relative Sikandar Lodhi," Dana replied. "No! The most powerful is God; Allah. There is no one equal to Him. He is the one who is the Creator of all; feeds all; looks after all; moves the world; gets everything done as He wishes. No one can go against His wishes. Why don't you sing for Him?" Nanak explained. "I have composed no song for Him," Dana said. "I have! Let me sing one accompanied by music from you," Nanak said. Nanak sang and Dana accompanied by his instrument. "Wonderful! This is what your music is for. Will you join me?" said Nanak. "But I am a village bard. I earn my living from my music. If I do not earn how will I feed my family? Where from I will eat? I will die of hunger." Dana was worried at the suggestion. "As I told you that it is God who looks after us all, He provides for us including you me and your family. So rest assured, when you are with me you won't die of hunger. You are Mardana (who does not die) now onwards". Mardana looked up and felt such inordinate power and magnetism in the eyes of Nanak that all he could say, "Take me where you will. I will follow you in your footsteps. They decided to meet every day at the same place where Nanak sang hymns and Mardana accompanied playing his instrument.
True Trade (Sacha Sauda)
Mehta Kalu was told of the meetings of Nanak with bard Mardana: "Your son is now in the company of Mirasi Dana." Shocked he thought of putting him in some professional job. He called Nanak, "Would it not be better if you start some profitable business? It will keep you busy as well". "As you wish father," Nanak humbly replied. He never questioned father's decision." Take these 20 rupees and go to Chuharkana market. Buy goods which can be profitably sold". Nanak hurriedly got ready and left for Chuharkana with one of his companions. Along the way crossed a jungle where a group of hermits were camping. Nanak was attracted to the saintly group. He found them quite weak and exhausted. Instinctively he felt that they lacked proper nourishment. "How long you have been here?" Nanak enquired. "A weak now," replied their leader. "You are quite away from any settlement. What do you do for your food?" Nanak questioned further. "We are used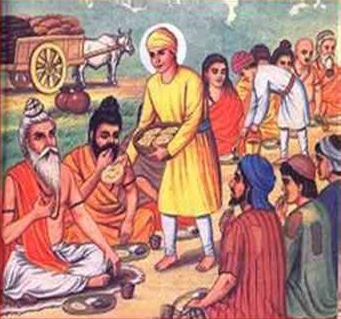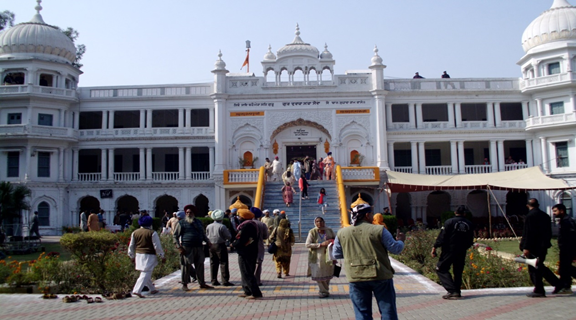 Guru Nanak feeding the hermits Gurdwara Sacha Sauda Chuharkana
to occasional fasting, some time for weeks. Sometimes God gives us plenty, He has His own ways to feed us," he got the
reply. Nanak's tender heart was hurt: "Hungry for days together!" He went to the city market; purchased provisions for Rupees Twenty for feeding the hungry hermits and gave it to them, "Please have your meals for some days at least". Nanak felt relieved and pleased at having done a true business. According to him, nothing could be a better business feeding the hungry. Back home, however, this infuriated his father and he slapped him in anger. Rai Bullar came to know of this. He rebuked him, "Why did you slap Nanak when I had told you never to say even a bad word to him? You have disobeyed my command". Mehta Kalu was perplexed as he could only say, "He had wasted my hard earned 20 silver rupees. I could not control my anger at such a great loss." "Money! Money! Money! You have nothing else in your mind not even the real gold which has been given by Allah to you. I told you, especially that even if there is a need for any money for him take it away from me but you did not care what I said. Perplexed, depressed and seriously upset Mehta Kalu came home. The narration of this event went to Mehta Kālu's son-in-law Jai Ram as well. He sent a letter asking Nanak to join him in Sultanpur Lodhi. The family felt it be a good relief though Sulakhni was quite worried.
References
Giani Gian Singh: Twareekh Guru Khalsa, Part 1, Guru 1
Janamsakhi Meharban in Janamsakhi Prampr, ed, Dr Kirpal Singh, Punjabi University, Patiala, 19869
Puratan Janmsakhi ed. Bhai Veer Aingh, Bhai Veer Sigh Sahit Sadan New Delhi, 1926, 15th reprint Jan, 2006.
Sri Guru Granth Sahib, Published by Shromani Gurdwara Parbandhak Committee