Anyone who has followed my activity on this forum a bit would know the last month I was depressed over serial failures in life (partly self-inflicted and partly because of behavioral issues I didn't address on time) that led me spiral downwards in life. Fortunately with kirpa of Akal Purakh , I have been almost selected in an IT company , I got hope from where I had none !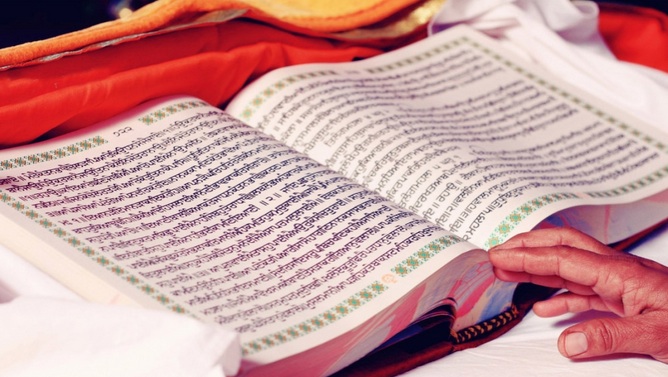 Now I am being told the CTO (main guy) who's to sign my offer letter is abroad for some work and will do the needful as soon as he's back . In short, company has full intention of offering me this job.
Still sometimes I get anxious about when I would actually get the offer. So sometimes I turn to Sri Guru Granth Sahib ji for word of advice because I don't see it as a mere text and ink . I see it as successor of Guru Nanak and Guru Gobind Singh ji . I see it as successor of Guru Teg Bahadur who rescued Makhan Shah lubana's ship in the storm. With same hope I go matha tek , "hay waheguru, help me like how you saved Makhan Shah lubana in his storm. Help me out of this storm as well"
And one such fine morning I went to gurudwara , did ardas before guru ji and in ardas I said " I have done sewa, my parents are hopeful. please do bless me" . When I lifted the rumala and took gur-vaak, I was astonished , the shabad was
ਮਃ
੩
॥
Mėhlā 3.
Third Mehl:
ਆਪੇ
ਸੇਵਾ
ਲਾਇਅਨੁ
ਆਪੇ
ਬਖਸ
ਕਰੇਇ
॥
He Himself enjoins us to serve Him, and He Himself blesses us .
ਸਭਨਾ
ਕਾ
ਮਾ
ਪਿਉ
ਆਪਿ
ਹੈ
ਆਪੇ
ਸਾਰ
ਕਰੇਇ
॥
He Himself is the father and mother of all; He Himself cares for us.
I was so delighted and mesmerized and thanked guru ji with my heart that he has blessed me with this job. I have faith in him because he gave me this shabad when I asked him questions. My faith in SGGS has increased everytime this happened.
No wonder SGGS is alive guru . It does answer the queries of our mind .
Last edited by a moderator: