One thing Sikhs are known for around the world, is langar. Anyone, regardless of caste, colour, creed, religion, gender, rich/poor, even religion, are welcomed to partake in sharing a meal as equals.
The institution of the langar, or free kitchen, is believed to have been started by the first Sikh Guru,
Guru Nanak
. It was designed to uphold the principle of equality between all people regardless of religion, caste, colour, creed, age, gender or social status, a revolutionary concept in the caste-ordered society of 16th-century
India
where Sikhism began. In addition to the ideals of equality, the tradition of langar expresses the ethics of sharing, community, inclusiveness and oneness of all humankind. "...the Light of God is in all hearts." - Wikipedia (Sikhism)
Sikhs also put high importance in the concept of seva - or selfless service to others - and this is a practical way to do that.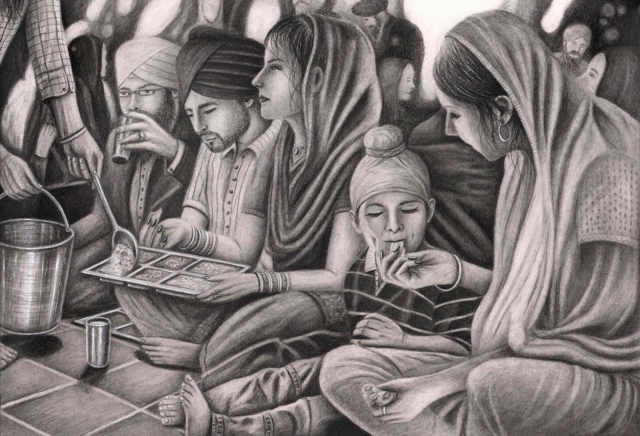 For the first time in history, Guruji designed an institution in which all people would sit on the floor together, as equals, to eat the same simple food. It is here that all people high or low, rich or poor, male or female, all sit in the same
pangat
(literally "row" or "line") to share and enjoy the food together. The meals are always vegetarian, so that anyone can eat it (for example some might have restrictions on meat cooked certain ways, etc. so this way it remains truly open to anyone... whether they follow Sikhi or not!)
The institution of
Guru ka Langar
has served the community in many ways. It has ensured the participation of everyone: men, women, and even children in a task of service for mankind.
Langar also teaches the etiquette of sitting and eating in a community situation, which has played a great part in upholding the virtue of sameness of all human beings; providing a welcome, secure and protected sanctuary. At many Gurdwaras you will see men and women sitting separately, though this is not necessary, and is actually discouraged given the meaning behind langar is equality and togetherness.
Everyone is welcome to share the Langar; no one is turned away. The food is normally served twice a day, every day of the year. (but varies depending on the size of the Gurdwara and whether they are open every day. Some Gurdwaras exist in small communities, and so only are open on one day a week, usually Sundays in the West)
Each week a family or several families volunteer to provide and prepare the Langar. This is very generous, as there may be several hundred people to feed, and caterers are not allowed. All the preparation, the cooking and the washing-up is done by volunteers and or by voluntary helpers (called
Sewadars
). - Sikhiwikki
The largest scale example of langar, is in Amritsar India at Harmandir Sahib (The Golden Temple) where up to 80,000-100,000 meals are served DAILY! That takes a LOT of volunteers to help prepare the ingredients (anything from peeling and cutting onions, to peeling potatoes etc, cook the food in huge vats, hand out the food trays and utensil and cups, to serve the food in shifts (roughly every 20 mins the entire langar hall fills up with a new group of prople to feed!), and that's a LOT of dishes to do! And keep in mind ALL of the food ingredients are purchased entirely from donations!! That its possible to keep up that pace day after day, is an amazing feat! And if you ever get the chance to experience it, don't pass up on the opportunity! There is also chai (tea) served several times a day there as well in a separate area!
If you are new to Sikhi, be sure to stay for langar when you first visit your local Gurdwara. Its the best way to become acquainted with Sikhs who can teach you a lot about Sikhi, and make new friends and connections!
Here is a video to give you an idea of langar at Harmandir Sahib: