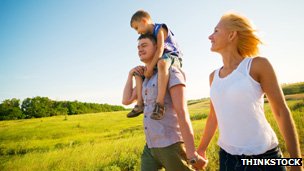 Children are being denied the enjoyment of the outdoors and nature with consequences for their health, the head of the National Trust has warned.
Dame Fiona Reynolds told the Times the freedom of children to roam unsupervised had shrunk massively since the 1970s.
She blamed nervousness and technology, adding that the creep of urban sprawl had destroyed safe places to play.
She called for children to be taught outside on a weekly basis.
'Very anxious'
Trust chief executive Dame Fiona said: "Children are missing out on the sheer joy and physical and mental well-being of being able to play outside and experience nature in all its messiness.
"It's partly technology and it's partly a sort of nervousness. The freedom for children to roam unsupervised has shrunk by 90% since the 1970s.
"The world is a different place and people have become very anxious about the risks - real or perceived."
She called on schools to take the initiative and to change the way they teach children.
"The world is changing. It is more recognised now that some of these more innovative ways of teaching are just as effective for literacy and numeracy as sitting in the classroom in a very structured way."
The trust, which has nearly four million members, believes the cloistered upbringing of children could be harmful.
It cites figures that shows children are three times more likely to hurt themselves falling out of bed than by falling out of a tree.
Dame Fiona added that children needed to take risks and that it was wrong to apply health and safety culture to the countryside.
"It's a matter of knowing where the risks are but not trying to wipe them away," she added.
http://www.bbc.co.uk/news/education-17257562