THIS ABOVE ALL

Chatwal should have opted out

Khushwant Singh
I abstained from commenting on the government's decision to confer the Padma Bhushan on Sant Singh Chatwal because I was not fully aware of his shady past. I was also biased against him as I am allergic towards self-promoters and name-droppers. Seeing all the hungama created by Indian newspapers, I thought he would offer to withdraw his name from the list of awardees.​
In a similar case a few years ago, Bhai Mohan Singh, founder of Ranbaxy, the largest pharmaceutical company in India, opted out of receiving the award because of the media raising the issue of his ousting a fellow-founder of the company. But Chatwal appears to have no sense of shame; he has the hide of an armadillo.​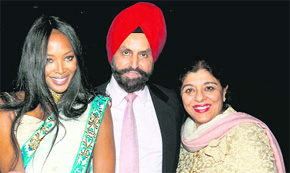 More than his habit of name-dropping, what I find more unsavoury is his lack of sophistication and vulgar display of wealth. A couple of years ago he celebrated the marriage of his son in Mumbai. Many invitees were flown in by air, and several floors of five-star hotels were booked to accommodate them. Huge receptions were given to thousands of guests. He tried to make it the grandest wedding anyone had seen.​
His son evidently takes after him. He is a mousy-looking sardar who fancied himself as a filmstar. He soon discovered that in Bollywood you can't bribe your way to stardom. His marriage also did not work. His wife and child are back in her parents' home in Delhi. Earlier this year, Sant Singh Chatwal went on pilgrimage to Hazoor Sahib gurdwara in Nanded (Maharashtra). He flew in by a chartered plane. The granthis honoured him with a siropa. It is a sorry tale of a man with no principles but vaulting ambition​