Life, I'll Weave your Threads
(Autobiography by Dr. Manzur Ejaz)
Book Review by
Dr. Devinder Pal Singh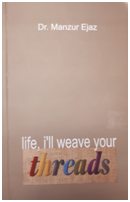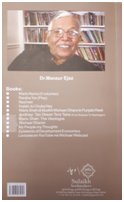 ​
Book Title
:
Life, I'll Weave your Threads
(Autobiography)
Author
:
Dr. Manzur Ejaz,
Punjabi writer, Intellectual and Columnist
Published by : Sulaikh/Vichaar, Fairfax, Virginia, USA
Year of Publication : 2019; Price : US$15, In Pakistan Rs. 500; Pages: 224
Reviewer
:
Dr. Devinder Pal Singh,
Director, Center for Understanding Sikhism, Mississauga, Canada
Dr. Manzur Ejaz, a multifaceted personality, is an eminent scholar of Development Economics, an ardent researcher, a compassionate teacher, an eloquent orator, a passionate poet, and a globe trotter. Besides, he is a renowned Punjabi litterateur cum language activist and a prolific writer of international affairs. Autobiographical books of Punjabi Columnists are a rare genre. "Life, I'll Weave your Threads" by internationally acclaimed Punjabi writer cum columnist Dr. Manzur Ejaz is a welcome addition in this category.
Dr. Ejaz is a strong believer that life can/should be lived through truth, without compromise. This fact comes out very prominently in his works. Describing the inspiration for writing his life story, he reports of the encouragement by his friends, especially Najm Hosain Syed, to do so. This autobiographical work of Dr. Manzur Ejaz showcases various aspects of his life. The book is divided into fifteen chapters. Deliberations in the first seven chapters focus on his early life, educational and socio-political activities in Pakistan. The remaining part of his book describes the diverse areas of his educational, professional, socio-cultural and political activities in the USA. It also chronicles his trials and tribulations in their pursual.
The first section of the book starts from Burjwala and the history of the literary sphere in Sahiwal. Thereafter it takes the readers to the Punjab University in Lahore. This section also includes the description of Manzur`s life as a student activist as a member of the National Students Organisation (NSO), when he was a philosophy student in the Punjab University. Therein, he became instrumental in changing the literary culture of Sahiwal from poetry recitals to literary criticism with a left-wing perspective. With his dedication to the cause, he was able to provide an important forum to Punjabi writers, across the world by setting up a website, wichaar.com. In due course, Dr. Ejaz`s Marxist interpretations of Heer Waris Shah as well his talks about the Marxist existentialism became a part of Sahiwal`s culture in the late 1960s. His autobiography has successfully captured the difficult times that the progressive thinkers and activists had faced in Pakistan.
This part of his autobiography also vividly describes the events and experiences of his early life. Several interesting incidents of his life e.g. his early school education, vicissitudes of his childhood, his adventures to be a lead prayer-boy, pains that his parents took to find a cure to his physical disability, daily routine and self-sustainability of village life, social, cultural and religious scenario in and around Burjwala/Sahiwal during the second half of the twentieth century, various anecdotes from his college and university life, his foray in literary field, the birth of a budding poet, his affinity to Existentialism and Marxism, his active involvement in National Student organizations (NSO) activities, and the beginning of his professional career are all described in riveting detail. In the narrative, the characters' description, is well developed and true-to-life.
The next section describes the arduous part of author's life journey, wherein his emigration to US, his untiring struggle in search for a gainful employment, pursuance of Ph.D. degree, keeping the flame of literary activities alive, his foray in the media, and facing the ordeals of American justice systems, causing him acute anxiety, and great impediments in his life. Despite such adverse circumstances, young Ejaz's ambition and strong determination to pursue higher education and his dreams reflect the author's firm resolve to face his situation with great fortitude. These adverse circumstances, spanning over a decade, turns the young Ejaz into a steadfast person, ready to face the dire situations of his future life.
In the last section, comprising chapters 11-15, the description of author's life is replete with several life-changing events; e.g. his visit to Paris, his professional success as a columnist, in English/Urdu newspapers, creation of Academy of Punjab in North America (APNA), formation of Washington Policy Analysis Group, his foray into U.S. politics, as a delegate to the Virginia Convention, delivering invited talks at Canada and US Universities, working as Health Statistician for the Washington D.C. government, his visit to India and meeting several doyens of Punjabi literature, organization of 4th International Punjabi Conference (1999), at Virginia and APNA's Conference, his visits to Japan and China, starting a Punjabi website wichaar.com, and recording the videos about Punjabi classical poets in 2006, settling down at Pakistan in 2011 after retiring and consequent return to US, his visit to UK (2014) and South Korea (2017). In this riveting tale of his struggles, successes, glories, failures, and frustrations, Dr. Ejaz emerges as a visionary, hardworking, experienced, and dedicated social-scientist. During 1979-2002, his professional expertise was put to test, while he played a vital role in laying down infrastructure for preserving Punjabi language, literature and culture, initiating socio-cultural and political collaborations, participating in several national and international conferences/meetings, setting up several forums for pursuing his interests in literature and politics. The successful culmination of these multifarious activities indicates his versatility as a multifaceted personality.
With the publication of hundreds of his articles in various newspapers of national and international repute, about one dozen books and several international visits related to his literary and educational activities, he emerges on the world scene as a great scholar, an eminent cultural ambassador, and a professional columnist. Thus an ordinary rural youth, despite his grave physical disability, with his sheer hard work, brilliance, and intelligence, distinct and unique accomplishments, arose to join the company of elite litterateurs and scholars of national and international prominence. "Life, I'll Weave your Threads" is the story of that young man.
In his autobiography, Dr. Manzur Ejaz has very graphically described the changes that had taken place in his village in particular and in West Punjab in general, in the last six decades. He has pointed out that while he was a child, as the dusk settled in the village, children would gather and listen to stories told by some grand uncle or grandfather. This activity has now been replaced by television. Similarly, a great change has taken place in the means of production. Agriculture has become mechanized and is fast becoming agribusiness. This, in turn, has made a lot of people redundant, therefore no longer gainfully employed. This development has posed a great challenge to the Punjabi socio-cultural ethos. His prescription for Punjab to get out of this situation is that the massive industrialization of Punjab is the need of the hour.
A perusal of his autobiography points out that despite living in Virginia and having worked in Washington DC for several decades, he appears to be always up to date on the socio-political happenings in Pakistan. His keen observations and analysis of the socio-cultural and political changes, that have happened during the last six decades, in Punjab (East and West), in Lahore, his village and his community, prove to be unexpectedly enlightening. He has been successful in capturing different periods in history with great insight, clarity, and honesty. Dr. Ejaz's autobiography is not just his life story, but it is a story of the history of an entire generation.
Dr. Ejaz's autobiography is quite fascinating and engrossing. Once you start, it is very hard to put it down without reading it till the end. He has a great mastery of presenting his life experiences in a lucid and authentic style. The whole autobiography is replete with open and honest reflections. He is unstintingly honest and unafraid as he excavates his motivations and reservations, his fantasies, and the implications of the choices he has made. Insightful, provocative, and fearlessly frank, Dr. Ejaz attracts readers with his warmth, wit, and wisdom.
Despite numerous challenges and obstacles in his life, the author has presented a great zest for life in his autobiography. Stylistically it is his best work to inspire and delight readers everywhere. The whole book is easy to read and comprehend. It provides a valuable and absorbing window into Punjab's socio-cultural system, that for most of us is generally inaccessible. En passant, I am truly amazed, how Dr. Ejaz has shared all the information so meticulously and with such minute details of dates, times, persons and places. With many illustrations of his views on diverse aspects of life and times, the autobiography describes Dr. Ejaz's seventy years' life journey in good detail.
Dr. Ejaz is a shining example of a socio-cultural researcher, and socio-political columnist, who portrays an interrelationship among the social and cultural values, literary activities, rationality, economy, and polity. Besides, he exemplifies the underlying unity of these diverse fields of human thought and action. "Life, I'll Weave your Threads" passes on to us much of the wisdom of this world-famous American of Pakistani origin. Believe it or not, all this makes for a wonderful and glorious adventure in reading. Even if you are not a litterateur or economist, this is an enjoyable read. "Life, I'll Weave your Threads" has the potential to inspire countless readers/learners around the world and gives them a unique insight into the life of an international columnist cum litterateur. It is a timeless book, to be rightly treasured by all learners and truth seekers.