May 25, 2005
2,935
2,948
54
http://www.guardian.co.uk/film/2011/aug/12/bollywood-film-ban-india?CMP=twt_fd
Aarakshan, a Bollywood film about India's controversial quota system for disadvantaged groups has been banned in three states, for fear that its discriminatory language may cause protests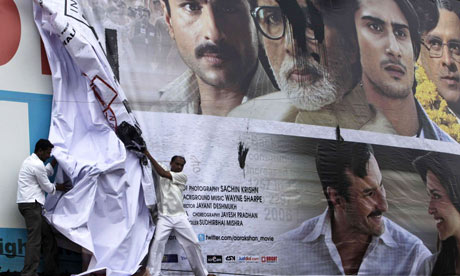 Protesters tear down a poster for Aarakshan in Mumbai. Photograph: Rajanish Kakade/AP
A controversial
Bollywood
film which touches on the highly-sensitive subject of affirmative action for the Dalit community (the caste formerly known as "untouchables") in the country's education system, has been
banned in three Indian states
.
Local authorities in the northern states of Uttar Pradesh and Punjab, and Andhra Pradesh in the south fear screenings of
Aarakshan
(Reservation) will cause law and order issues among Hindus. The
drama
, directed by well-known Indian film-maker Prakash Jha and starring Bollywoodstar
Amitabh Bachchan
, has been criticised for using objectionable terms to describe people from the Dalit community, who were once
denied access to decent job and education prospects
.
The film's title refers to the current practice of reserving education places and government jobs for socially disadvantaged groups, a policy introduced to help ensure social mobility for
India
's 166 million low-caste citizens following centuries of repression.
Jha, who has a history of making films which touch on sensitive social issues, has denied suggestions that Aarakshan paints a negative image of Dalits, a self-imposed title which means broken or suppressed.
"In India there are people who benefit from this policy [of quotas] and there are those who have missed an opportunity because of the policy," he said last week. "Reservation and the quota system is a hard-hitting reality. It is almost an India-versus-India situation and by showing this in my movie, I am trying to bridge the gap."
Writing on his blog, Bachchan said critics were acting out of ignorance. "Without any knowledge of what the film contains, without any desire to determine the trust and the most basic principles of law of democracy, it has merely strengthened my and many others' fear of the weakness it conveys of our belief in governance and its ethics," he wrote.
Posters for the film have been vandalised by protesters, many of whom have also
objected to the casting of Saif Ali Khan, a Muslim aristocrat, as a Dalit
.