<H1>BNP leader Nick Griffin: Lots of Hindus, Sikhs and ethnic minority Britons support my anti-immigrant views

By
Daily Mail Reporter
Last updated at 9:26 AM on 20th October 2009
Large numbers of Sikh, Hindu and other ethnic minority voters support the
British National Party
's hard-line anti-immigration stance, its leader
Nick Griffin
claimed today.
But he said the
BNP
's purpose remained to stand up for 'indigenous Brits' which did not include ethnic minorities, even those born here who had fought for their country in the armed forces.
He also declared that 'Islam and our society don't mix' and said he wanted to swap 'the very large number' of al Qaeda-supporting British Muslims for former Gurkhas and their families.
Mr Griffin was speaking after pledging to lift a bar on non-whites joining the party in response to court action by an equalities watchdog.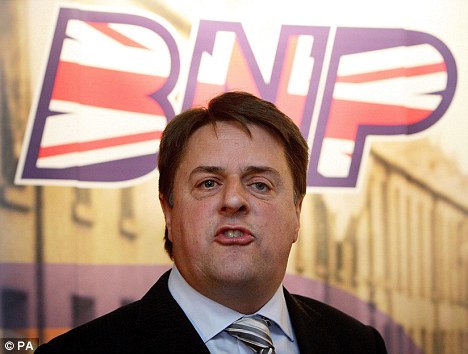 BNP Leader Nick Griffin said the British National Party will amend its constitution so its rules on membership do not discriminate on the grounds of race or religion
Interviewed on Sky News' Sunday Live with
Adam Boulton
, he denied that the party was racist and insisted that the new membership rules would not undermine its fundamental aims.
'There are three different groups of people in this multicultural Britain now,' he said.
'There's the indigenous Brits, people like you and me; there's settled ethnic minorities populations who are here legally and legitimately and they are civically British and we have no problem with them at all; and then we have the third block, the colonists, people wanting to change our country into something completely different,' Mr Griffin said.
'A large number of the settled ethnic minority population, Sikhs, Hindus and so on, are actually very much in favour of the British National Party's stance about stopping any further immigration.'
Asked if the sorts of British ethnic minorities he believed supported the party were included in the 'indigenous' group the party would stand up for, he said: 'Oh no, no, no, no, no.
'Of course they are not indigenous. We are saying they are civically British, which is a matter of common sense, also that they are patently not of the ancestral stock of this country.
'It doesn't make them bad, it just makes them a little bit different.'
Mr Griffin said he would happily swap Al Qaeda-supporting British Muslims for Gurkhas who had volunteered to fight for the country
He went on: 'It's not a matter of racism; it's a matter of standing up for the indigenous. No-one in this country is here for the English, the Scots, the Irish, the Welsh.
'Caucasian is one phrase for it. Everyone knows who an indigenous Brit is. Everyone knows that someone for instance whose parents came from the West Indies and so on and has perhaps been in the Army and fought for this country, they are entitled to be here, they are entitled to be here, they are civically British, they are not ethnically British. It is not a racist position.'
Asked about comments that Islam was 'vicious and wicked', he said: 'I believe that a faith which puts half the population, the women, down as inferior to men, a faith which bans freedom of speech, a faith which stones rape victims to death, I believe that is vicious and wicked.
'It's not all of what Islam is about. Islam is also for instance about opposing usury and that is a very good position. But Islam and our society don't mix.'
He suggested a 'direct swap' with Muslims could solve the problem of the UK not having sufficient space to offer all former Gurkhas and their families the right to settle in the UK.
'We would actually be happy to have the Gurkhas if we can swap them, for instance, for the very significant number from the Muslim population in this country who identify with al Qaida and who are not loyal to this country. We would do a straight swap,' he said.
Mr Griffin said he would 'have a problem' with any BNP member marrying a non-white.
'We would have a problem with that just as many West Indians, many Sikhs, people of all different races and creeds and nationalities very often have a common natural human instinct which is to want their children and their grandchildren to look like them, to identify with their culture,' he said.
'The whole world faces a big problem with so many different peoples, different ethnic groups mixing that we are losing all our separate cultures and identities.'
</H1>