A 31-year-old Sikh politician will be the first Indian-origin candidate to contest in the UK General Elections from Northern Ireland on May 7. Amandeep Singh Bhogal, who was born in Jalandhar, is already making his mark on the campaign trail for the Conservative party in his trademark blue turban.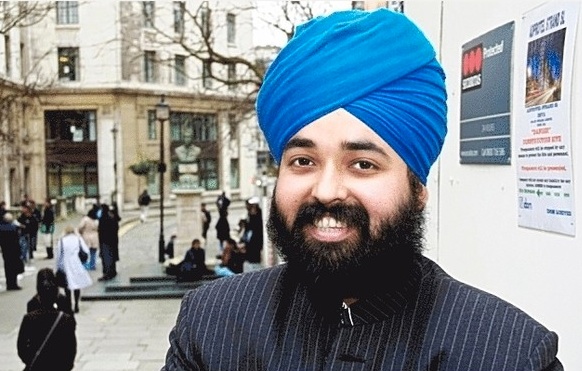 He represents the Upper Bann constituency in the heart of Northern Ireland, which is 54 per cent Protestant and deeply Christian and churchgoing.
"The Conservatives want to end sectarian politics in Northern Ireland and introduce some real normal politics," he said.
While Bhogal's candidacy is attracting widespread media interest, he is not expected to win the seat, which is currently held by David Simpson of the Democratic Unionist Party (DUP).
"We have a long-term electoral plan," Bhogal said in reference to his decision to stand from what is seen as an un-winnable seat.
"Together we can in Upper Bann," is the slogan he has coined and has had T-shirts printed with it.
Politics seems to a passion for Bhogal, who has moved to Northern Ireland from Kent in England where he grew up.
Over the years, he has put in bids to stand for no fewer than 45 parliamentary seats.
In 2012, he contested the London Assembly elections alongside current mayor Boris Johnson, who he credits for giving him valuable "never to give up" advice.
Bhogal's grandfather came to the UK in 1959 to "achieve better in life, not just to make extra money".
He was married to Pari when he was 19 at a ceremony in Punjab and the couple have a daughter Sukhamani, 10, and son Arjun, 4.
With just four weeks to go until polling day, the campaign is yet to fully ignite in Northern Ireland's 18 constituencies represented in the House of Commons.
Some poll pundits predict that the DUP could play the role of kingmaker in the event of a hung Parliament verdict.
The Conservatives are unlikely to achieve a great breakthrough in the region, which is historically divided along Catholic and Protestant lines.
The Tories are fielding 16 candidates in the region, with 11 – including Bhogal – parachuted in from England and Scotland.