A Partition story completed

Varinder Walia
Tribune News Service
.
Mr Kesar Singh hugs his sister Rabia Bibi (Agya Kaur) at Attari Railway station on Thursday.
— Photo by Rajiv Sharma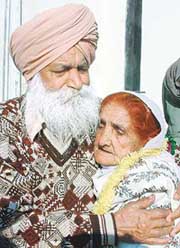 Attari, January 12
There was moving scene as Rabia Bibi, nee Agya Kaur (72), a resident of Pakistan occupied Kashmir, who had embraced Islam after being separated from the caravan at the time of partition was hugged by her Sikh bothers and their family members, here today .
The Samjhauta Express, called 'Train of Emotions' today re-united Rabia Bibi with her brothers after a gap of long 58 years. "Now I could die peacefully as Allah (the Almighty) has accepted my prayer to meet my brothers", said Rabia.
The Sikh brothers, Mr Kesar Singh and Mr Joginder Singh, both residents of Dam Ganj, Amritsar, who were here along with their daughters, sons and grandchildren said that their sister who was only 12 was separated from the caravan which was coming to India. Tears rolled down their cheeks, even as the onlookers also became emotional to see the re-union.
Rabia Bibi was accompanied by her UK-based daughter, Amshira and son Sagir Ahmad who were so excited to meet their Amritsar-based Sikh relatives that they could not utter even a single word for 15 minutes. Rabia Bibi said that for many decades she could not get any clue about their relatives and used to pray to the Almighty for the re-union. She said in 1984, her next door neighbour (Potha village of Mirpur district of PoK) visited Pathankot (Gurdaspur) to meet his mother, who were separated at the time of Partition.
It was a chance meeting with the Sikh family from Amritsar who had told him that they had lost their sister in 1947. He told the Sikh family that his neighbour had been talking about her Sikh background.
On his return to Potha , he told her that he had met a Sikh family who was enquiring about their sister. She confirmed that, the Amritsar family was her own. However, it took many years to get the visa for Amritsar since she belongs to PoK. Her daughter, Amshira made lot of efforts to get the visa.
Rabia Bibi, who is mother of six daughters and two sons, said that her children would repeatedly enquire about their maternal uncles and aunts. However, she was not sure whether they were alive or killed like thousands of other innocent persons in the communal frenzy. 'It is the grace of Allah that all are alive".
The family from PoK said that they would stay in Amritsar for a month and share the nightmarish experience of Partition and the days they spent in separation. Mr Joginder Singh, elder brother of Rabia Bibi said that he could not express the re-union in words. "The Waheguru (Almighty) has given us everything today".