1984-The Prologue-1
Dr. Dalvinder Singh Grewal
I have been deeply attached to the Sri Harmandir Sahib (Golden Temple) Sri Amritsar since my childhood. This attachment got further increased when I was posted to 15 Artillery Brigade in Amritsar in 1974 from field area in Kashmir. Our going to Sri Harmandir Sahib became a regular affair. It did not take hours reaching the sanctum sanctorum as is the case now. We entered the complex and within minutes we were sitting and listening to the melodious hymns. It was so peaceful and mesmerizing that one sat engrossed and connected in the heavenly environment, never thinking of leaving the place.

Golden Temple Location Map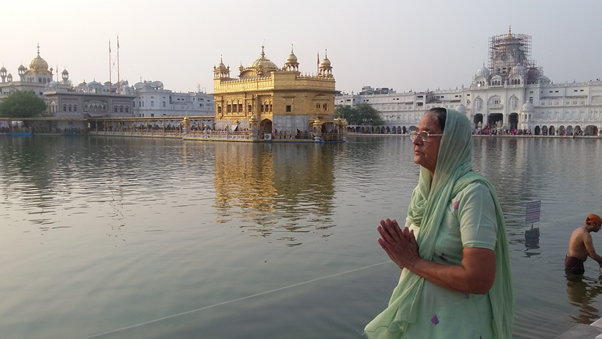 My later visits especially during 1984 however, have created a deep scar in my mind. There was news about the lodging of Sant Bhindranwale in Sri Harmandar Sahib Complex who and his followers were propagated as terrorists by Indian Government. His stay in the complex with weapons was also taken as a preparation of war against India. In May 2018, he was reported to have moved to Sri Akal Takhat where he entrenched himself along with his followers. The news that he expected an attack by the Indian Army made his plan for his defense for which his followers were guided by General Subegh Singh. General Subegh Singh was the commander of Mukti Bahini in 1971 war with Bangladesh who was cashiered from Indian Army along with the other two Generals who led the Indian Army to capture Dhaka for some flimsy charges. This cashiering led to his grudge against the Army and the Indian Government and he appeared to be all out for revenge.
The police and paramilitary forces have started firing at the complex since 1 June 1984 but the actual assault on the complex started at 10.30 PM on 3 June 2018. A large number of devotees had gathered in the complex since 5 June was the martyrdom day of Fifth Sikh Guru, Guru Arjan Dev. As the news was flashed on TV channels and radio stations, it was a great shock for the Sikhs world over. There were disturbed feelings among the troops as well. At that time I was posted as Senior Staff Officer in an Artillery Brigade at Talbehat (Madhya Pradesh) and also performed the duties of Camp commandant. The Deputy Commander of the brigade called me and asked me to fall in all the troops, give them the information and also motivate them not to feel aggressive since there was no alternative left with the Army. I had to abide by the orders hence had a fall in explaining the situation and calmed especially the Sikh troops separately and asked the senior JCO to keep an eye on them. I called the Sikh soldiers separately and explained to them as ordered: "What all is happening is beyond our knowledge and approach. I cannot do anything to save our brethren from this on-going operation since it is conducted at Command level under the direct supervision of the Central Government. We will not be able to help; rather by taking some action at our level we may create more pain for our brethren and for ourselves." I could find pain, hurt and helplessness writ large on their faces.
The later operation was blanked from all TV channels and the only confirmation we got was from BBC on the radio. It was really painful to hear our most sacred place being attacked by our own army. As the operation ended on 6th June, our GOC who was at Bhopal came to Talbehat and held a get-together on 7 June and explained to all officers about the operation being successful and specifically stating that no damage has been done to Sri Hamandir Sahib. He asked our commander to send Sikhs to see this for themselves. Next day I was one among one of them asked to go to Amritsar to confirm this myself.
I left for Punjab next day and reached Patiala and stayed with my brother who was posted as Income-tax Officer there. While moving by train and later by bus the checking was so much especially of the Sikhs who were being treated like enemies. Even though I was an officer's uniform, yet the way I was checked I felt very much slighted and even ashamed of my uniform.
Last edited by a moderator: