1984 & I:
A Survivors' Colony in Chandigarh
by NIRUPAMA DUTT
Source: sikhchic.com | The Art and Culture of the Diaspora | Article Detail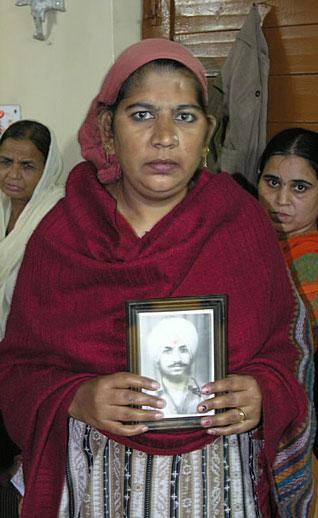 All images below: details from photo by Mertn James

This year, 2009, marks the 25th Anniversary of 1984, when horrendous crimes were committed against the Sikhs in the very land of their origin. To commemorate this sad milestone, we at sikhchic.com have asked our regular columnists, as well as our contributors and readers, to share with us the impact 1984 has had on their lives. We have requested personal stories and anecdotes, as well as an attempt to capture their inner thoughts and deepest ruminations on what 1984 means to each one of them and their loved ones - without going into a litany of facts and figures or a listing of the injustices to date, all of which will invariably be covered with due diligence elsewhere. We intend to present these personal perspectives to you throughout the twelve months of 2009. The following is the sixteenth in the series entitled "1984 & I".

A large oil paining of a tall and handsome Sikh dominates Lakhbir Kaur's modest sitting room in Kumbra village in Mohali, near Chandigarh, Punjab.
"I found a small black-and-white one of my father in a relative's album and my husband got a friend of his to make this painting."
Recalls Lakhbir: "It s the day after Indira Gandhi's assassination. We were sitting in our home in Delhi's Sultanpuri watching television when the mobs started the rampage. Our Muslim neighbours immediately gave us shelter and advised my father to cut his hair and beard. My father, Deedar Singh, after retiring from the army was working as a security guard in a private company. Since he was also the Congress President of Sultanpuri, he believed he was safe. Both my brothers were out and he went to look for them. He asked us to stay with the neighbours and said he would return shortly. We never saw him again, not even his remains."
Lakhbir herself never went back home because there was no home left - everything was burnt down.
"My mother was one of seven sisters ... and six of them, living in different parts of Delhi, were widowed. Several of my cousins were killed. From our neighbours' home we moved to the camp and from there to a gurdwara in Mohali," she reminisces.
She was only 16 then. "It was difficult for a young fatherless girl to survive without protection so I was married off that very month. My first daughter was born the next year."
Today, this mother of three (two daughters and a son) still breaks down recalling that period. "The scars will always remain but with the support of my husband we have nurtured a sense of love rather than hate in our children," she says.
Sharing similar stories of terror and loss are Kashmir Kaur and Ravindar Kaur, who fled the Indian capital during the riots and sought security in Punjab. They too have rebuilt their broken lives in a spirit of camaraderie and affection and are making significant contributions to society in different ways.
To make ends meet these riot-affected women did whatever they could, from tailoring clothes to making pickles, from setting up small shops to doing voluntary work in gurdwaras. Although critical of the politicisation of the carnage, they express gratitude to those who helped save their lives.
Kasmir Kaur's is a rare story of courage. She is president of the 'Riot Victims Welfare Society' in Mohali and a member of the general council of Akali Dal Badal. This strong woman of 55, who is at the forefront of political rallies and protests, breaks down while recounting the massacre she witnessed in her trans-Yamuna colony of Bhajanpura. She, like Lakhbir, is indebted to her neighbours.
"We will be ever grateful to our Hindu neighbours who helped save our lives. My husband, Pritam Singh, along with others, was hidden in a locked room and women sat on the terrace with stones and red chilli powder. My 12-year-old son's hair was tied into two plaits and a neighbour lent her daughter's frock for him to wear," she says.
When the mobs threatened to burn down the neighbour's house, Pritam came out of hiding. It was decided to gather as many Sikhs from the neigbourhood as possible, pile them into trucks and move them to a safer place.
"We managed to reach the Nanaksar Gurdwara by the Yamuna Bridge even though three attempts to attack us were made en route. We survived, but those who could not get into the trucks were killed," she says.
Later, following instructions from the gurdwara, Pritam went back to Bhajanpura to round up the orphaned children. He had to make his way through the burnt bodies of the neighbours to do this. He also saw that their house had been completely ransacked.
"The shock was so great that when he returned, he suffered a stroke. Since then he has remained in poor health," says Kashmir.
All that Kashmir and Pritam found in their home was a bed and they loaded it in a truck and headed for Ludhiana, to be with relatives. But that arrangement didn't work out. So, they moved to a gurdwara in Chandigarh's Sector 15 and then social workers in Mohali helped them secure a Punjab Urban Development Authority (PUDA) one-bedroom low-income group flat.
"I sold the bed for Rs 150 (US $3), bought a stove and few provisions and moved here," she says.
"Settling them here was not easy. PUDA and the government would regularly send eviction orders. But my uncle, Arjun Singh Shergill, and other social workers saw to it that we rehabilitate these people and as many as 704 homes were allotted to riot victims," says Tejinder Singh Shergill, Chairman, Riot Victims Welfare Society.
Visit this colony, which now has the nomenclature of Riot Victims Colony in Mohali's Phase XI, and one finds a ghetto of sorts where many are still struggling to survive.
It was here that I met Ravindar Kaur. Daughter of a sevadar (employee) in Bala Sahib gurdwara near Ashram in Delhi, she had been married for six months when the pogroms happened.
"My husband and I had come to my parents home. I had stayed home but my parents and husband had gone to attend a party and they were killed," says Ravindar.
Her husband's family, holding her responsible for the death of their son, turned her out. Later, she got married to Amarjit Singh, who had lost his wife and son to the violence. Today, Amarjit is close to 70 and jobless. The couple has a married daughter and son, who is a special child. Although poor, Ravindar is respected in the colony, as she is an active volunteer in the local gurdwara.
"People have always come to our aid but the old age pension of the government has yet to reach our home," she sighs.
Says Kashmir, "Some political elements try to inflame sentiments of the people but we try and pacify them. The Society follows up the cases of genuine victims and helps those living below the poverty line."
But she says that doing this is not always easy and there have been instances where actual victims never got compensation, while the fake ones managed to get flats.
After being bed-ridden for the past 25 years, Gurcharan Singh, 42, passed away last month in Balongi village near Chandigarh. He had been thrown into a burning vehicle outside his house in Delhi's Nawada colony during the riots. He never got any compensation and was being looked after his elder brother's wife.
On March 11 last year, he had deposed before the Central Bureau of Investigation (CBI) revealing that a prominent Congress leader was with the crowds, inciting people to wipe out the Sikhs. Incidentally, this leader has once again been given a ticket for the elections.
"Such things hurt our sentiments. We got no justice and little or no compensation from the government. However, we continue to have faith in humanity because of the kindness people from different communities, whether Muslims or Hindus or Sikhs, have shown us," says Kashmir.
[Courtesy:
Women's Feature Service
]
April 5, 2009