14-Nov-2009, 07:32 AM
Enrolled: Feb 24th, 2005

Posts: 457

Liked 418 Times in 198 Posts
Sikh fighter pilots over Europe and Merlins in Afghanistan
---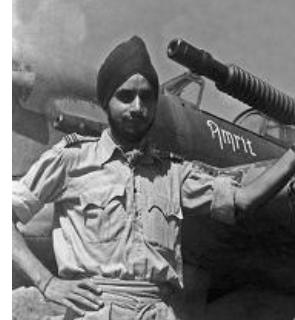 Sikh fighter pilots over Europe and Merlins in Afghanistan
Register to Remove Advertisements
A documentary about British-trained Sikh fighter pilots and a seminar about Merlins at the RAF Museum at Hendon
Mohinder Singh Pujji, in 1944, flew without a helmet throughout the war
.
The British premiere of a documentary about British-trained Sikh fighter pilots of the First and Second World Wars is to be screened at the RAF Museum at Hendon, northwest London, on November 22. A seminar about the deployment of the Merlin helicopter in Afghanistan will be held at the same venue on March 10.
Diverse as they are, these two events illustrate what a small world of unexpected inter-relationships exists within the RAF. Both the first Sikh pilot, Flight Lieutenant Hardit Singh Malik, and the speaker at the seminar, Merlin pilot Squadron Leader Simon Reade from RAF Benson in Oxfordshire, are products of No 28 Squadron RAF. Reade is the squadron's second-in-command.
Hardit Singh Malik was born in Rawalpindi in 1894 and educated at Eastbourne College in East Sussex. He joined the forerunner of the RAF, the Royal Flying Corps, in 1917 as the first Sikh, and indeed the first Indian, to serve with any air force.
During the First World War, he flew with No 28 Squadron in France, managing, it appears, to fit his turbanned head into an outsized flying helmet as well as shooting down a number of Fokker fighter planes in dogfights. The documentary includes his only television interview and a rare interview with his daughter Harji. He died in 1985.
Among the Sikh heroes of a later war, also featuring in the documentary, is Squadron Leader Mohinder Singh Pujji, DFC, now 91 and living in retirement in Britain. Pujji qualified as a pilot in India before volunteering for the RAF in 1940, subsequently flying Hurricanes out of RAF Kenley, near Croydon, to intercept enemy bombers and reconnaissance aircraft, as well as participating in Spitfire sweeps over occupied Europe. Although wearing his turban, helmetless, into combat led to irreparable lung damage (it prevented his fitting an oxygen mask when flying at high altitude), his tally was nevertheless two Me109s confirmed shot down and three damaged, and he was treated as a hero in wartime Britain. Serving with the Indian Air Force later in the war, he flew "Hurri-bombers"(Hurricanes adapted for reconnaissance and ground attack) over Burma — another point of contact with No 28 Squadron, as that unit, too, was heavily involved in such operations.
Commissioned by the Sikh Art & Film Foundation based in New York, the documentary, Flying Sikhs: A History of Sikh Fighter Pilots, is directed by Navdeep Singh Kandola, himself a Sikh. "It's an important subject because in Britain today there is very little remembrance of the Sikh community's sacrifice in the two world wars," he says. "Yet, during the Second World War in particular, the Sikh contribution was very much recognised and respected by the British. Sikh fighter pilots — the men with the wings and the turbans — were very well known and often got ushered to the front of cinema queues or invited to eat free in restaurants."
Currently only 868 RAF personnel — 2.2 per cent of the total — come from an ethnic minority (the Sikhs among them are still welcome to wear turbans, except when they should be wearing flying helmets, in which circumstances even an under-turban, the patka, is not permitted). Kandola hopes that the RAF might use his film for a recruitment campaign among the Sikh community.
Squadron Leader Reade's enthusiasm for the Merlin helicopter could also have an impact on RAF recruitment when he gives his seminar, "The Merlin in Afghanistan". As he told Global Aviation Resource this year: "\ a large aircraft and I think the impression some people might form is that it is probably more like a bus than a sports car, but nothing could be further from the truth. It's manoeuvrable, powerful and aerodynamic . . . Whatever else life is throwing at them, we'll deliver troops to the battlefield in a comfortable, mission-ready state."
Last week the Ministry of Defence announced that the first Merlin helicopter crews were ready to deploy to Afghanistan after training in the US, adding: "The Merlins, from RAF Benson, due to deploy soon, will provide vital support to ground operations and increase the capacity of the UK helicopter lift in Afghanistan by a further 25 per cent."
Just how vital that support may be is illustrated by the profile of another No 28 Squadron Merlin pilot, Flight Lieutenant Michelle Goodman, which appears in one of the RAF Museum's online exhibitions, "Women of the Air Force". It was for her intrepid night-time manoeuvring of a Merlin to rescue a seriously injured soldier in the centre of Basra, Iraq, while under fire in 2007, that Goodman won the DFC, the first to be awarded to a woman.
For details of Flying Sikhs, "The Merlin in Afghanistan" and other free events at the RAF Museum, Hendon, and its sister museum in Cosford, Shropshire, visit
Reference:: Sikh Philosophy Network http://www.sikhphilosophy.net/showthread.php?t=27496
RAF Museum London & Cosford air force museums free family days out
Do you agree or disagree with the writer above? Why not share your immediate thoughts with us! Login Now! or Sign Up Today! to share your views... Gurfateh!
__________________
Our Gurus have taught us to value every single life. Bhai Kanhaiyaa's message was that we should connect with all of humanity. Our tradition teaches us to stand up to every injustice.

The following members appreciate Vikram singh Ji for the above message.

14-Nov-2009, 20:06 PM
(previously Kanwardeep Singh)

Enrolled: Apr 4th, 2005

Location: INDIA

Age: 34

Posts: 4,481

Liked 2,734 Times in 1,388 Posts
Re: Sikh fighter pilots over Europe and Merlins in Afghanistan
---
What about today? can turbaned sikhs even become commercial pilots In USA or Europe?

The following member appreciates kds1980 Ji for the above message.
| | | |
| --- | --- | --- |
| Support Us! Become a Promoter! | | Gurfateh ji, you can become a SPN Promoter by Donating as little as $10 each month. With limited resources & high operational costs, your donations make it possible for us to deliver a quality website and spread the teachings of the Sri Guru Granth Sahib Ji, to serve & uplift humanity. Every contribution counts. Donate Generously. Gurfateh! |
Currently Active Users Viewing This Thread: 1 (0 members and 1 guests)
Posting Rules

You may not post new threads

You may not post replies

You may not post attachments

You may not edit your posts

---

HTML code is On

---

» Active Discussions

What should be the AIM...

By
chazSingh
Today 17:35 PM
5 Replies, 127 Views

First Turbaned Sikh...

By
Akasha
Today 05:16 AM
2 Replies, 88 Views

Is Sikh Philosophy...

By
Sherdil
Yesterday 19:07 PM
7 Replies, 366 Views
Destination Wedding in...

By
Luckysingh
Yesterday 18:41 PM
2 Replies, 102 Views
Mitee Muslaman Kee

By
Sherdil
27-Oct-2014 06:02 AM
10 Replies, 472 Views

Fools Who Wrangle Over...

By
Tejwant Singh
23-Oct-2014 08:27 AM
1,313 Replies, 155,369 Views
5 K's: Symbolic or...

By
linzer
22-Oct-2014 23:38 PM
3 Replies, 180 Views
Freshness in mouth while...

By
chazSingh
22-Oct-2014 17:56 PM
9 Replies, 432 Views

09-11-2014

By
Randip Singh
19-Oct-2014 23:02 PM
4 Replies, 1,950 Views

Waheguru Simran, Nitnem,...

By
Ambarsaria
19-Oct-2014 22:55 PM
82 Replies, 8,375 Views
Colour Red Gursikh...

By
harry haller
11-Oct-2014 22:22 PM
13 Replies, 532 Views
Akal Takhat Jathedar...

By
Gyani Jarnail Singh
10-Oct-2014 06:51 AM
8 Replies, 393 Views

GGS being burnt

By
Tejwant Singh
09-Oct-2014 10:38 AM
58 Replies, 1,861 Views

Can we ever see Sri Guru...

By
Ambarsaria
09-Oct-2014 06:37 AM
67 Replies, 2,355 Views

Recreated Sikh regiment...

By
Scarlet Pimpernel
07-Oct-2014 10:54 AM
2 Replies, 361 Views