14-Jul-2009, 23:18 PM
Enrolled: Jun 1st, 2004

Location: Sikh Philosophy Network

Age: 39

Posts: 5,344
Time Outs To Discipline Your Child!
---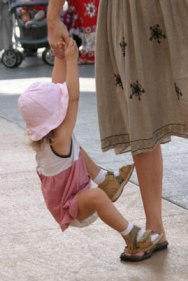 Time Outs To Discipline Your Child!
Register to Remove Advertisements
Are you facing problems with your child behavior?

Time-outs are used to decrease undesirable child behavior.

So, what is exactly a time-out?

Time-out means time out from any rewarding or fun experiences.

Time-out! Select the place for time-out.

The time-out area should be easily accessible and the location should be in such a way that the child can be monitored easily.

If you have shorter periods of time-out such as five to ten minutes, it will be effective rather than longer periods such as half an hour.

Time-out procedure should be real and you have to stick to it. You should explain to your child that he is in time-out period and he should face the situation. You should not allow your child to further discuss about it.

Do not allow your child to talk during the time-out. You should also not communicate with your child in any way. You should not allow your child to play with toys, watch television or play games. If your child is violating time-out, reset the clock for another time-out period.

You can control your child behavior by these time-outs. There are many approaches in handling resistance to time-out. Tell your child that you will count three and they should be in time-out otherwise the time will be doubled.


Select an object or activity which can be taken away so that the child will not be allowed to play with a certain object or watch television until the time-out has been completed. For effective discipline and controlling child behavior, three things are essential: positive, love and supportive relationship between you and your child.

Use positive reinforcement to increase good child behavior and avoid punishments to eliminate the undesirable child behavior. Following the three things are essential for disciplining your child.

Parental discipline regarding time-outs for child behavior varies widely. Do not disagree about discipline with your spouse in front of your kids. You should be consistent in rewarding or punishing in child behavior.

You should be prepared with what type of behavior is acceptable and what is unacceptable. The child should also know what to expect from the unacceptable behavior. Remember that your behavior serves as the model for your child behavior.

Firm discipline should be followed. Whenever your child behaves inappropriately, you should tell the consequences.

You can find many advantages by time-outs. You can eliminate the yelling and screaming by you and your spouse. If you are consistent with the time-outs, physical punishments can be reduced.

Time-out helps your child to accept their own responsibility for their undesirable behavior. It is not a form of parent giving punishment to child but child punishing himself.

Time-outs to control child behavior helps your child to learn more self control and will be able to learn to differentiate what is acceptable behavior and what is not.

When you introduce time-out method, it results in increased negative child behavior. You should accept the child behavior and do not respond. This way, the child undesirable behavior diminishes or disappears.

Time-out method is highly effective in the long-term strategy. It is difficult for you to ignore the child during the negative behavior of child. But, you should control your own emotions otherwise time-out method results in a failure. Provide consistency in disciplining your child behavior. It enhances and develops your relationship with your child.


Do you agree or disagree with the writer above? Why not share your immediate thoughts with us! Login Now! or Sign Up Today! to share your views... Gurfateh!
__________________


| | | |
| --- | --- | --- |
| Support Us! Become a Promoter! | | Gurfateh ji, you can become a SPN Promoter by Donating as little as $10 each month. With limited resources & high operational costs, your donations make it possible for us to deliver a quality website and spread the teachings of the Sri Guru Granth Sahib Ji, to serve & uplift humanity. Every contribution counts. Donate Generously. Gurfateh! |
Currently Active Users Viewing This Thread: 1 (0 members and 1 guests)
Posting Rules

You may not post new threads

You may not post replies

You may not post attachments

You may not edit your posts

---

HTML code is Off

---

» Active Discussions

Do you wear Kara?

By
Tejwant Singh
Yesterday 23:01 PM
5 Replies, 3,508 Views

Thought of the Moment!

By
Tejwant Singh
Yesterday 22:12 PM
320 Replies, 33,512 Views

Can I wear a Dumalla

By
Brother Onam
Yesterday 20:02 PM
10 Replies, 250 Views

GGS being burnt

By
Ishna
Yesterday 08:38 AM
38 Replies, 827 Views

09-11-2014

By
Inderjeet Kaur
28-Sep-2014 12:33 PM
3 Replies, 798 Views

Antim Ardass - Ritual or...

By
Gyani Jarnail Singh
27-Sep-2014 07:41 AM
7 Replies, 1,896 Views

Can we ever see Sri Guru...

By
Gyani Jarnail Singh
26-Sep-2014 19:05 PM
65 Replies, 1,777 Views
Nice Punjabi Songs with...

By
arshdeep88
26-Sep-2014 10:04 AM
44 Replies, 3,184 Views
US based EcoSikh urges...

By
aristotle
23-Sep-2014 11:35 AM
0 Replies, 117 Views


Why are we not allowed...

By
skeptic.freethinker1
23-Sep-2014 11:31 AM
365 Replies, 46,449 Views


Bhai Guriqbal Singh -...

By
gurpreet2501
21-Sep-2014 21:07 PM
53 Replies, 13,859 Views

Sikh basketball players...

By
Abneet
21-Sep-2014 07:28 AM
8 Replies, 714 Views

How Many Sikhs Have...

By
Abneet
19-Sep-2014 09:27 AM
704 Replies, 66,089 Views
Wikipedia's Article on...

By
Ishna
18-Sep-2014 07:37 AM
0 Replies, 187 Views
Want to see a Punjabi...

By
harry haller
17-Sep-2014 12:21 PM
1 Replies, 216 Views