17-Jul-2012, 21:39 PM
Enrolled: Jan 4th, 2010

Age: 26

Posts: 127

Liked 129 Times in 65 Posts
Harmonium
---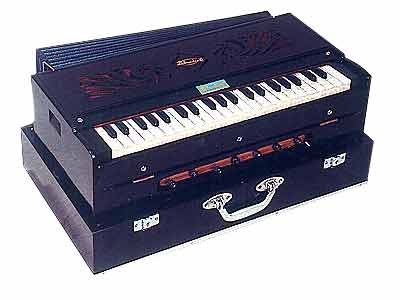 Harmonium
Register to Remove Advertisements
Quote:
During the mid-19th century, missionaries brought French-made hand-pumped harmoniums to India. The instrument quickly became popular there: it was portable, reliable and easy to learn. It has remained popular to the present day, and the harmonium remains an important instrument in many genres of Indian music. For example, it is a staple of vocal North Indian classical music concerts. It is commonly found in Indian homes. Though derived from the designs developed in France, the harmonium was developed further in India in unique ways, such as the addition of drone stops and a scale-changing mechanism.A popular usage is by followers of the Hindu and Sikh faiths, who use it to accompany their devotional songs (bhajan or kirtan). There is at least one harmonium in any mandir (Hindu temple) or gurdwara (Sikh temple) around the world.
when it became a part of gurmat sangeet !!! does it effected the gurmat sangeet ,in west its not considered as a good instrument ,japposatnamwaheguru: why sharomani Gurudwara prabhndak committe ignored puratan sikh saaj ***
Do share your immediate thoughts or reactions on this issue? We value your views! Login Now! or Sign Up Today! to share your views with us.. Gurfateh!
Last edited by Aman Singh; 18-Jul-2012 at

13:08 PM

.


18-Jul-2012, 02:07 AM
ਨਾਮ ਤੇਰੇ ਕੀ ਜੋਤਿ ਲਗਾਈ (Previously namjap)

Enrolled: Jul 14th, 2007

Posts: 4,577
Re: Harmonium
---
I know many gurdwaras in Malaysia have tons of broken musical instruments including harmoniums. A repair man could buy them by the kilos and profit from selling them refurbished. While tablas, dholkis are easier to repair, harmoniums are harder.


18-Jul-2012, 05:44 AM
We were in this together

Enrolled: Jan 29th, 2011

Location: Delhi, India

Age: 27

Posts: 1,364

Liked 1,941 Times in 873 Posts
Re: Harmonium
---
Thankfully Gurmat Sangeet Project and Prof Kartar Singh are keeping the legacy alive!

The following members appreciate Kanwaljit Singh Ji for the above message.
| | | |
| --- | --- | --- |
| Support Us! Become a Promoter! | | Gurfateh ji, you can become a SPN Promoter by Donating as little as $10 each month. With limited resources & high operational costs, your donations make it possible for us to deliver a quality website and spread the teachings of the Sri Guru Granth Sahib Ji, to serve & uplift humanity. Every contribution counts. Donate Generously. Gurfateh! |
Currently Active Users Viewing This Thread: 1

(0 members and 1 guests)
Posting Rules

You may not post new threads

You may not post replies

You may not post attachments

You may not edit your posts

---

HTML code is Off

---

» Active Discussions

Thought of the Moment!
107 Replies, 5,039 Views

Do you believe in...
180 Replies, 3,717 Views
What Do You Think of...

By
akiva
27 Replies, 541 Views

How does Sikhi help you...
17 Replies, 556 Views
Biography of a Scholar:...

By
Gyani Jarnail Singh
1 Replies, 61 Views

Of Serpents, Pigs,...
37 Replies, 1,010 Views

Should SPN Keep the...
16 Replies, 402 Views

Map shows world's 'most...

By
Satyaban
15 Replies, 242 Views

Friends. A Testimony to...
4 Replies, 110 Views


Rozana Reports (ਪੰਜਾਬੀ...
301 Replies, 7,446 Views


Sikh Spokesman (ਪੰਜਾਬੀ...
169 Replies, 4,332 Views