Hindus and Sikhs in Malaysia must have been a dissapointed lot when they were greeted with grabs supposedly from a Malaysian public university text book to teach them about the other faiths. The grabs, taking the social media by storm, contained ridiculous references to the Hindu and Sikh faith, begging the question how they passed all the supposed checks expected of an institution of higher learning.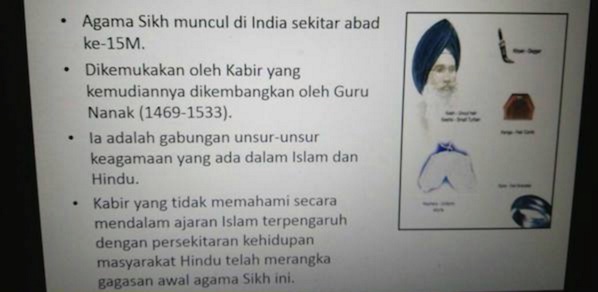 The communities will be watching the reaction of the Universiti Teknologi Malaysia (UTM) management to see if they take the necessary action against the lecturers responsible for the mess.
"I have just spoken to the VC of the university and he has acknowledged the mistake. He has also stated that the necessary changes to the module concerned will be corrected expeditiously," said Malaysian Deputy Education Minister P Kamalanathan in a Facebook posting today (13 June 2016).
The slides were probably from a UTM-developed text book to teach Asian and Islamic Civilisations (TITAS), a compulsory subject for all students at all Malaysian universities, whether public or private.
It suggests that the Sikh faith was introduced by Kabir and later spread by Guru Nanak. And who is Kabir? Apparently, Kabir did not thoroughly understand Islam, hence he got influenced by the Hindu ways.
The actual text, in Malay: "
Dikemukakan oleh Kabir yang kemudiannya dikembangkan oleh Guru Nanak….Kabir yang tidak memahami secara mendalam ajaran Islam terpengaruh dengan persekitaran kehidupan masyarakat Hindu telah merangka gagasan awal agama Sikh ini.
"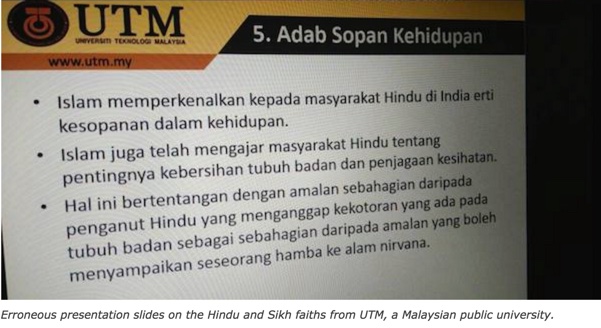 Bhagat Kabir is one of the Muslim saints whose writings are contained in the Sikh scripture called the Guru Granth Sahib.
The reference notes on the Hindu faith were downright derogatory. It suggested that Islam introduced courteousness to the Hindus in India, and thought them the importance of hygiene.
"
Islam memperkenalkan kepada masyarakat Hindi di India erti kesopanan dalam kehidupan…Islam juga telah mengajar masyarakat Hindu tentang pentingnya kebersihan tubuh badan dan penjagaan kesihatan
," read the slide.
Public response

Judging from the hundreds of responses to his posting, a segment of the public is in no mood to let pass yet another seemingly blunder in the nation's education system.
"The issue isn't really about 'confusion' or 'hurt'. The content is wrong. Full stop. Universities cannot afford to make such errors simply because to them everything must be supported with evidence i.e literature," said Jasvir Kaur, who says she is a lecturer at a Malaysian higher institution, in a comment on the deputy minister's Facebook page.
Elezabeth Vashini, who identifies herself as a maintenance engineer who studied microelectronic engineering at UTM, suggests that there is more than meets the eye.
"I suggest….. [you] take sometime to read on the book.. We had to study two semesters of these rubbish!," she commented.
Another comment, by Malvinder Gill, says: "What nonsense. It's not an 'error'. Take action against those who prepared the modules."
In a separate response, Coalition of Malaysian Sikh Organisations (CMSO) Secretary General Bhai Autar Singh, a posting on his personal Facebook page, commented that this latest and previous issues with regards to the minority communities in Malaysia, raised from time to time, beg certain questions.
He raised two questions:
1. Are the contents of text books used in our educational institutions that refer to the religion, culture, practices and way of life of various communities checked and approved for inclusion by qualified bodies representing the communities? If not, why not?
2. If errors are found in these books, who corrects them? Are these corrections done with the consent and approval of the approved bodies of the relevant communities? If not, why not?
Hindus, Sikhs in Malaysia appalled with university textbook ridiculing their faiths - Asia Samachar