World Sikh Convention
Watch Live Coverage on DSGMC-Delhi Sikh Gurdwara Management Committee-Official Website - DSGMC- Live Kirtan,Sikh Hukamnama,Khalsa,Sikh Gurdwara,Sikh History,Sikh Gurus and More.. on Apr 11, 2010


In order to make the World Sikh Convention a big success, the Delhi Sikh Gurdwara Managing Committee (DSGMC) will be running two trains which will start from Ferozepur and Amritsar on April 10.
The convention is on April 10 and 11.
The entire expenses will be paid by the DSGMC to the Railways and hence the commuters can travel free of cost to Delhi to attend the convention. Apart from this, buses and other modes of transport will also be made available to workers and residents of Punjab.
This was announced by J S Balleawal, spokesperson of Shiromani Akali Dal (Delhi), who was in the city. He said the convention is being held to find solutions on increasing interference of political parties (read SAD(B) in religious affairs in which Sikh bodies from abroad as well as India are participating.
The DSGMC is organising the entire event, he said. Balleawal, on one hand, criticised the involvement of political parties in religious affairs but at the same time he stated, Shiromani Akali Dal (Delhi) is participating in this event in a big way to support the Sikhs and to create an awareness in them about Sikh affairs, the importance of Shri Akal Takht Sahib and much more.
At the moment, the Hukamnama of the Akal Takht is dictated by Chief Minister Parkash Singh Badal, while his media adviser writes and sends it to the jathedar.
"Except Damdama Sahib and Anandgarh Sahib, the jathedars of all religious bodies have been controlled by the Badal group and the SGPC President is also taking decisions influenced by the Badals," alleged the spokesperson.
Balleawal, however, clarified that except Sikh affairs, nothing else will be discussed in the meet.
Before this, Parmjit Singh Sarna, President of DSGMC, will be visiting Punjab on April 2 and 3 to address meetings to the youth workers and party members so as to assign them duties for the convention.
The convention is being held at the Rakab Ganj Sahib Gurudwara in Delhi. Today, the working committee of SAD(Delhi) held its first meeting.
On the occasion, youth wing President, Sadhu Singh, senior Vice-president, Gurdeep Singh, Balwinder Singh Bhullar, Lakha Singh and many others participated.
According to the members, last time the Tohra group had organised such a convention was about 18 years back.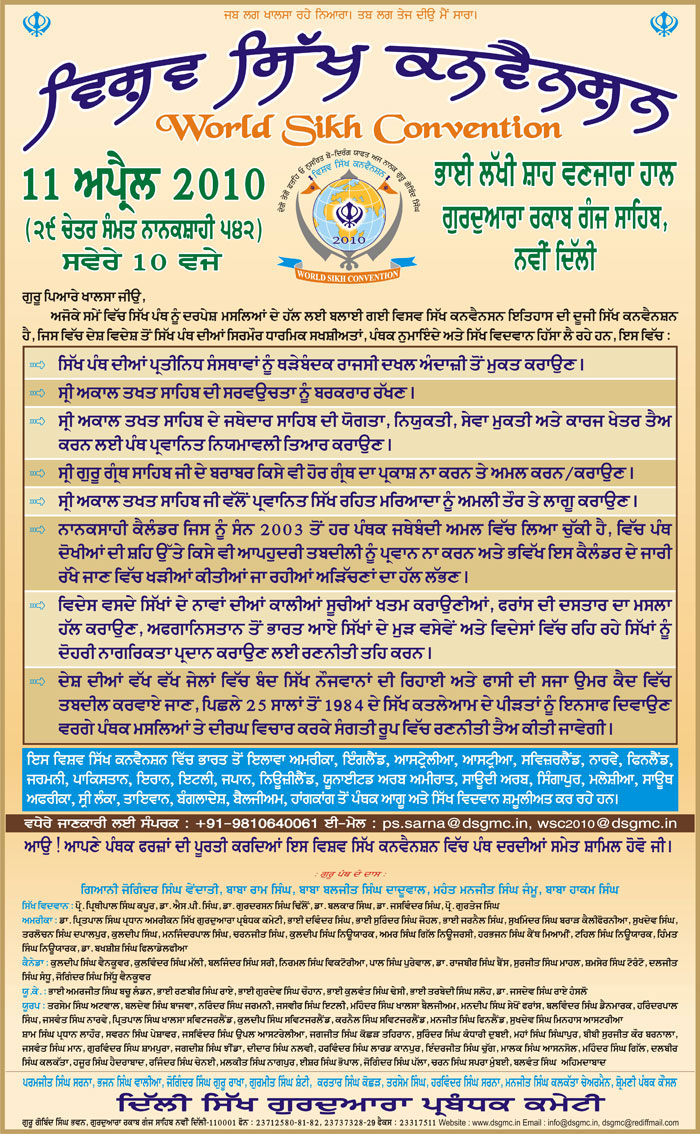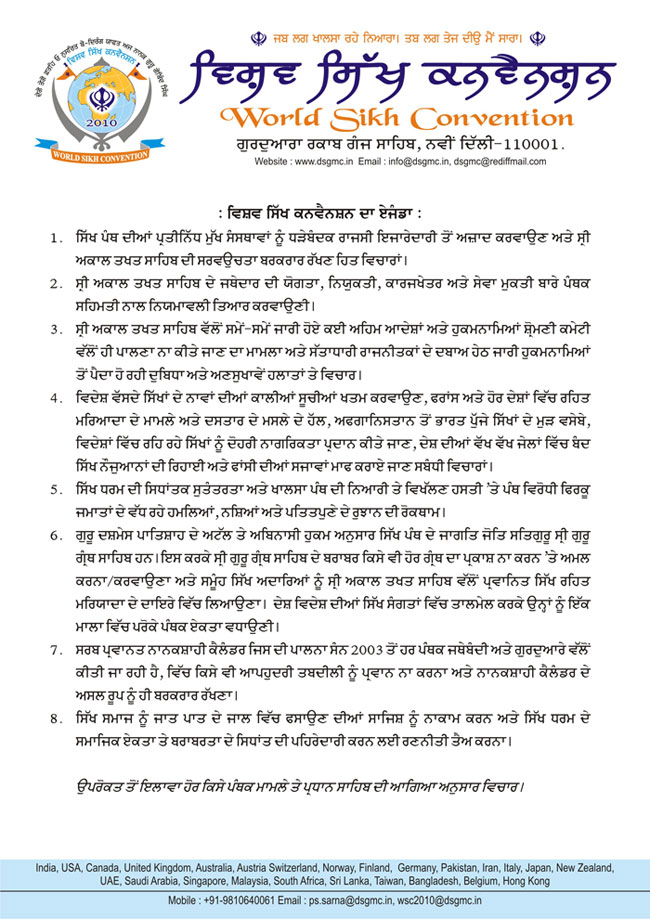 Reference:: Sikh Philosophy Network http://www.sikhphilosophy.net/showthread.php?t=29924