Tags
baba seep sing, containers, currency notes, diamonds and pearls, four pairs ornate doors, gold bir, gold canopy, gold necklace, gold turquoise peacock, golden, golden spades, golden temple, guru nanak dev, invaluable possessions, jewelencrusted kirpan, kar sevas, kunwar naunihal singh, maharaja, maharaja ranjit singh, princess bamba, public, ring, temple, toshakhana, treasure

22-Jan-2011, 01:41 AM
Enrolled: Jan 7th, 2005

Location: Metro-Vancouver, B.C., Canada

Posts: 3,455




Liked 3,760 Times in 1,640 Posts
Golden Temple May Go Public with Its Treasure
---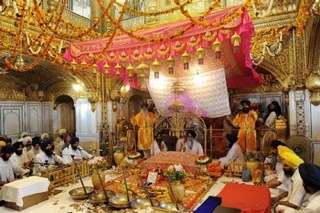 Golden Temple May Go Public with Its Treasure
Register to Remove Advertisements
Golden Temple may go public with its treasure
As of now one can see rare relics, ornaments only during 'jalau', a show of splendour
Perneet Singh/TNS
Amritsar, January 21
Soon pilgrims visiting the Golden Temple may not have to wait for a special occasion like the Gurpurb to catch a glimpse of rare artefacts and invaluable gifts kept in the shrine's 'toshakhana' (treasure), as the SGPC is contemplating to put them on public display permanently.
The issue came to the fore after former Rajya Sabha MP Tarlochan Singh shot off a missive to SGPC chief Avtar Singh Makkar, emphasising on the need to preserve these rare artefacts and facilitate their display to the visiting pilgrims. In his letter, dispatched on Thursday, Tarlochan Singh said the artifacts have been kept locked in a room which is taking a toll on their life and there is a need to preserve them in a modern way. He also advocated the need for putting these articles on display permanently in the 'parikarma' of the Golden Temple.
Tarlochan said: "The move would make the people aware as to what invaluable articles are being gifted to our holy shrine."
"When Kohinoor can be put on display in London and Takht-e-Taus in Tehran why can't we display our invaluable treasure," he wondered. He contended that with measures like bulletproof glass and security gadgets available these days there is no threat in displaying these articles at a permanent museum in the 'parikarma'. He said the gate of Darshani Deodhi, which is to be replaced, should also be put on display in the 'parikarma'.
When contacted, Makkar admitted that they have received a suggestion from Tarlochan Singh in this regard and they will discuss it in the SGPC executive meeting on January 28. "We will consider the issue and if the artifacts are to be displayed we will seek expert advice before making arrangements for the same ."
Sri Darbar Sahib Manager Harbans Singh Malhi stated that they too have suggested the SGPC to display these articles in glass enclosures. According to him, at present, these artefacts and gifts are displayed during "jalau" (show of splendour) on six Gurpurbs. During these occasions, too, the time for "jalau" is restricted from 8 am to 12 noon. As per "Sri Harmandar Sahib da Sunaheri Itihas", a book penned by Giani Kirpal Singh, during "jalau" 44 such items are put on display at the sanctum sanctorum, 9 at the Akal Takht and 6 at Baba Atal Gurdwara.
The 'toshakhana' boasts of invaluable possessions like necklace of diamonds and pearls of Kunwar Naunihal Singh presented by Maharaja Ranjit Singh, jewel-encrusted 'kirpan' of the Maharaja, a ring of Princess Bambah, gold canopy, gold and turquoise peacock, gold necklace made of currency notes of Guru Nanak Dev, golden spades and containers presented during various 'kar sevas', gold 'bir' of Baba Deep Singh and four pairs of ornate doors.
The Gift Pack

The 'toshakhana' (treasure trove) boasts of diamond necklaces, pearls of Kunwar Naunihal Singh, jewel-encrusted 'kirpan', a ring of Princess Bambah, gold canopy, gold and turquoise peacock, gold necklace made of currency notes of Guru Nanak Dev, golden spades and much more

Reference:: Sikh Philosophy Network http://www.sikhphilosophy.net/showthread.php?t=34224
These artefacts are displayed during "jalau" (show of splendour) on six Gurpurbs during a year. The time for "jalau" is restricted from 8 am to 12 noon

The SGPC has now been asked to put these artefacts on permanent display for the benefit of devotees. The issue will figure in the executive meeting on January 28
source:
http://www.tribuneindia.com/2011/20110122/punjab.htm#19
Do you agree or disagree with the writer above? Why not share your immediate thoughts with us! Login Now! or Sign Up Today! to share your views... Gurfateh!
__________________
Prayer = TALKING to God; Meditation/Simran = LISTENING to God !
With the Divine Love & Blessings of WAHEGURU Ji, I wish you peace, love, light (enlightenment), health & happiness in life!

The following members appreciate Archived_Member16 Ji for the above message.

22-Jan-2011, 04:52 AM
Sawa lakh se EK larraoan

Enrolled: Jul 4th, 2004

Location: KUALA LUMPUR MALAYSIA

Age: 65

Posts: 7,629



Re: Golden Temple May Go Public with Its Treasure
---
TONS of Valuable stuff like the Chandan Chaur carved out of a solid block of wood weighing 100kg ( Can you even imagine solid wood being carved into individual "hairs" that can eb waved in thw wind ?? Wella MUSLIM ARTISAN accomplished that Task of Love for the House of Guru ramdass Ji..BUT it was destroyed by the Indian Army's Ops Bluestar Fireworks Display in 1984 !! )...as wella s a huge chandnni covered with diamonds and jewels sent by Maharaja Ranjit Singh to Darbar sahib becasue he flet it was too grand for amere Human like himslef..)...ALL these were DESTROYED..and lots of INVALUABLE Historical Documents, Manuscripts, handwritten Sri Guru Granth Sahib Ji etc etc were TAKEN AWAY by the Indian Army and havent been RETURNED even after 25 years.
Mr Tralochan Singh who has been a GOI mouthpiece as serving "minorities Commission Chairman" should put his energies into the RETURN of those DOCUMENTS and be more interested in PRESERVING that HERITAGE rather than a few Golden Hoes and Golden Battas used during Karsewa for removal of Holy sludge in the sarovar, and other Golden/Diamond valuables. These can be REPLACED even on a DAILY BASIS based on the amount of Gold the SGPC has..BUT NOT the Handwritten Sri Guru Granth Sahib Ji Birs, Sacred Hukmnamahs, letters etc of the Gurus Period.
It is a point to be noticed that as Minorities Commission Chairman..Mr tarlochan was awfully QUIET for nearly a decade...but since he LOST that JOB..he has suddenly become very very VOCAL ...especially in demanding
SIKH RIGHTS
. Normal behaviour of all politicians....so hes no exceptiopn really..just following the trends..







The following member appreciates Gyani Jarnail Singh Ji for the above message.
| | | |
| --- | --- | --- |
| Support Us! Become a Promoter! | | Gurfateh ji, you can become a SPN Promoter by Donating as little as $10 each month. With limited resources & high operational costs, your donations make it possible for us to deliver a quality website and spread the teachings of the Sri Guru Granth Sahib Ji, to serve & uplift humanity. Every contribution counts. Donate Generously. Gurfateh! |
Currently Active Users Viewing This Thread: 1 (0 members and 1 guests)
Posting Rules

You may not post new threads

You may not post replies

You may not post attachments

You may not edit your posts

---

HTML code is Off

---

» Active Discussions

Is Sikh Philosophy...

By
eileen
Today 01:50 AM
2 Replies, 144 Views
Mitee Muslaman Kee

By
Sherdil
Today 00:48 AM
4 Replies, 162 Views

Fools Who Wrangle Over...
23-Oct-2014 08:27 AM
1,313 Replies, 154,945 Views
5 K's: Symbolic or...

By
linzer
22-Oct-2014 23:38 PM
3 Replies, 129 Views
Freshness in mouth while...

By
chazSingh
22-Oct-2014 17:56 PM
9 Replies, 346 Views

09-11-2014

By
Randip Singh
19-Oct-2014 23:02 PM
4 Replies, 1,752 Views

Waheguru Simran, Nitnem,...

By
Ambarsaria
19-Oct-2014 22:55 PM
82 Replies, 8,311 Views
Colour Red Gursikh...

By
harry haller
11-Oct-2014 22:22 PM
13 Replies, 486 Views
Akal Takhat Jathedar...

By
Gyani Jarnail Singh
10-Oct-2014 06:51 AM
8 Replies, 347 Views

GGS being burnt
09-Oct-2014 10:38 AM
58 Replies, 1,790 Views

Can we ever see Sri Guru...

By
Ambarsaria
09-Oct-2014 06:37 AM
67 Replies, 2,285 Views

Recreated Sikh regiment...

By
Scarlet Pimpernel
07-Oct-2014 10:54 AM
2 Replies, 320 Views

Deccani Sikhs: Punjabi...

By
aristotle
02-Oct-2014 19:38 PM
0 Replies, 271 Views

Can I wear a Dumalla

By
Akasha
02-Oct-2014 03:13 AM
12 Replies, 538 Views

Do you wear Kara?
30-Sep-2014 23:01 PM
5 Replies, 3,653 Views